BWW Review: Rousing Revival of AIN'T MISBEHAVIN' Roars at La Mirada
In terms of what you would normally see on a Broadway stage, AIN'T MISBEHAVIN' - THE FATS WALLER MUSICAL SHOW is understandably challenging to quantify. It is, on the surface, a jukebox musical---in that its music is comprised of songs written by or performed by a singular act, genre, or artist---and yet, in its specific case, it has no definitive narrative that pieces its songs together. Though it does employ a book written by Murray Horwitz and Richard Maltby Jr., the show's brief snippets of written banter aren't there to create character or plot development, but rather as amusing, moody, or sassy set-ups for the songs about to be performed.
Rather, AIN'T MISBEHAVIN'---a comprehensive collection of songs musically composed by or performed by Harlem Renaissance pioneer Fats Waller---is more akin to a revue, which is essentially a non-stop cabaret on steroids with song-after-song weaving form one to another in glorious succession. Its ultimate aim, of course, is to entertain the audience... and, man, does this show ever!
In a new, incredibly enjoyable regional revival of this 1978 Tony Award-winning show, La Mirada Theatre for the Performing Arts is presenting as its first show of its 40th anniversary season one of the most rousing, rip-roaring iterations of this musical treat, under the informed direction of one of the show's original cast members, Ken Page. In his hands, along with strong assists from musical director/principal accompanist Lanny Hartley, choreographer Jeffrey Polk, and a supremely talented cast, this McCoy-Rigby Entertainment production is energized by a consistent barrage of spectacular musical performances that are exuberantly performed and are wonderfully appealing.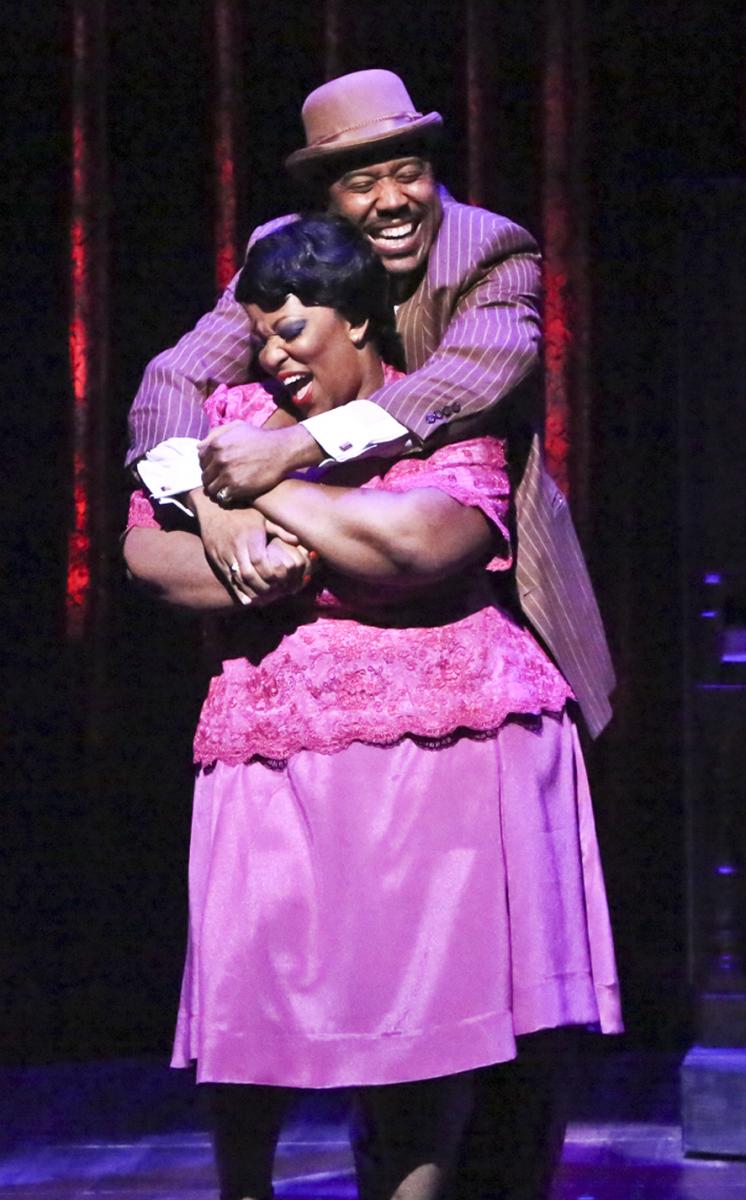 If you're looking for pure, buoyant, musically-thrilling entertainment in its most delightful form, then look no farther than this excellent production of AIN'T MISBEHAVIN' which continues performances in La Mirada, CA through October 8.
Free of visual trickery or distracting theatrics, this show stands solely on its spirited musical merits---a wall-to-wall, surround-sound experience of songs that vary from humorous to sassy or even just plain silly that all illustrate one man's extraordinary musical genius and his encapsulated thoughts about life. What the show lacks in a typical "story," it makes up for it with Waller's songs, a treasure trove of 20's/30's early soul, jazz, and rhythm and blues that all feel like mini-stories of their own, thanks to the long list of lyricists that have given his tunes some accompanying contextual verses. The strength of Waller's music (both ones he wrote and ones he sang into popularity) is in its diversity of moods: frisky and bawdy one moment, unapologetically perky and spry the next. Many of the songs are playful and silly, while others directly stem from the Harlem Renaissance experience. There are even moments where songs traverse into gorgeous, torch-song territory that will have you sitting up and listening more intently.
Admittedly, I have only really heard of a handful of the songs featured in the show. Besides the infamous title song, of course, the show boasts familiar standards like "T Ain't Nobody's Biz-ness If I Do," "Honeysuckle Rose," "Squeeze Me," "The Joint is Jumpin'," and "I Can't Give You Anything But Love." But this endearingly likable cast perform these songs with such wonderful gusto that they make each song individual pieces of musical heaven that all of us feel like we will remember from this point on. Pleasurable highlights include the ladies' "When the Nylons Bloom Again," and the cheeky male duet on "Fat and Greasy," which also turns into an impromptu audience sing-along. In a stark contrast, that song is immediately followed by the haunting "Black and Blue" sang by the entire cast that is as moving as it telling. AIN'T MISBEHAVIN' is one of those rare shows where I found myself looking forward to what musical number comes next---is it going to be a peppy, comical one, or will I be internally saying "Amen" under my breath as I take in another divalicious ballad?
And, my gosh, I'm not exaggerating in how great this show's quintet is. All spectacular individual performers on their own, they are even better as a collective, providing exquisite harmonies in bright, sassy, expressive numbers that keep every second entertaining. Throughout the show, several members break into separate solos, duos or trios that all feel well-devised and intuitively appropriate for the respective song being performed.
In a lovely nod to the show's roots, each cast member is assigned a "name" in the program that corresponds to the original Broadway cast member they are now playing in the show. The jaw-droppingly good Frenchie Davis is dubbed "Nell" (as in the legendary Nell Carter) in the show, and sings a bewitching "Mean to Me" that would do Ms. Carter proud. Seriously, I could listen to her sing a random Wikipedia page and I would be just as enchanted. Thomas Hobson steps in for "André" (as in André DeShields), whose dynamic footwork and matching, seductive vocals are a thrill to watch. I was profoundly enchanted by dazzling soprano Amber Liekhus (whose character is named for Armelia McQueen), who offers some of the most striking vocal work in the show (even some opera-inspired), and seems equally splendid in dramatic or comical situations. Natalie Wachen comes in as this production's Charlaine Woodard doppelgänger, and provides plenty of amusing, physically-comedic scenes to go along with her genuinely stellar high-pitched voice (in one song, she even wonderfully feigns being tone-deaf, and does so convincingly in the best possible acting way that makes it absolutely certain she's only pretending to be out of tune).
And finally, there's Boise Holmes, the charming, bass-voiced dynamo charged with stepping into the shoes that director Ken Page himself once stood in on Broadway. For his part, Holmes and his deep, pronounced singing style is a perfect contrast to his co-stars' high note vocalizations. But don't let that thundering deep bass fool you, because the guy is a total ham (perhaps much like the jovial Waller), comically gifted and boisterously expressive. Each member of the cast is given plenty of moments to shine as an individual, and the audience loves it.
Though it's a given to say that every single cast member possesses obvious charisma and a limitless abundance of talent, I have to admit that the women in the cast definitely steal the show. Armed with plenty of sass and attitude, Davis, Liekhus and Wachen are given a lot more moments for both comedy and stratospheric vocalizations that had the audience in spontaneous fits of elated cheers throughout the show. I did all I can to resist yelling "yaassss!" at these ladies during several times in the show.
While the cast does the hard work of singing (and, yes, acting out) this musical's rich songbook, the show's technical artisans complete the illusion by enveloping the ensemble in the environment of a bygone era. Stephen Gifford's classy jazz-era set---reminiscent of a smoky Harlem jazz club---transports us to the late 20's/early 30's where African-American patrons, adorned in their sharpest duds (courtesy of costume designer Shon LeBlanc) escape the harsh realities of the world outside to enjoy unabashedly vibrant live music as they sing and dance the night away. The show's terrific, big-sounding orchestra create beautiful rousing music throughout the evening from the rear of the stage, tucked away in their own alcove. Meanwhile, high above the action is a collage of different portraits of Fats Waller, serving as both a reminder to the audience whose music we are celebrating here and as an almost make-shift memorial tribute wall for the man who left this planet in 1943 at the shockingly young age of 39.
Hartley, the pianist/conductor/band leader is, of course, placed prominently out front---as if able to take requests easier or be seduced by the (female) clientele in a much more conveniently approachable location. Lighting designer Steven Young keeps the lights to a minimum to preserve its hazy, underground-like jazz club settings, providing enough ample spotlights for the vocalists pushed up front as needed. EB Bohks completes the throwback facade with his vintage-inspired wigs and make-up.
Overall, this celebratory production of AIN'T MISBEHAVIN' is a stunning, truly impressive display of pure musical talent, both from the vocally-blessed cast and the various artists, writers, and composers that have entered into Fats Waller's musical enclave. Even without a specific story, this musical revue, filled with delightful music keeps audiences mesmerized purely through its overwhelming aim to satisfy that doesn't let up until the final note is uttered. And even then, you'll feel like you want to experience more. In a way, the show truly lives up to its promise that "this joint is jumpin'... and, in return, we are more than happy to jump to our feet in happy ovation.
** Follow this reviewer on Twitter: @cre8iveMLQ **
See photos from the production's Opening Night celebration HERE.
Photos from the La Mirada Theatre for the Performing Arts' production of AIN'T MISBEHAVIN' by Michael Lamont. Review also published in On Stage.
---
The McCoy Rigby Entertainment presentation of AIN'T MISBEHAVIN' - THE FATS WALLER MUSICAL SHOW continues at The La Mirada Theatre for the Performing Arts through Sunday, October 8, 2017. The theater is located at 14900 La Mirada Boulevard in the city of La Mirada. Parking is Free. For tickets, visit www.LaMiradaTheatre.com or call (562) 944-9801 or (714) 994-6310.