Click Here for More Articles on SHAKESPEARE SPOTLIGHT
BWW Review: Kingsmen's TWO NOBLE KINSMEN Proves Honor Has Value and Chivalry isn't Dead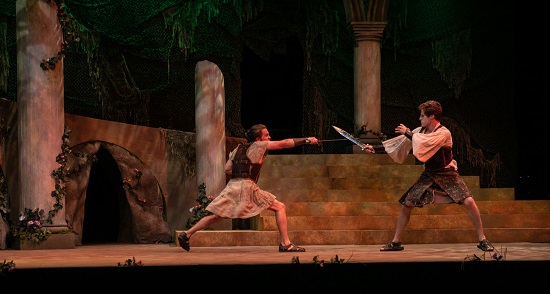 It contains possibly the last words William Shakespeare ever wrote and chances are you've never seen a production of it. THE TWO NOBLE KINSMEN was written around 1613 but not published until 1634, and is attributed to both Shakespeare and John Fletcher, the man who would succeed him as resident playwright for the King's Men (named for the company's benefactor, King James I). Kingsmen Shakespeare Company's production is the perfect opportunity to see it for the first time.
Full of humor and ceremony, it encompasses both the tragedy and comedy of life, along with a respectful nod to fate and the will of the gods. Kingsmen's production is a lustrous affair that boasts a sumptuous combination of technical elements and an excellent cast directed with wit and sophistication by Elizabeth Swain. Swain has edited down the text by a third and uncovered an underlying sweetness that runs through the play, making it an incredibly enjoyable evening of theatre under the stars. You want Shakespeare outdoors? This is as good as it gets.
The story is built around the relationship of Arcite and Palamon, whose loyalty and sense of honor inform every action they take. Even as the tale turns from brotherhood to rivalry, virtue still prevails. In a current world environment where chivalry and all it signifies is in short supply, it is a delight to return to the courtesy and concerns of an earlier time.
Shakespeare's contribution can be found in the sections derived from the source material, Chaucer's The Knight's Tale, and are some of the loveliest and most poetic passages in the play. These include the beginning and ending scenes and the first scene in Act III, which develop and resolve Arcite and Palamon's story. Fletcher adds the comic subplot concerning the jailer's daughter and a contrasting earthier tone.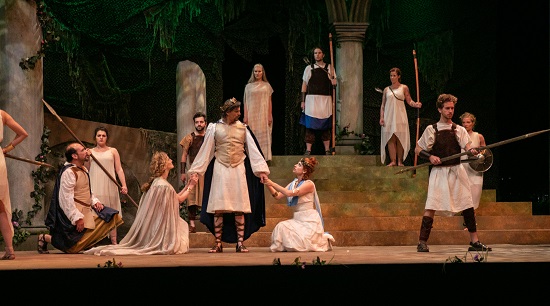 It begins with a ceremonial dance at the wedding of Theseus, Duke of Athens (Ross Hellwig) and Hippolyta (Angela Gulner), Queen of the Amazons. No sooner has the processional reached the stage when it is interrupted by three queens (Brook Masters, Skye Privat, and Kat Christensen) whose husbands have been killed by Creon of Thebes. Denied the right to bury their kings, they have come to appeal to Theseus for justice. Urged on by his bride-to-be and her sister Emilia (Samantha Eggers), he agrees to go to war with Creon and return the bodies to their wives.
We then meet Palamon (Rafael Goldstein) and Arcite (Connor Sullivan), cousins and fellow soldiers who are duty-bound to fight in their Uncle Creon's army, even though they know he is a tyrant. When Theseus emerges victorious, the young men are thrown into prison where they pledge to live out their lives in "holy sanctuary," essentially making the best of what they presume to be a life in chains.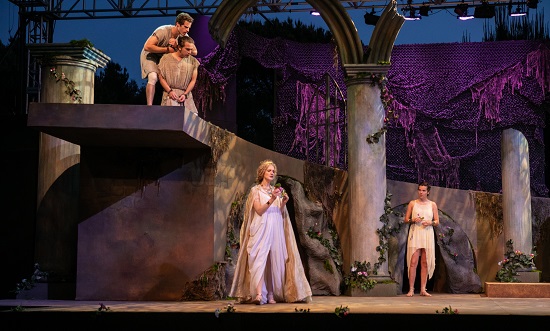 Fate intervenes when first Palamon, and then Arcite, sees Emilia in the garden below, each falling in love at first sight. So begins a rivalry reminiscent of the humorous mishaps of Helena, Hermia, Lysander, and Demetrius in A MIDSUMMER NIGHT'S DREAM. Both claim the tall beauty as their own but when Arcite is released from prison and Palamon is left behind, the jailer's daughter (a feisty and petite Rachel Seiferth) helps Palamon escape for she has fallen in love with him at first sight too.
Unrequited love, and losing him in the forest after freeing him, causes her to go mad (shades of Ophelia) until a Doctor (Michael Faulkner) advises the Wooer (Will Block) who loves her to disguise himself as Palamon to bring her back to her senses. The plan works and Block's heartfelt scenes as a sincere and caring young man are tender and affecting.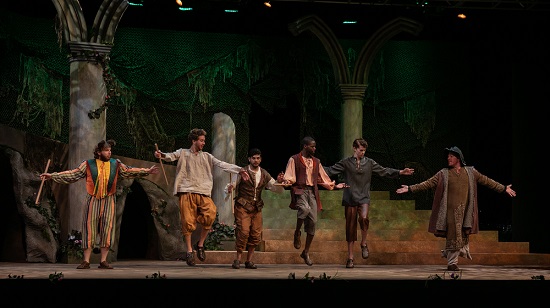 In the woods, Arcite stumbles upon a group of peasants rehearsing, much like the Rude Mechanicals in MIDSUMMER, and then finds the runaway Palamon still in chains. Eventually they duel over Emilia but the fight has unexpected consequences. Their rivalry is both dramatically intense yet comical in its courteous display of manners, and Goldstein and Sullivan are likable to a fault. The two have a brotherly ease in the charming way they banter and reason through their disagreements.
Goldstein, in particular, demonstrates a natural strength with situational comedy, both while chained to Sullivan early in the play, and later, chained to himself, that gets a lot of mileage without turning gimmicky. Fight choreography by Jason D. Rennie and Brett Elliot is executed with ferocious precision.
Kingsmen's creative team always turns out exceptional work and they have outdone themselves again this summer. Leigh Allen's gorgeous lighting sprays waves of rich color across the partial columns and draped netting of Andrea Heilman's highly-textural set, which moves easily from the temple steps of Athens, to the ledge of a prison, to the forest. The only misstep in the design is the cumbersome prison door which rises and retracts into the floor via a loud electronic lift that is impossible to ignore. The door isn't necessary and eliminating it would prevent being pulled out of the world of the play each time it moves.
A whimsical cinematic score by Christopher Hoag lifts moments of light comedy to the lovely strains of flute and guitar, while the regal sound of horns adds gravity to the court. By mixing medieval counterpoint and a modern musical sensibility, he creates a sound backdrop that leaves you with a feeling of good cheer. Even when the mood turns serious, the music never weighs the play down.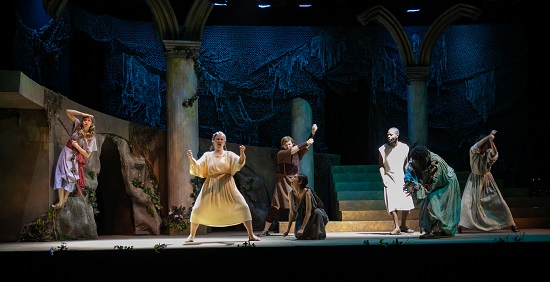 In total, Kingsmen's production of THE TWO NOBLE KINSMEN made me smile often, sigh deeply, and end the night happily satisfied.
No one ever produces this Shakespeare-John Fletcher collaboration and it's a shame. It plays so well in an outdoor setting and there is a surprising amount of humor that emerges when it goes from page to stage. This was, hands down, the unanticipated delight of my rather long and exhausting week. Theatre as a remedy is highly underrated. For whatever ails you, I prescribe this physic to restore all.
THE TWO NOBLE KINSMEN
June 29 - July 15, 2018
Kingsmen Shakespeare Company
Kingsmen Park on the campus of California Lutheran University
General admission is free for those under 18, $15 for students with ID, $20 for seniors 65 and older, and $25 for everyone else. Reserved lawn boxes have room for six and are available online for $90 to $110. Individual tickets are available at the door only. For lawn box reservations, visit kingsmenshakespeare.org or call 805-493-3452.
Photo credit: Brian Stethem
Related Articles
Ellen Dostal is a senior editor and longtime writer for BroadwayWorld's Los Angeles region. She publishes two popular Southern California theatre blogs – Musicals in LA (read more...)