Review: It's No Rumor… Neil Simon's RUMORS Is A Rollicking Good Time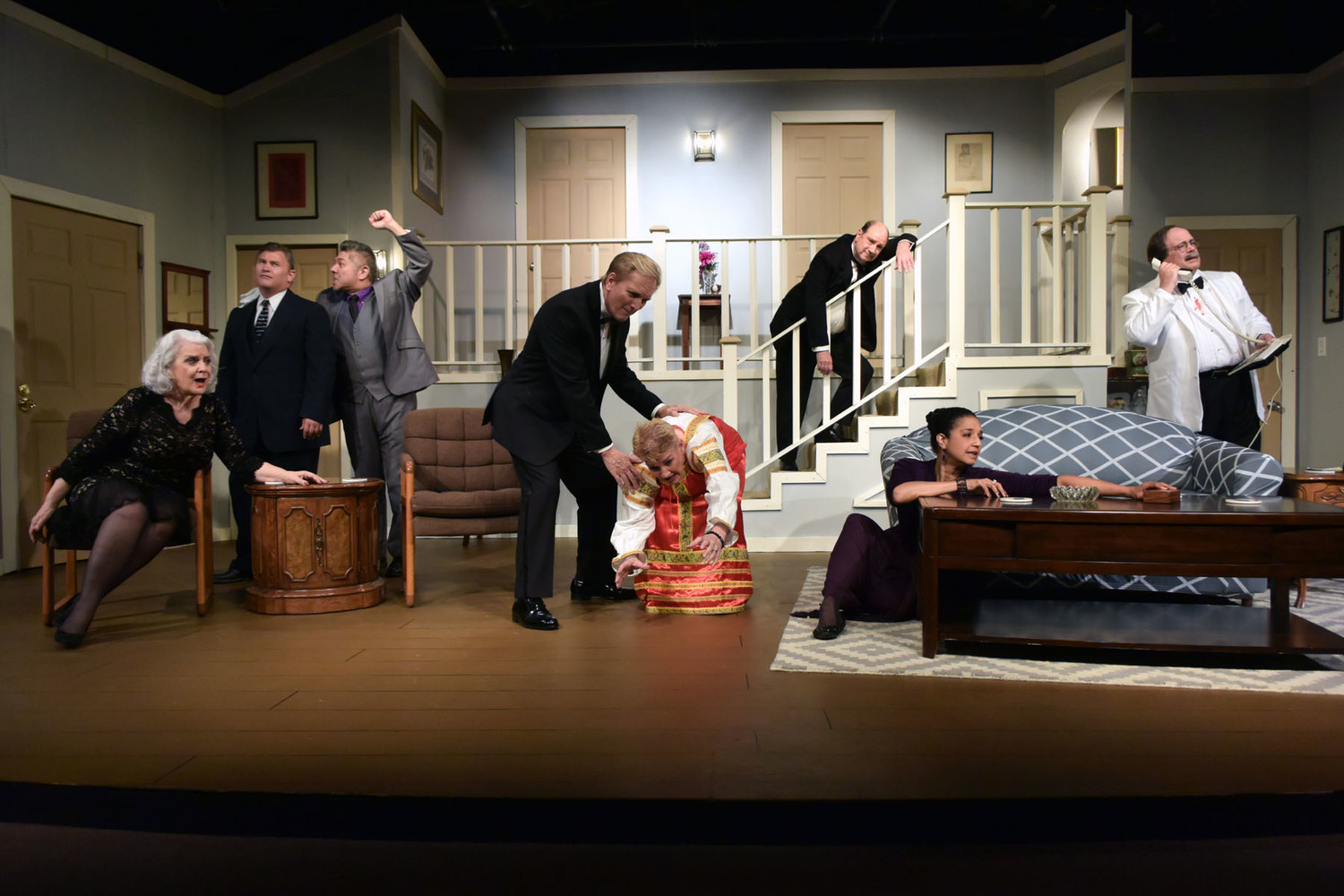 North Hollywood's Lonny Chapman Theatre was packed Friday night for the opening of Neil Simon's RUMORS. This classic farce followed five couples that had all been invited to a dinner party to celebrate a sixth couple's 10th anniversary. However, everything changed when the couples discover the host (Charlie) had shot himself, his servants and hostess were missing, and dinner hadn't been prepared. What divulged was utter nonsense and hilarity.
Directed by Doug Engalla and produced by Alyson York (The Group Rep), RUMORS was nothing short of funny. I read a summary prior to the show and couldn't imagine how the show would unfold, but I was pleased with Engalla's direction and how he took a play from the late 1980s and modernized it with a few tweaks to actors' lines. For instance, Officer Welch (Robert McCollum) made a comment about a 2019 Porsche during Act 2, which ultimately verified this version of RUMORS takes place today.
That being said, the set - although homey, inviting and quaint - looked like it was still stuck in the 1980s. The furniture felt outdated for a play assumingly set in 2018 and the doors' color (a khaki shade of brown) was unappealing. Though I did enjoy the impeccable attention to detail Chris Winfield (the set designer) gave to the walls behind the closed doors. They were decorated to give the illusion of bedroom hallways and the exterior at the front door.
Most of the costumes (designed by Angela M. Eads) were appropriate for a dinner party, but I thought a couple were slightly passé for the occasion. For instance, Ken's (Fox Carney) clothing reminded me of a cater waiter while Claire's (Cheryl Crosland) came off a little too morbid for such a joyous event. To me, those who were dressed most appropriately were Cassie (Hisato Masuyama-Ball) and Glenn (Todd Andrew Ball). They both wore modern, form-fitting suits that you'd expect to see in 2018.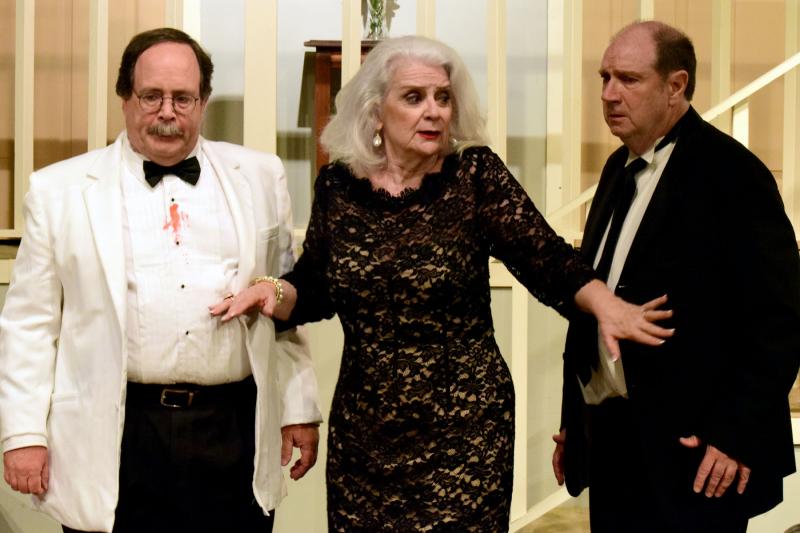 I thought the casting and pairing of couples was balanced and well done. As I read through the actors' biographies in the program, I noticed two married couples, Kent Butler/Cheryl Crosland and Todd Andrew Ball/Hisato Masuyama-Ball. It turned out they were married in the show too, which produced a very real and raw dynamic when they would interact with one another. Although the timing in conversations was sometimes off, it alluded to real-life bickering and nagging.
Hands down, my favorite character was Lenny (Kent Butler). Butler portrayed him as a condescending misogynist who made fun of his wife and his peers by talking down to them. I doubt it was intentional, but all I saw while watching him on stage was Jay Pritchett from MODERN FAMILY. He had some of the best lines in the show like, "I can only look up. I hope tall people are coming to this party." And when Cookie's (Lizanne Keigley) back issues made her crawl around on the floor after her husband didn't help her up, Lenny said, "She must be such fun to live with." I related to Lenny's sarcastic nature and sardonic tone, and every time he'd deliver a line I'd laugh uproariously.
By saying Butler was my favorite shouldn't discount the other actors. I truly enjoyed Keigley's Southern accent reminiscent of Blanche Devereaux's as well as her crazy antics on stage. I could not control my laughter while watching her inch her way from the living room to the kitchen. I probably gained two abs from that scene. Crosland played up the ditzy Claire to a tee that at one point I compared her to Rose Nylund in my notes. There were times when she and other actors flubbed their lines, but I attributed that to opening night jitters. Doug Haverty played Ernie Cusack, Cookie's doting and affectionate husband. He came off more reserved when delivering his lines that his jokes were more or less swept under the rug. However, I thought he was charming and endearing to watch.
Carney and Debi Tinsley, who played Ken's wife Chris, graced the stage first. The opening scene involved them spastically running around the house trying to cover up whatever shenanigans occurred upstairs. Throughout the course of the show, Tinsley became a bit unmemorable, but I wouldn't say it was her fault. Her character lost spark and wasn't very funny by the time the show ended. The opposite happened for Carney. I thought his character was a bit awry and annoying initially, but after he temporarily lost hearing (in the show, just to clarify) was when I began to laugh at his lines.
Ball and Masuyama-Ball were entertaining but it sometimes felt like Masuyama-Ball was trying too hard to get a laugh out of the audience. I wasn't sure if his character was supposed to be overdramatic or if he was just an overdramatic person. He was giving it his all but needed to take it down a few notches. I thought he was a bit overwhelming.
The last two actors who graced the audience were Robert McCollum and Judy Rosenfeld (Officer Welch and Officer Pudney, respectively). Rosenfeld barely said a word but her facial expressions were animated enough. McCollum, though, had plenty of lines and delivered them with good timing and great inflection. Like Rosenfeld, he also had expressive nonverbal reactions that made me chuckle.
I found RUMORS to be a fun time even though I didn't necessarily enjoy most of the script. I thought Act 1 was performed better than Act 2, but that might be because by Act 2 I was starting to find Simon's writing a little kitschy and unbearable. Despite all of that, I would recommend RUMORS to my friends and family.
RUMORS runs now through July 29 at the Lonny Chapman Theatre (10900 Burbank Blvd. in North Hollywood) on the first floor. Shows start at 8 p.m. Fridays and Saturdays, 2 p.m. Sundays. Talkbacks after Sunday matinees are June 24 and July 8. General admission tickets are $25, seniors and students (with ID) are $20, and groups (10+) are $15. Purchase tickets by visiting www.thegrouprep.com or by calling 818-763-5990.
Photo Credit: Doug Engalla