BWW Review: Chance Theater Amuses with New Video Game-Inspired Musical CLAUDIO QUEST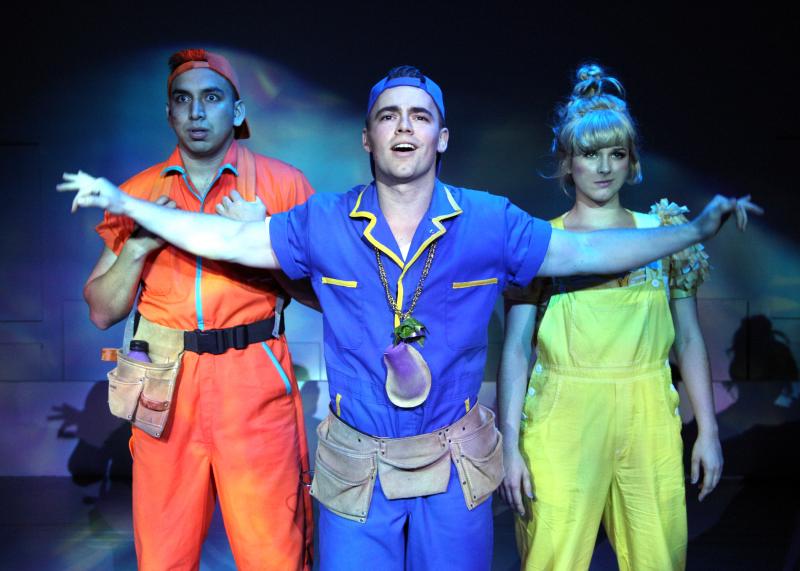 At 11 years old, I found myself in a household that, fortunately, had one of the first (now "classic") Nintendo gaming systems hooked up to a 27-inch TV console (considered a "big screen" at the time). I remember getting home and instead of diving into homework right away, my little cousin and I would plop in front of the TV to play Super Mario Bros.
For an hour (or two, if we got away with it), our calloused thumbs would be glued to controllers while forcing a couple of vertically-challenged Italian brothers to run from left to right, jumping over pipes and obstacles while collecting floating doubloons and jewels along the way. It was low-key, 8-bit escapist fun---well, at least until grandma yanked back the remote to switch the TV to her nightly episode of Wheel of Fortune.
Across the globe, similar types of pleasing scenarios played out in various living rooms like mine---which explains why I had such a giddy feeling of nostalgia take over me during the opening scene of CLAUDIO QUEST, a clever, retro-tastic new musical now having its West Coast Premiere performances at Orange County's Chance Theater. A hit at the 2015 New York Musical Theatre Festival, the show continues through February 26 in Anaheim.
During the opening scene, a young man (Joseph Ott)---dressed in familiar late 80's garb, naturally---enters the room and pops in a game cartridge into his own Nintendo game console. Meanwhile, hiding in The Shadows is his very curious, much younger brother (Jack Reid) looking on in rapt fascination at his brother's gaming prowess. Funny enough, the older dude isn't some football jock or wanna-be rock star, but nonetheless, his younger brother admires him like a skillful hero anyway.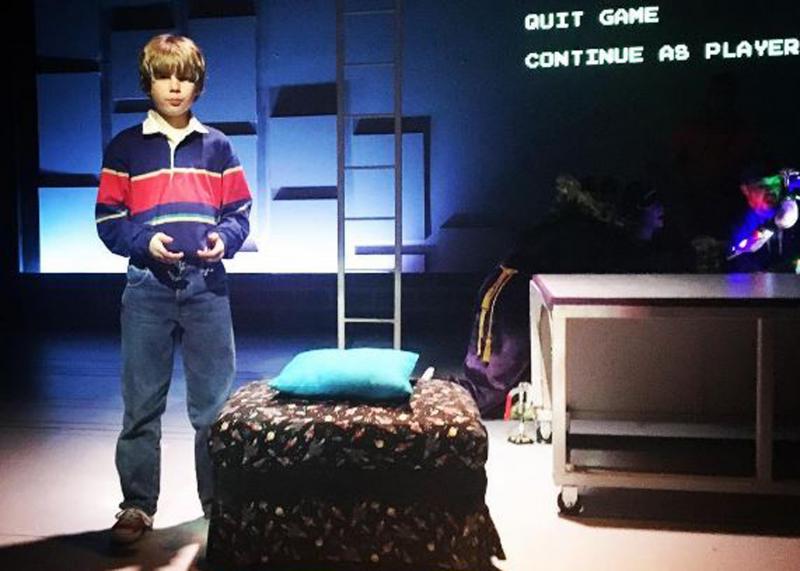 Why? Because his big brother is an expert at playing "Claudio Quest," a video game in which a valiant fix-it dude (with some help from his sidekick bro) is tasked to save a kidnapped princess from the clutches of an evil baddie. The "quest" involves traveling from one "land" to another, dodging obstructive dangers from every direction and surviving the wrath of the evil platypus that has kidnapped the princess. Luckily, due to the young man's expert gameplay, the title hero in the game is reliably triumphant all the time.
If that video game's premise sounds at all familiar, it is because CLAUDIO QUEST is essentially a reverent yet completely tongue-in-cheek musicalized parody of familiar classic video game-based characters and their respective "worlds"---everything from the aforementioned Mario Brothers (the musical's biggest inspirational source material) to The Legend of Zelda and even those ubiquitous Pokémon feel as though they are lovingly honored here in some form or another. The musical has both a soft spot and a skewering eye towards these characters, making for some wonderfully comical moments that both novice and casual gamers will find amusing.
For much of their existence, the "residents" within the game's Eggplant Kingdom have come to rely on the consistency of their way of life: that agile hero Claudio (Beau Brians) always effortlessly triumphs; that his helpful, less famous brother Luis (Andrew Puente) is always the ever-reliable Player #2 sidekick; that the daughter of King Eggplant (Amy Rebecca King)---the perpetually kidnapped Princess Poinsettia (Kim Dalton)---eventually gets rescued; and that the villainous Bruiser the fire-breathing platypus (Miguel Cardenas) is always defeated.
Well, not today.
In a smart though slightly expected twist, the musical introduces a glitch in the system that sets up the show's entire narrative.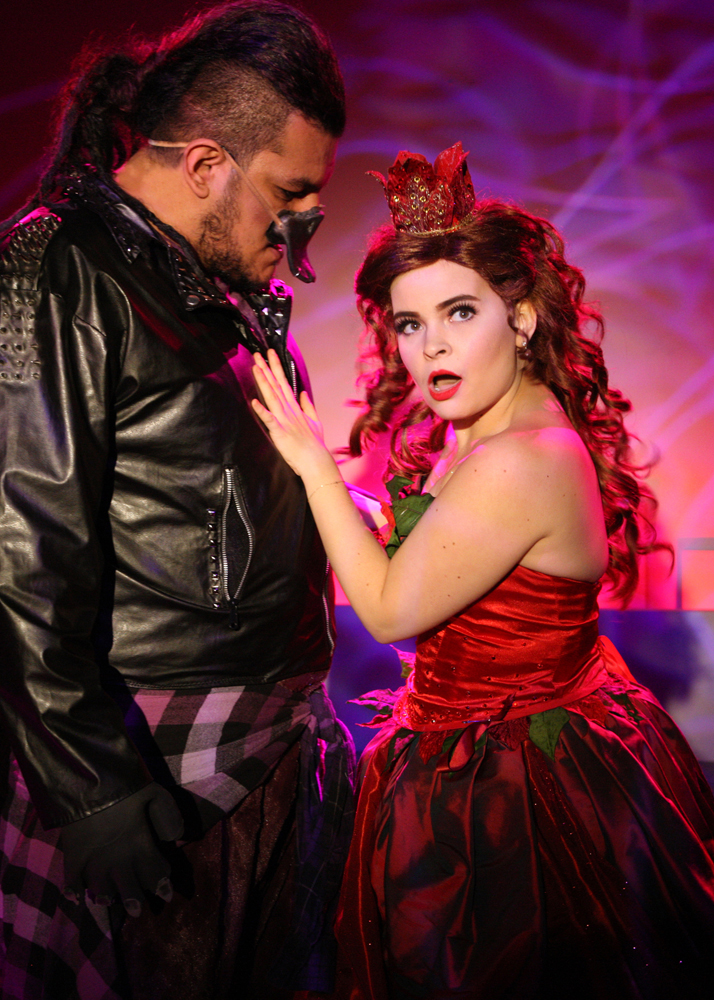 One day, as the older brother steps away from the game, his younger brother sneaks over to the console to attempt to play the Claudio Quest game his big bro has mastered so well. Being that he is a rather novice player, however, the younger brother isn't exactly replicating his older brother's winning streak.
This, of course, throws the entire 8-bit universe within the "Claudio Quest" game into a tizzy. The more the younger brother "messes up" the more weirder and stranger things become in the Eggplant Kingdom. Up until this day, everyone's expectations seem to repeat in the same pattern: Claudio succeeds, everybody wins.
All of a sudden the pattern is broken. The biggest shock to the Eggplant Kingdom's way of life, naturally, is when things stop being "normal," unaware that a new "player" is actually controlling their fates now. Funny enough, "All Lives Matter!" suddenly becomes a foreshadowing battlecry.
Progressively, all these abnormalities trigger a chain of events that throw some characters into existential, self-reflective crises while others are challenged to step outside their respective roles and comfort zones.
Perhaps most affected by this odd new occurrences are brothers Claudio and Luis, who are forced to, uh, sort of reverse places when an expected, out-of-character event happens to "Player 1" Claudio, forcing "Player 2" Luis to rise to the occasion and be the hero he's never really been allowed to be. Along the way, lives are rapidly lost and obstacles become extra hurtful. Soon Luis reluctantly gets some kick-butt assistance from Princess Fish (Monika Pena), Princess Poinsettia's estranged sister, and Y, a silent but, uh, sassy cross-dressing dinosaur.
Meanwhile Bruiser, the evil platypus---determined to figure himself out---is seen turning to psychotherapy for some clarity and insight. The neurotic villain insists his kidnapping of the Princess is all just a misunderstanding because, well, he's actually in love with her.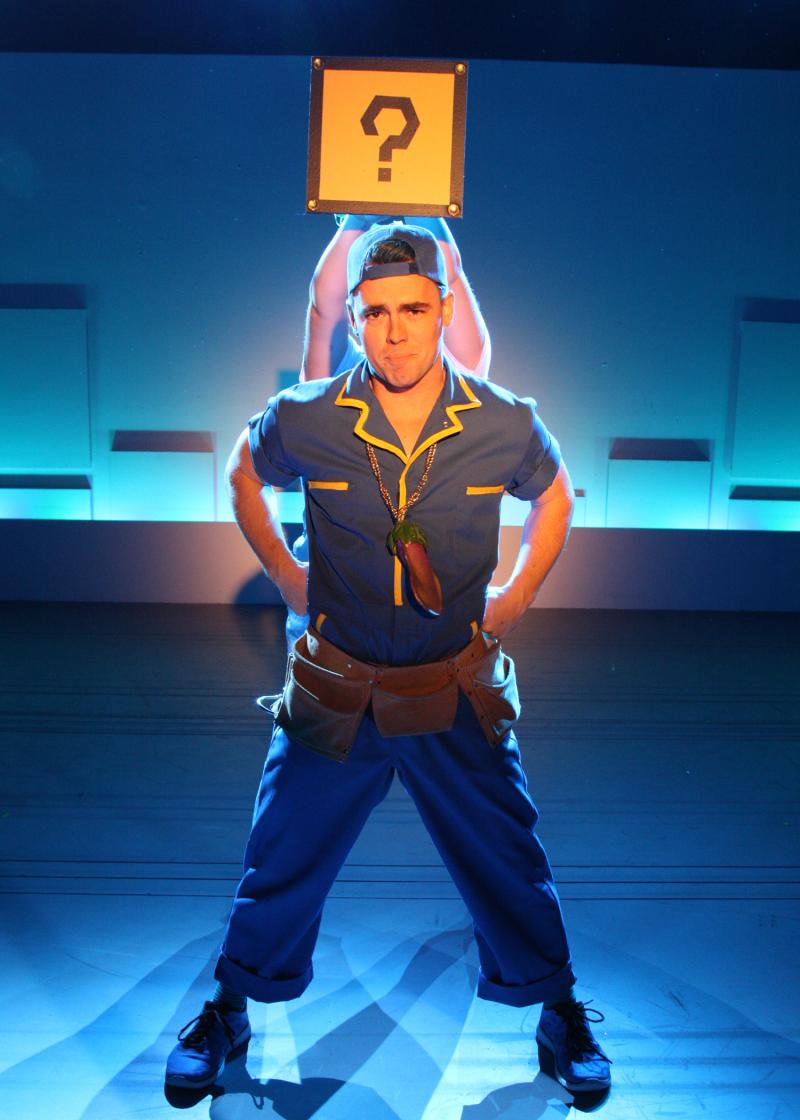 Much like in the first "Toy Story" film from Pixar---in which the children's toy Buzz Lightyear was initially unaware that he is, in fact, a toy rather than the "space ranger" he is designed to be---CLAUDIO QUEST also populates itself with characters living in a world in which they are unaware that they are all just bits of digitized pixels inside a game cartridge. To the residents of the Eggplant Kingdom, their world is very much real and self-determined, not at all puppeteered by unseen humans playing a game.
Featuring book, music, and lyrics by Drew Fornarola and Marshall Pailet, CLAUDIO QUEST is a fun and cheeky new musical with lots of smile-inducing moments that will certainly entertain old-school gamers and non-gamers alike. With nods to pop culture and retro video games, there's also a pleasurable bit of nostalgia with the show, taking audiences back to a time when 8-bit characters were so much more lively and had so much more personality than current HD-enhanced moody, violence-loving characters of today's gaming titles.
While some of the jokes, gags, and scene transitions could still use some extra fine-tuning, on the whole, this fun-filled show has enough potential built into it to be quite enjoyable. It's a fresh take on a rarely explored subject in a musical that, for me, mostly works. And like Pailet's funny TRIASSIC PARQ (which I also caught here at Chance Theater), this musical proves that Pailet now partnered with Fornarola are experts at finding hilarity in any given property they choose to parody.
It's also quite a remarkably complex production, with much kudos to director Pailet and The Combined efforts of the hard-working, high-energy ensemble and stage crew for pulling off such a well-choreographed feat at every performance.
Using a system of rolling platforms and lots of bouncy, fiery obstacles and objects, CLAUDIO QUEST effectively replicates recognizable video game worlds and, haha, "levels." To further achieve this, scenic designer Fred Kinney uses flat color palettes for most of the set so that animator Justin Melillo and lighting designer Matt Schleicher can use these surfaces as blank canvases for their eye-popping, 8-bit like environments. Rachael Lorenzitti's colorful costumes, Marci Alberti's make-up and hair design, and Ryan Brodkin's sound effects complete the look, feel, and sound of the Eggplant Kingdom.
Sound-wise, the ensemble cast sounds relatively great above Ryan O'Connell's musical direction of (what I can only assume is) a pre-recorded soundtrack. While there were some minor flat singing in two or three instances, overall the cast---especially when singing together---does a great job illustrating and, yes, vocalizing their unique world. Maxx Reed's dynamic video game-inspired choreography looks like such a workout for the cast---but they pulled it off impressively.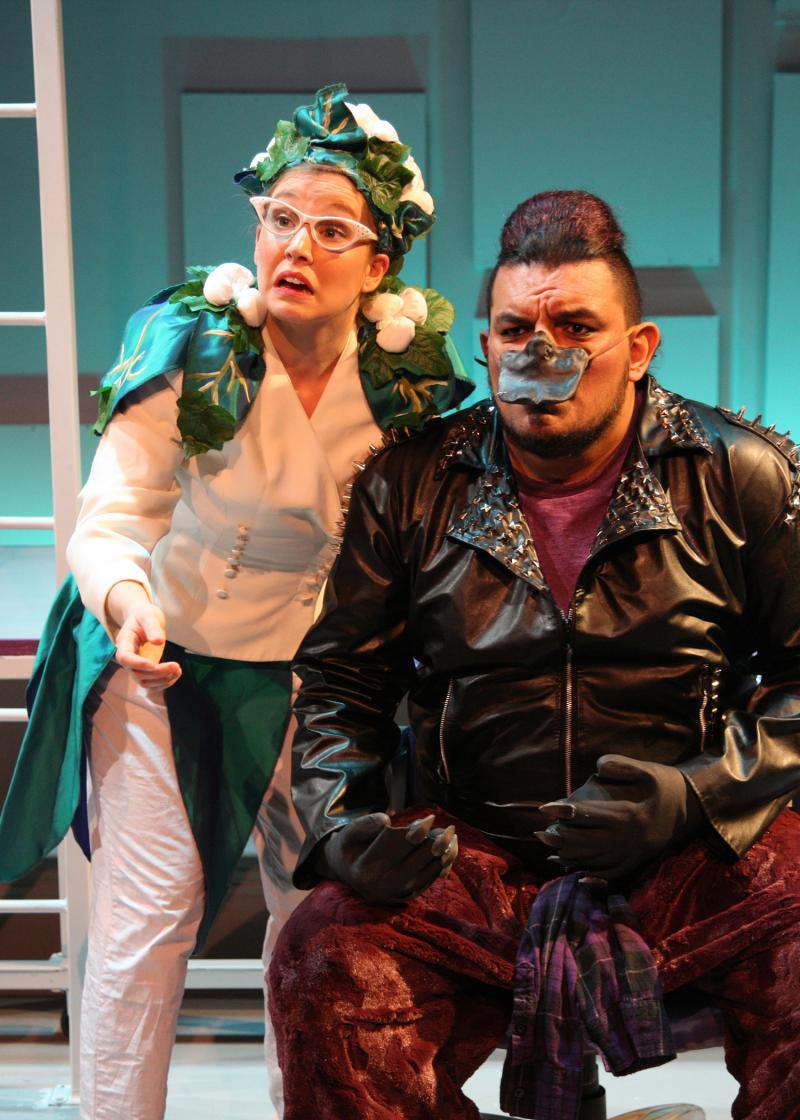 But more importantly, the story of CLAUDIO QUEST itself is clever, witty, and winningly delightful. I wholeheartedly bought into the idea of the characters within the game not being aware that they are characters within a game---and that some heroes can rise above their expected roles to save the day.
And much like the support group scene in Disney's "Wreck-It Ralph," CLAUDIO QUEST also finds itself with a conflicted villain in therapy---which proves again that there's reliable humor to be gained in such a scenario.
I'm still not so sure about the presence of the non-verbal character of "Y" (this musical's version of INTO THE WOODS' Millky White perhaps?), whose forced appearance and "interactions" yield some of the musical's least funny moments. Well, okay, admittedly the sight of the creature wearing a glittery scarf towards the end of the musical made me smile a little, but, otherwise, the character is slightly awkward and entirely unnecessary.
With cute-sy, gaming jargon ("There's never been a problem I couldn't jump on, no!") and a score that is part synth-pop ear candy and part nostalgic computerized MIDI chirps, there's lots to really like about CLAUDIO QUEST The Musical. As it stands, the show could use a few more refinements and some narrative adjustments to make this an even better show. But, thankfully, with its cheeky fun and creative premise, Chance Theater's production is certainly worth putting down the controller for one night to laugh yourself silly.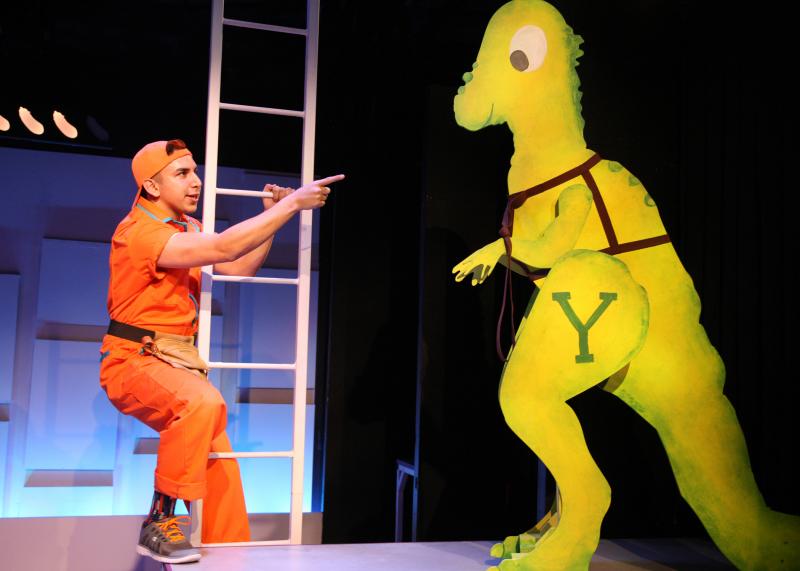 Follow this reviewer on Twitter: @cre8iveMLQ. Review also published in OnStage.
Photos from Chance Theater's production of CLAUDIO QUEST by Doug Catiller/True Image Studio.
-------
Chance Theater's Production of CLAUDIO QUEST continues at the Cripe Stage through February 26, 2017. The Chance Theater is located in the Bette Aitken Theater Arts Center at 5522 E. La Palma Ave., Anaheim Hills, CA 92807. For more information or to purchase tickets, call (714) 777-3033 or visit www.ChanceTheater.com.
Related Articles View More Los Angeles

Stories

Shows
A So. Cal. Contributing Editor since 2009, Michael Lawrence Quintos is a talented, mild-mannered Designer by day. But as night falls, he regularly performs on (read more...)