BWW Interview: Renaissance Man James Morrison SPILLing on Choosing Roles That Feed His Soul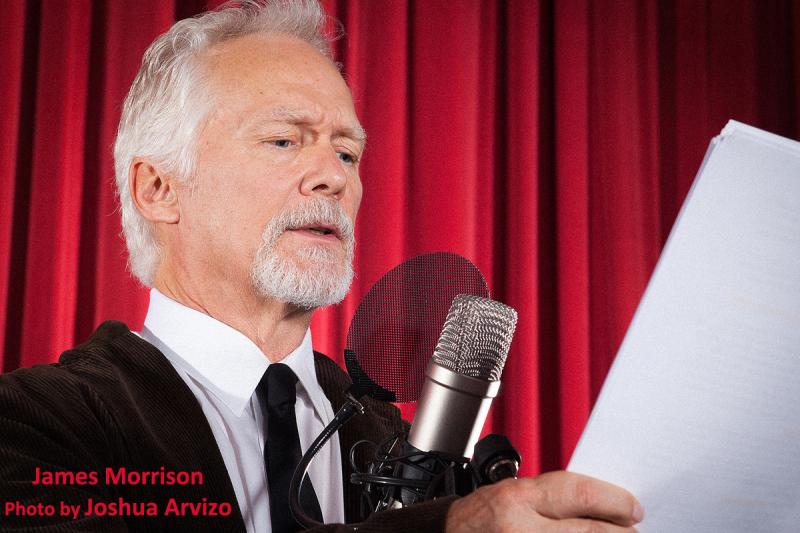 L.A. Theatre Works will be west coast premiering Leigh Fondakowski's SPILL May 17 through May 20, 2018. We had the opportunity to chat with an L.A. Theatre Works' frequent collaborator, actor James Morrison on his current and past involvement with L.A. Theatre Works.
Thank for agreeing to this interview, James!
Gil, you're very welcome.
If I did my research correctly, SPILL will be your sixth radio theater production for L.A. Theatre Works after THE TUG OF WAR (2017), JUDGMENT AT NUREMBERG (2015), IN THE HEAT OF THE NIGHT (2014), THE RAINMAKER (2001) and RUBY McCOLLUM (1997). How did you initially connect with L.A. Theatre Works?
Susan Loewenberg gave me my first job in L.A. In late 1982, when I first arrived in L.A. She hired me to understudy the lead role of Eddy in the L.A. Theatre Works production of GREEK, Steven Berkoff's retelling of the Oedipus story, at the Matrix Theatre. Ten days later, I stepped into the role for a month. It was a massive part. I
had to learn a Cockney accent and everyone else in the cast was British. No pressure, right? It was like learning a role the size of Hamlet in a foreign language. From that point on, whenever Susan needed someone to step in to cover for someone in one of her productions, she would call me. I was honored she felt she could count on me. And I could be wrong, but I'm pretty sure RUBY McCOLLUM was the first time she offered me a role outright from the beginning of the production, which we recorded in the studio. THE RAINMAKER was the first live recording I did with her.
What characters do you play in SPILL? Can you give us a brief run-down on them?
I play Bill Anderson (father of Jason Anderson, one of those who died in the explosion), Randy Ezell (senior tool pusher with Transocean) Billy Nungesser (Louisianan Plaquemines Parish president) among a few others. Everyone in the production is cast in multiple roles and that's how it stands as of now. You never know. It's subject to change, they say.
L.A. Theatre Works productions utilize the radio show device of a foley artist. So fascinating to watch the foley artist use such common day objects for specific sounds. Did you listen to any radio programs growing up? Did your imagination create some great visuals for what you heard?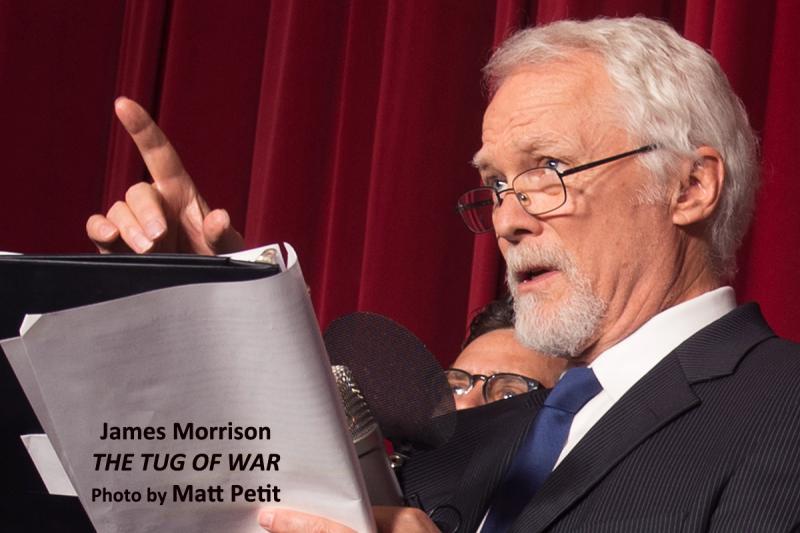 As a child of the 50s and 60s, I grew up on television. My influence in radio drama was the Firesign Theatre. They were brilliant. I didn't get into listening to radio drama from the 30s and 40s until college and mostly just for research. Until you actually end up doing one, and go behind the curtain on the process, you don't realize the amount of work that goes into them.
Any L.A. Theatre Work programs you were able to experience as civilian audience member?
The last one I saw was their production of Dylan Thomas' UNDER MILKWOOD. Loved it. As a matter of fact, that was the first time I'd seen John Francis, the actor I covered in GREEK, in about 30 years.
From the L.A. Theatre Works shows you've done, which of the characters you've played (WAR's John McCone, NUREMBERG's Judge Haywood, HEAT's Chief Gillespie, RAINMAKER's Bill Starbuck, RUBY's William Bradford Huie) could you find interacting in a social setting? Would any of them would be good friends? Boss or co-workers? Members of a specific club? What modern day situation could you place them in?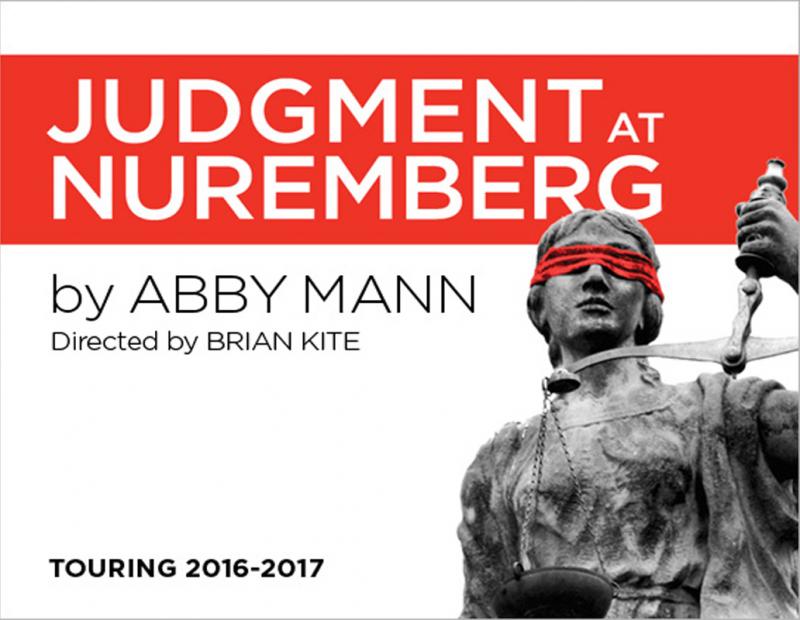 It goes without saying that everyone needs a Bill Starbuck in their lives to show them their true worth and build our self-esteem, instead of just the con men and hucksters we seem to be consumed by - even though he certainly has that going for him, too. Speaking of which, I'd love to place Judge Haywood in the current situation we're in now in Washington to bring justice to those who commit crimes against our democracy and the environment among other things. I think JUDGMENT AT NUREMBERG is a story we could study considering all that's happening now.
You are one of the lucky few who excel in all three mediums of entertainment (film, television and stage). Financial compensation aside, which of the three mediums do you prefer? Or would it depend on the actual project?
Over the years I've found that it doesn't matter how great the project is. If you're working with people who understand that kindness and respect is strength, not weakness; if you're working artists dedicated to the story, who put the story first and create a positive work environment; that's what you walk away with. All that matters it how you treat each other in this life, and that includes where you work.
You are also quite a modern day Renaissance Man. You not only act, sing, write and direct; you are also certified to teach Hatha yoga. Any one of your talents you prefer exercising most frequently? Or do you alternate to keep everything fresh?
There are many different ways to say this, but what it comes down to is that if you're doing what you love to do, it's not work. If it's not fun, don't do it. If you find the thing you don't like to do, don't do that thing. That's the essence of it, I think. The other thing I have to remember is that creating things is good. As long as it doesn't hurt someone else, do that. Don't judge it or yourself for doing it. Don't quantify it. Just keep creating if you create. Like many others, I've found different ways of doing that, and enjoy them all. The only other thing I can add is that Ralph Waldo Emerson summed it up in his poem Success, the first line especially: "To laugh often and love much."
Coming from the Alaskan theatre community where you spent your teen years, did the Los Angeles theatre scene in 1991 take some adapting to? Or were they pretty similar then?
1981, actually. And yes, it was culture shock on every level. I'd spent a year in New York back in the mid-seventies, studied and did a couple of plays; but nothing prepares you for Los Angeles. It's a beast of a city. I'm not a fan. I don't live there, kind of hate to hang around in it much.
What is in the near future for James Morrison, the man of many mediums?
I wish I could tell you I'm going into some great project, but I'm between things, enjoying a quiet life in the Ojai Valley at the moment. That's the actor's life. You never know what's around the next corner. Things change in an instant. The minute I start complaining about not working, my wife says, "You'll be so busy soon, you'll wish you had time to complain." I'm writing some things, reading some scripts. As I said, I'm picky about who I work with, not just what I work on. So I look at all those things. I'm not a workaholic - some would equate that to ambition, maybe they're right - so it's easy to be picky. As you get into your 60s, you realize you have to be more selective, especially about what you commit to emotionally as an actor, as an instrument of illusion. There are some places I just don't want to go anymore. Some emotions I just don't want to spend time in. I get offered things based on criteria I don't really understand or agree with - all working-stiff, wage-earning actors do. So I wait for the right thing that doesn't feed that. I'm happy being a worker among workers, but also need to feed my soul. So I do whatever feeds it.
Thank you again for this interview, James! I look forward to hearing your various characters' plight in SPILL.
For ticket availability for one of the five SPILL performances May 17 thru May 20, 2018 at the James Bridge Theater on the UCLA campus; log onto www.latw.org