BWW Interview: Lea DeLaria's Jazzing It Up With Bowie for Grand Performances' 30th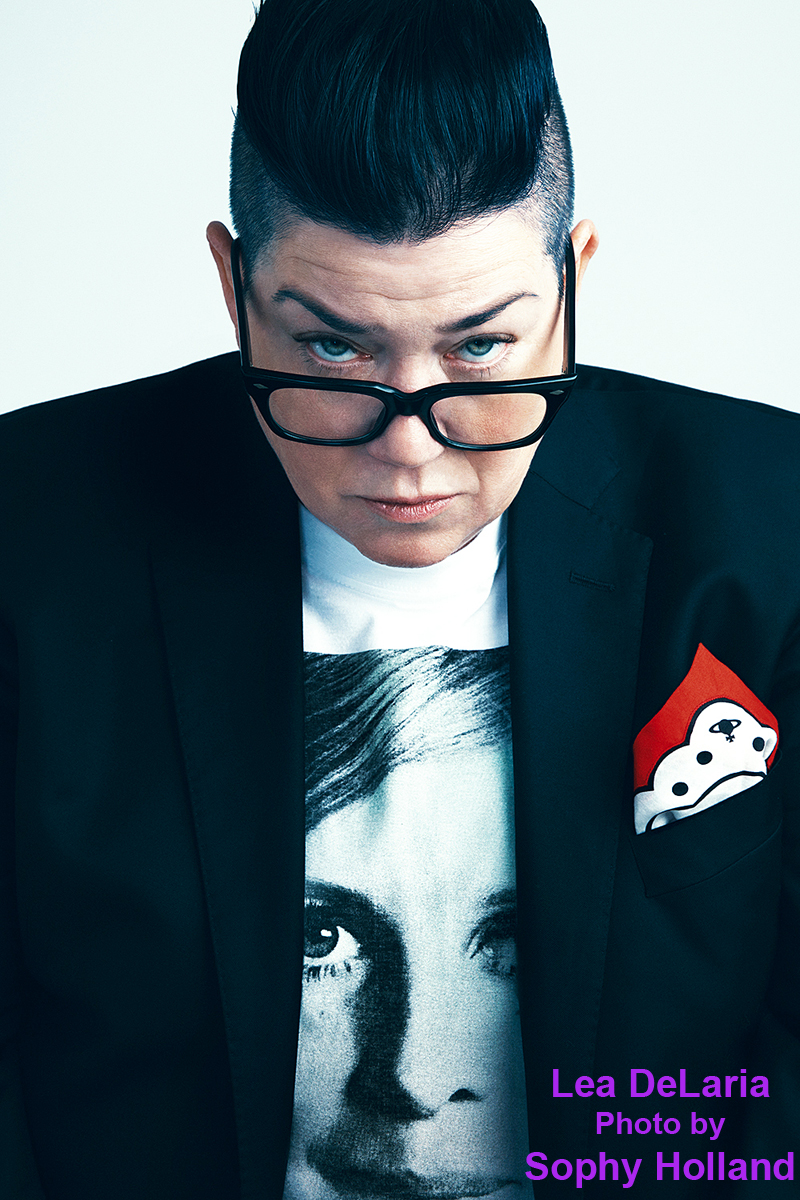 Comedian/actress/jazz musician Lea DeLaria will be performing the Los Angeles premiere of Lea DeLaria: HOUSE OF DAVID, her jazz-inspired David Bowie cabaret show to benefit Grand Performances' 30th Anniversary on September 17, 2016. Currently known to the new generation of alternative television viewers for her stand-out role as 'Carrie 'Big Boo' Black' in Netflix' Orange is the New Black; Lea has been entertaining since the early 1980s, either performing stand-up, singing jazz, acting in film and TV, or gracing the Broadway stage.
Thank you, Lea for taking the time for his interview with BroadwayWorld and myself.
Your Grand Performances' 30th Anniversary Benefit on September 17 will be the Los Angeles premiere of your HOUSE OF DAVID performance. Where else have you performed your Bowie homage?
It's my latest release, so I have performed it all over, from the London Jazz Festival to the Out Of The Box Festival in Boston.
What was the impetus for your sixth record/CD/recording (what do you call them now?) "House Of David delaria+bowie=jazz" ?
We call them records still, and it will be out on vinyl.
Everybody who knows my Jazz knows that I don't really do the American Songbook. I mean, is yet another rendition of "My Funny Valentine" necessary? Not that there is anything wrong with "My Funny Valentine," it's just, well...
Q: How many singers does it take to sing "My Funny Valentine"?
A: Apparently all of them.
I do "weird Jazz." I'm fond of taking music others would not think of swinging and reinventing it in the language of Jazz. I've done that with The Doors, Patti Smith and even "The Ballad Of Sweeney Todd."
David Bowie is one of my heroes so why wouldn't I use his amazing and creative tunes? I mean, when have you ever heard anyone say, "David Bowie! What a hack!" Plus his oeuvre spans over five generations! Who doesn't love The Thin White Duke.
I believe you were 14 years old when you discovered David Bowie. What Bowie song really spoke to you?
"Suffragette City." Do I really need to explain that?
Did you receive any feedback from the house of David Bowie to your "House Of David delaria+bowie=jazz"?
Yes. In fact, his website pushed the crowd funding and released the first track and album cover. He, thru his folks, was incredibly supportive.
Which is your biggest passion: acting, stand-up, jazz musician?
Whatever pays my rent... Spoken like a true triple-threat.
What was your very first professional gig?
By that I am assuming you mean for which I got paid. When I sang with my father, it was professional, but he got the bread. I was only a kid so... My first professional gig was in May of 1982. I was paid $25 to host an open mic comedy night "Gay Comedy Open Mic" at The Valencia Rose in San Francisco.
Was wearing the mantle of being the first openly gay comic on television in America heavy on your shoulders?
At that time I was far too young, and arrogant, to let anything weigh heavily on my shoulders. Having said that, given the political state of things; it was/is important to me to not compromise my ideologies which were, and are, left of center of the mainstream LGBT Movement.
How did that 'virgin' booking on The Arsenio Hall Show come about in 1993?
I was slotted to perform at Highways, Tim Miller's performance art space in Santa Monica. They procured an interview with the Los Angeles Times. It must have been a slow news day because the article appeared below-the-fold, front page of the entertainment section. This was 1993 when people actually read newspapers. In fact, as we all know the LA Times is an industry paper. So, before I could say cunnilingus, everyone was trying to get into my sold-out run. By everyone, I mean all the living presidents. It was a very surreal time, given my penchant for blue language and ultra-graphic queer humor. Then, suddenly, I get a call from Joy Dolce, a producer on The Arsenio Hall Show. She said Arsenio wanted me on. At the time, Arsenio was the number one late night talk show in America and was shown everywhere. So, of course, I said, no...
Any role models you looked up to when you were first starting in the Biz?
Lily Tomlin, George Carlin, Carol Burnett, Bette Midler, Jackie Gleason, Judy Garland, Lenny Bruce, Phyllis Diller, and my heroes: Ella, Betty, Miles, 'Trane and Dizzy.
What advice would you give a young, up-and-coming performer, gay or straight, today?
Learn to tend bar.
Belated congratulations on your series' unprecedented three-season renewal. How 'non-network' is your Netflix shooting schedule?
It's an episodic television show and is shot exactly like one. We have a 10-day schedule with weekends off. But as an actor you know when you sign on that line, THEY OWN YOU. As long as they stay within the confines of SAG rules, they can call anytime. And I fucking hope they do, I love them. I love my show. I love my fellow cast and crew.
Does your Orange is the New Black commitment allow for any live concerts or another stint on Broadway?
I have weekends free, and tend to do those during the filming schedule.
In the 2000 Broadway revival of THE ROCKY HORROR SHOW, you've played both Eddie & Dr. Scott. Did you give any advice to Laverne Cox on dealing with her role as Dr. Frank-N-Furter in the upcoming FOX version?
As if I could give Laverne advice on anything. She's the one with the Emmy nom. Not me, honey!
You've performed at Carnegie Hall, Lincoln Center, the Chicago Symphony, Hollywood Bowl, The Royal Albert Hall and the Sydney Opera House. Is there any other place you'd still like to work the stage at?
Either Burning Man or the Blue Note Jazz Festival in Japan.
What response would you have liked David Bowie to have to your live HOUSE OF DAVID concert?
It's another either/or situation. Either him walking onto the stage to sing a duet with me on let's say, "Space Oddity," or him walking out in a huff. I feel both would have gotten a fuck of a lot of press!
Thank you again, Lea! I look forward to your jazz stylings September 17.
Lea DeLaria: HOUSE OF DAVID will be presented as the centerpiece of The Grand Performances' 30th Anniversary Benefit on a stage surrounded by a water fountain at California Plaza in downtown Los Angeles. To purchase tickets for the September 17, 2016 benefit concert and the gala dinner, visit www.grandperformances.org

Related Articles View More Los Angeles

Stories

Shows
From This Author Gil Kaan