Colin Anderson and Gina Naomi Baez to Lead Argyle's THE HUNCHBACK OF NOTRE DAME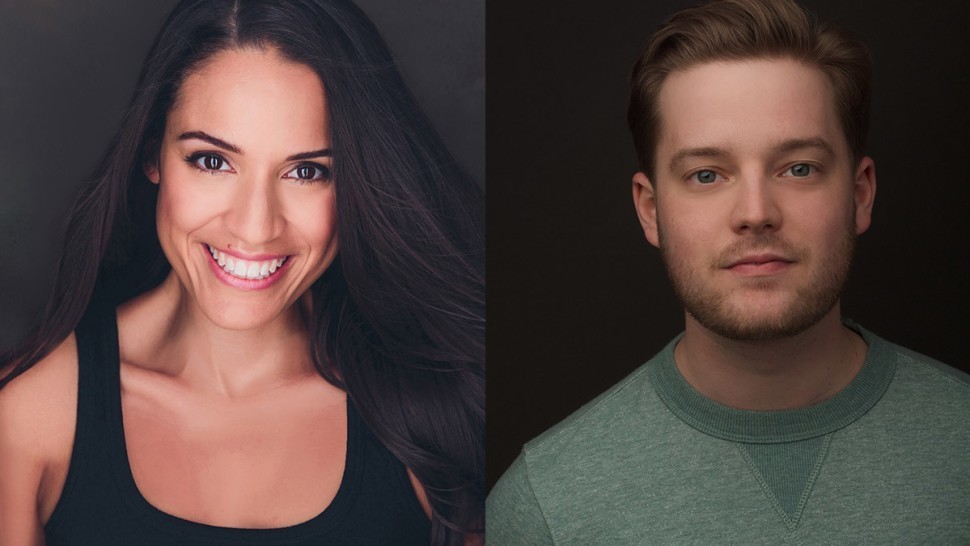 Let the bells peal! Ring in the holidays with a classic tale. Long Island's newest theatrical venue The Argyle Theatre (Mark Perlman and Dylan Perlman, Managing Partners; Evan Pappas, Artistic Director) presents the musical The Hunchback of Notre Dame, based on the novel by Victor Hugo and songs from the Disney film originally developed by Disney Theatrical Productions, with music by Alan Menkin, lyrics by Stephen Schwartz, and book by Peter Parnell. Performances begin Thursday, November 8, 2018 for a limited engagement through Sunday, December 30, 2018 at The Argyle Theatre (34 West Main Street, Babylon, Long Island). Opening Night is Saturday evening, November 10, 2018 at 8:00 p.m.
Under the direction of Evan Pappas, with choreography by Debbie Roshe and music direction by Ilana Atkins, the 17-member cast will feature Colin Anderson as Quasimodo, Gina Naomi Baez as Esmerelda, Leland Burnett as Pheobus de Martin, Rodd Farhadi as Clopin Trouillefou, Thanos Skouteris as Jehan Frolo, and Ryan Speakman as Claude Dom Frollo, with Quinten Patrick Busey, Arjun Dhawan, Jordan Eagle, Malcolm Franklin, Mikey Marmann, Ashley Gale Munzek, T.J. Newton, Bobby Peterson, Christopher Salvaggio, Rachael Scarr, Alexis Semevolos, and a choir that consists of members from many Long Island communities.
This passionate production of The Hunchback of Notre Dame is a sweeping musical with a timeless theme which poses the question: What makes a monster, and what makes a man?
Based on Victor Hugo's classic 1831 novel, The Hunchback of Notre Dame, and the 1996 Disney film, the play takes place in 15th-century Paris and tells the story of Quasimodo, the hunchback bell ringer of Notre Dame Cathedral. Held captive by his caretaker, the devious archdeacon Dom Claude Frollo. Quasimodo longs to be outside with the merry crowds celebrating the Feast of Fools. He escapes and is harassed by a boisterous crowd until Esmeralda, a beautiful gypsy, intervenes, protects him from harm, and captures his heart. Complications arise when the Archdeacon and Phoebus de Martin, the new captain of the guard, also fall in love with Esmeralda. Dangerous Frollo embarks on a mission to destroy the gypsies who are ready to kill any outsiders who discover their secret hideout. It's up to Quasimodo to save them all!
"As The Argyle continues to grow we are thrilled to present The Hunchback of Notre Dame with this stellar cast and creative team," stated Evan Pappas. "The messages and themes that come from this story are beautiful and timely and we can't wait to share this epic and wondrous work."
The creative team for The Hunchback of Notre Dame includes Scenery Rental Provided by Front Row Theatrical Rental (Set Design), Alan Berkoski (Costume Design), Graham Kindred (Lighting Design), David Marrgolin Lawson (Sound Design), Steven Altinel (Choir Director), Eugenio Contenti (Assistant Director), and Saki Masuda (Assistant Choreographer). The Production Stage Manager is Suzi Bonnot. The Casting Director is Michael Cassara.
The Hunchback of Notre Dame will play the following performance schedule: Wednesday at 7:30 p.m., Thursday at 7:30 p.m., Friday at 8:00 p.m., Saturday at 3:00 p.m. & 8:00 p.m., and Sundays at 2:00 p.m. There are no performances on November 7, 21 and 22 (Thanksgiving Day). PLEASE NOTE: There are no Monday or Tuesday performances.
Tickets for The Hunchback of Notre Dame, NOW ON SALE, are priced from $45 - $79, and may be purchased online at www.argyletheatre.com or by calling (844) 631-5483.
ABOUT THE ARTISTS
Colin Anderson (Quasimodo) recently made his Broadway debut in Carousel in the ensemble and covering Enoch Snow (role performed). New York: Sweeney Todd (Lincoln Center & Barrow Street Theatre), ICON (NYMF). National Tour: The Book of Mormon (2nd National Tour). Regional: The Rocky Horror Picture Show (Lyric Theatre of Oklahoma), Spring Awakening, Next to Normal, Hairspray (Crown Uptown Theatre).
Gina Naomi Baez (Esmerelda) just completed filming the recurring role of Marisol in Spike Lee's She's Gotta Have it Too. Television: "Orange is the New Black." Off-Broadway: Women on Fire (Royal Family), A Taste of Things to Come (York Theatre Company), Fatty Fatty No Friends (NYMF), Under Fire (NYMF), Chautaugua! (Public Theater), Monument (Prospect Theater). Regional: The Hunchback of Notre Dame, Man of La Mancha, In The Heights, Little Shop of Horrors, Oliver!. Her new venture is her "Eyes on Broadway" Vlog also on YouTube! Gina is a singer/songwriter and viral youtuber: YouTube.Com/GinaNaomiMusic. www.ginanaomibaez.com
Leland Burnett (Pheobus de Martin). New York: Wonderful Town (Chic). London: Blues for Mister Charlie (Ellis). Tours/International: Mamma Mia (Sam), Rock of Ages (Dennis), Saturday Night Fever (Monty/Frank Sr.). Regional: The Best Little Whorehouse In Texas (Sheriff Ed Earl), The Little Mermaid (King Triton), The Who's Tommy (Captain Walker), The Full Monty (Jerry), Loving Repeating (Man 1), Wait Until Dark (Mike). Film/TV: Proof, "Knight to F4." BA from the Guildford School of Acting, England.
Rodd Farhadi (Clopin Trouillefou) graduated this past year from UCLA's School of Theater, Film, and Television. Recent credits include Eddie in Mamma Mia! at The Hollywood Bowl directed by Kathleen Marshall, Victor in Cabaret (McCoy/Rigby Entertainment), George in Sunday in the Park with George (UCLA), and Billy in Carrie (UCLA). Rodd has performed with the LA Philharmonic, bands such as Earth, Wind & Fire, can be seen playing Aladdin in rclbeauty101's YouTube Disney sketches with over 100 million views, as well as in short and independent films. www.roddfarhadi.com
Thanos Skouteris (Jehan Frolo) is thrilled to be joining The Argyle Theatre family! Off-Broadway: Letters to Sala (Officer). National Tour: The Sound of Music (Swing, u/s Captain Von Trapp), A Christmas Carol (Young Scrooge). Regional: Beauty and the Beast (Gaston, Woodstock Playhouse). www.thanoskouteris.com
Ryan Speakman (Claude Dom Frollo). Broadway Concerts: Camelot (starring Jeremy Irons), Oliver! Off-Broadway: Napoleon (NYMF), Moses Man (NYMF), With Glee (Kimmel Center), Little Mary Sunshine (Musicals Tonight), Jane Eyre (2017 Workshop). Regional favorites: Noel Coward's Bitter Sweet (w/ Dame Sian Phillips), Camelot, Cabaret. TV/Film: "Bull" (CBS), "The Detour "(TNT), The Only Living Boy in New York. Founder & Audition Coach at www.broadwaytutors.com
Evan Pappas (Director) brings nearly four decades of expertise to the Argyle Theatre as its Artistic Director. Evan is represented as a director with Off-Broadway's A Letter to Harvey Milk, Liberty (Theatre 80 and 42West); Wonderful Town and DuBarry Was a Lady (both for Musicals Tonight!); Evita, West Side Story, Kiss Me Kate, The Barber of Seville, and The Daughter of the Regiment (Opera North); The Color Purple and Sister Act (Arts Center of Coastal Carolina); Lucky Stiff (Arizona Broadway Theatre); Murder for Two and My Way (Depot Theatre); Funny Girl and Seven Brides for Seven Brothers (San Francisco's Broadway By the Bay). Both of these last productions garnered Evan a Best Director nomination from the Bay Area Theatre Critics, with Seven Brides winning the award for Best Production. Additionally, Evan has directed many benefits, readings and cabarets in New York City, including the Drama League's benefit honoring Kristen Chenoweth, and several evenings of musical comedy at Feinstein's/54 Below.
As an actor, Evan had a long and illustrious career, starring on Broadway in Ahrens and Flaherty's My Favorite Year, Jason Robert Brown's Parade (directed by Harold Prince), Putting It Together (opposite Carol Burnett), and for four years in A Chorus Line, with which he also toured the country. Off-Broadway credits include Cafe Society Swing at 59E59 and I Can Get It for You Wholesale for Jewish Rep (Outer Critics nomination for Best Actor). In London, Evan starred in two Stephen Sondheim classics, Follies and Merrily We Roll Along. Evan won the prestigious Helen Hayes Award for Best Actor for his portrayal of Harry Witherspoon in Ahrens and Flaherty's Lucky Stiff at Olney Theatre Center, a role he recreated for the show's world premiere recording.
Debbie Roshe (Choreographer) most recently choreographed Memphis at Gateway Playhouse. She will be returning to do Beauty And The Beast at the Patchogue Theatre in December. Last month she choreographed a new work for FJK Dance, a contemporary company in New York, and a video for upcoming recording artist CHLOE. Other Work includes Palm Beach at La Jolla Playhouse (Robby Award Nomination), A Novel Romance and Zona, The Ghost Of Greenbriar (Off Broadway), Damn Yankees at the Ivoryton Playhouse, Sing A Christmas Song at George Street Playhouse, Young Tom Edison for Theatreworks USA, "Where In Time Is Carmen Sandiego" for PBS, "The Dana Carvey Show", and a National Tour of The Rocky Horror Show.
Ilana Atkins (Music Director) is so excited to be conducting this beautiful production of The Hunchback of Notre Dame! Thank you, Evan and The Argyle Theatre for making this conductor's dream come true. Her recent NYC musical direction endeavors include: If Sand Were Stone - NYMF, The Addams Family - Imagine Works, "Showcase Series" - The Growing Studio, Alice In Wonderland - Out of the Box Theatrics. Ilana is a conductor, pianist, vocal coach, and music director. She will be taking on the position of Resident Music Director at PCPA Conservatory Theatre in January 2019. www.ilanaatkins.com
Alan Menken (Music). His music and lyrics have become an integral part of the fabric of our lives since his first works were produced nearly 40 years ago. His stage musicals include God Bless You Mr. Rosewater, Atina: Evil Queen of the Galaxy, Real Life Funnies, Little Shop of Horrors, Kicks, The Dream on Royal Street, Beauty and the Beast, A Christmas Carol, Weird Romance, King David, The Little Mermaid, Sister Act, Leap of Faith, Newsies, Aladdin, The Hunchback of Notre Dame, The Apprenticeship of Duddy Kravitz and A Bronx Tale. Song and score credits for film musicals include The Little Mermaid, Beauty and the Beast (Animated), Newsies, Aladdin, Pocahontas, The Hunchback of Notre Dame, Hercules, The Shaggy Dog, Home on the Range, Enchanted, Tangled, Mirror Mirror and Beauty and the Beast (Live Action). Individual songs for film include Rocky V - "The Measure of a Man", Home Alone 2: Lost in New York - "My Christmas Tree,", Life with Mikey - "Cold Enough to Snow", Noel - "Winter Light," Captain America: First Avenger - "Star Spangled Man" and Sausage Party - "The Great Beyond." Television credits include writing songs for "Sesame Street," the ABC mini-series "Lincoln," a musical episode of "The Neighbors," the ABC series "Galavant" and the Disney Channel's "Tangled: The Series." His chart-topping songs have included "Beauty and the Beast", "A Whole New World", "Colors of the Wind" and "Go the Distance". Winner of the 2012 Tony and Drama Desk awards for his score for Newsies, he has won more Academy Awards than any other living individual, including eight Oscars with 4 for Best Score and 4 for Best Song; 11 Grammy Awards (including Song of the Year for "A Whole New World"); 7 Golden Globes; London's Evening Standard Award; the Olivier Award; the Outer Critics Circle Award and the Drama Desk Award. Other notable achievements include induction as a Member (2008) in the Songwriter's Hall of Fame followed by receiving the lifetime achievement acknowledgement of the Johnny Mercer Award (2017); Billboard's number one single ("A Whole New World") and number one album (Pocahontas). In 2001 he received the distinction of being named a Disney Legend. Awarded two doctorates in Fine Arts from New York University and the North Carolina School of the Arts. In 2010 he received a star on the Hollywood Walk of Fame. Recent live concert appearances include the Hollywood Bowl, Segerstrom Center and the Royal Albert Hall.
Stephen Schwartz (Lyrics) wrote the music and lyrics for the current Broadway hit Wicked, and has also contributed music and/or lyrics to Godspell, Pippin, The Magic Show, The Baker's Wife, Working (which he also adapted and directed), Rags, and Children of Eden. He collaborated with Leonard Bernstein on the English texts for Bernstein's Mass and wrote the title song for the play and movie Butterflies Are Free. For children, he has written songs for two musicals, Captain Louie and My Son Pinocchio. He has also worked in film, collaborating with Alan Menken on the songs for Disney's Enchanted as well as the animated features Pocahontas and The Hunchback of Notre Dame, and writing the songs for the DreamWorks animated feature The Prince of Egypt. His first opera, Seance On A Wet Afternoon, was produced at Opera Santa Barbara and New York City Opera. A book about his career, "Defying Gravity," has been released by Applause Books. Mr. Schwartz has been inducted into the Theatre Hall of Fame and the Songwriters Hall of Fame and has been given a star on the Hollywood Walk of Fame. Awards include three Academy Awards, four Grammy Awards, and a tiny handful of tennis trophies.
Peter Parnell (Book) most recently wrote the new book for the Broadway revival of Lerner and Lane's On A Clear Day You Can See Forever, starring Harry Connick Jr. and Jessie Mueller. His plays include Trumpery (Atlantic Theatre Company), QED starring Alan Alda (Mark Taper Forum, Vivian Beaumont, LCT), a two-part stage adaptation of John Irving's The Cider House Rules (Seattle Rep, Taper, Atlantic, American Theatre Critics Association Award). His other plays, Sorrows of Stephen, The Rise and Rise of Daniel Rocket, Romance Language, Hyde in Hollywood, Flaubert's Latest, and An Imaginary Life, were first produced by The Public Theater and at Playwrights Horizons. For television, Parnell was a co-producer for "The West Wing" (two EMMY Award citations), and a producer for "The Guardian," "Inconceivable," and "Six Degrees." His children's book And Tango Makes Three, co-authored with Justin Richardson, was an American Library Association Notable Book, a Henry Bergh Award winner, and has either headed or been on the ALA'S Top Ten List of Most Banned Books from 2006-2012. Parnell has served on the Literary Award Committee of PEN, and has taught writing at Dartmouth, the New School, Columbia, the Yale School of Drama, and currently at NYU. He proudly serves as Vice-President of The Dramatists Guild.
Suzi Bonnot (Production Stage Manager) is excited to be part of The Argyle Theatre's first season. Broadway: Angels in America, Groundhog Day, Old Times, Fun Home. New York: Classical Theatre of Harlem, The Fire This Time Festival, Target Margin Theater, Center for Contemporary Opera, Mannes Opera, The Drama League, Gallery Players, and NYMF. Regional: Merry-Go-Round Playhouse/Finger Lakes Musical Theatre Festival, Syracuse Stage, The Hippodrome Theatre, Paper Mill Playhouse, Shakespeare Festival St. Louis, and six summers at The MUNY. Graduate of OCU.