BWW Interview: Michelle Johnson of SALUTE TO THE GREAT SINGER-SONGWRITERS at Myron's Cabaret Jazz At The Smith Center For The Performing Arts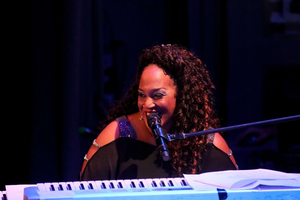 International vocalist Michelle Johnson celebrates the acclaimed singer-songwriters Paul Simon, Stevie Wonder, Joni Mitchell, Elton John, Smokey Robinson, Carole King, Kenny Loggins, and Paul McCartney. Michelle will also be performing musical arrangements by Musical Director Jeffrey Neiman, a stellar live band, and outstanding guest vocalists in Salute to the Great Singer-Songwriters in Myron's Cabaret Jazz at The Smith Center Aug. 9.
As a performer, Michelle puts her heart and soul into understanding, expressing, and interpreting lyrics and music in her own style. Michelle recently spoke with BroadwayWorld.com about her upcoming show.
Your show will feature many genres, including pop, folk, R&B, and jazz, as well as covering several decades. That lineup showcases your diversity as a performer. What are the differences you want to highlight between these genres?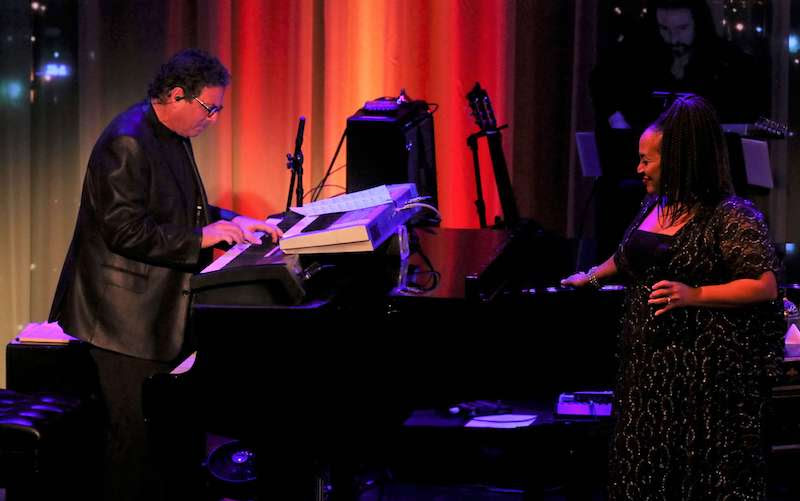 Michelle Johnson: I love all of these styles of music by the various songwriters we are honoring, but my favorite thing about this show is that we are doing mashups of all of those genres. We are mixing it up and putting our own spin on some classic songs. My musical director and arranger Jeffrey Neiman is a master at this, and working with him is musically exhilarating and such a joy. You may hear some jazz influences on a traditional folk song, or a gospel sound on something that was originally a rock anthem. That is the gift of having access to both stellar songwriting and a prolific and exciting arranger like Jeffrey. With that combination, great songs can continue to be reinterpreted in new and exciting ways. That allows an artist to breathe new life into classic tunes.
You are also singing your original song, "I'm All In" - is this a debut? What is the message of the song?
Michelle Johnson: I have performed "I'm All In" in concert a few times, but it has now been recorded and is about to be released as a single. The song has an accompanying music video that should be on my website by the end of the month.
This song is about rediscovering the audacious childhood dreams we once had, and then recommitting to pursuing life with that same zest and passion, fully and completely. That was what inspired the title, "I'm All In." I believe we often give up our dreams because they seem too big or too scary, and as adults, we settle for safer and more practical pursuits that leave us feeling empty, lost, or unfulfilled. I had actually stopped writing songs for several years, and it took me a long time to rediscover my muse and my life's purpose, which is to connect and heal people through music. So the lyrics to "I'm All In" is really me singing a thank you to my rediscovered younger self, to those who always encouraged me to sing, and to Carole King, who is the biggest influence on my songwriting and singing. I am so grateful to be fully aligned with what I am supposed to be doing on this planet.
Stevie Wonder and Carole King are two artists who wrote pop and rock as well as songs with a deeper meaning. Will your performance showcase those differences?
Michelle Johnson: Yes, absolutely! I have to say to me, many rock and pop songs that were once seen as fluff or fun have taken on a new meaning now that I have lived some of the lyrics. Those fun songs can be just as powerful as songs with an overt message, and I think that is why all of these classic songs have stayed in our consciousness for so many years. For example, Stevie Wonder's song "If It's Magic" is a gorgeous ballad about how we take love for granted. It is clearly a message song, and I will be singing it in the show. However, I now hear an equally powerful message in his upbeat songs "Superstition" or "Signed, Sealed, Delivered." I get just as much out of Carole King's fun song "Locomotion" as her torch song "Will You Still Love Me Tomorrow?", but for different reasons. It is all about what the song means to you and how it makes you feel. That is why this show is a rollercoaster of emotions.
You always interact with your audiences. Will you be sharing the experiences and backstories of these artists?
Michelle Johnson: I will be chatting a little bit here and there, but this show is more immersive because there is so much music to cover. I love watching people in the crowd recognize a song, remember their connection with it, and then sing along with me. It makes me so happy! That is what makes these composers truly great songwriters. Every song has an individual relationship with every listener. So powerful!
I honestly think the songs speak for themselves and tell their own stories, but you can bet we will be having some fun with the audience, and I will be sure to sprinkle in some little-known facts about these fantastic songwriters. I will also cover my connection to some of the artists since that seems to really resonate with people. But mostly, we are just going to let the music work its magic.
Are there any up-and-coming singer-songwriters you would like to include in a future show?
Michelle Johnson: That is a fantastic idea! I know so many brilliant and as-yet-undiscovered songwriters. Several of the performers in my show are songwriters, including Jolana Sampson, Jeffrey Neiman, and Steven Lee. You have given me food for thought. You can also hear many fantastic songwriters at the Composers Showcase that producer and musical director Keith Thompson presents every month at Myron's Cabaret Jazz. There is so much talent out there, and I applaud and cheer anyone who sets out to write music. It is a challenging but rewarding craft that requires both perseverance and a willingness to be vulnerable. I absolutely love it!
Will this be your ninth show at The Smith Center?
Michelle Johnson: Yes it will! I am so very grateful to Myron Martin, Paul Beard, and Glenn Medas for believing in me and providing a place for local artists to flourish and develop good shows in a variety of genres. This show will aim to connect with people and to offer an evening of love, nostalgia, and perhaps a new discovery. In the end, it's all about the music. That is what makes the world go around.
Michelle Johnson will be performing Salute to the Great Singer-Songwriters in Myron's Cabaret Jazz at The Smith Center 8 p.m. on Aug. 9. Tickets are available by clicking here. For more information about Michelle Johnson, visit www.michellejohnson.com.