BWW Review: New Tampa Players' THE LITTLE MERMAID Debuts Swimmingly at University Area CDC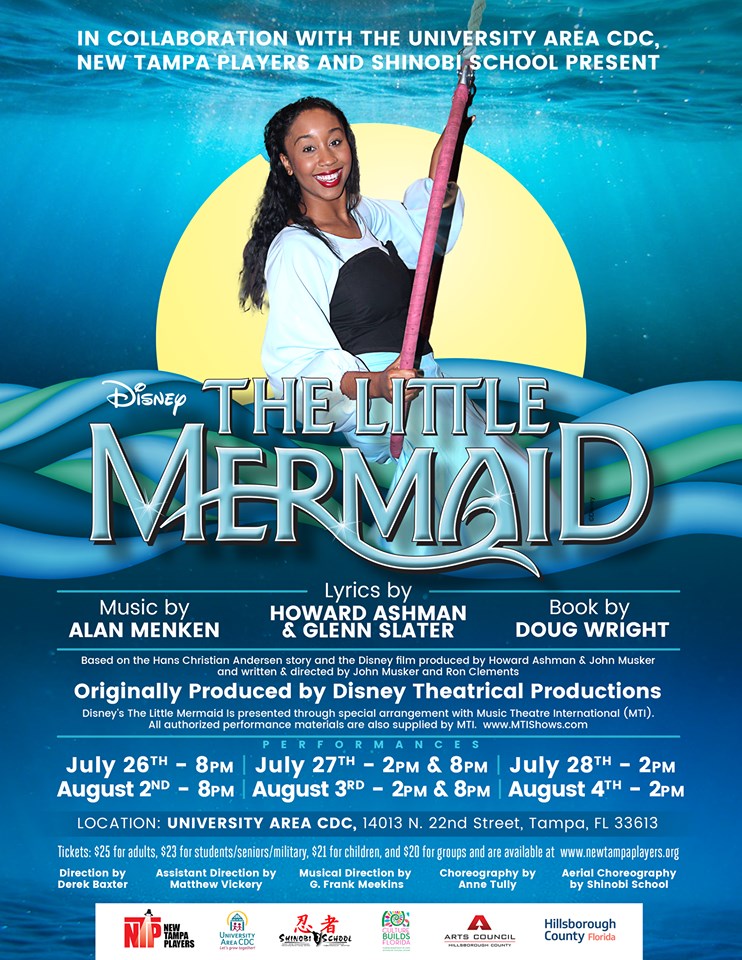 Let me lead by saying I absolutely love The Little Mermaid and Cirque du Soleil, so going into the theatre, my expectations were extremely high for the perfect romantic story of man and mermaid at New Tampa Players through August 4.
And....
Visionary director Derek Baxter and a stellar huge cast of all ages and abilities did NOT disappoint.
Using the magical talents of Jeremy Dorsey, Hippie Griswold, Becki Mallett, and Will Rickard, aerial artists from Shinobi School on ropes, fabric, and a lira hoop, this version of the fairytale was fresh, innovative, and never boring.
From the magnificent set designed by Gene Kish with scenic artistry by James Cass, lighting by Todd Wiener, and sound by Keith and Carlyn Postle, we were completely captivated by the story unfolding on the beautiful stage.
Through the seamless set changes by a well-oiled crew dressed to match the scenery, we were being transported from the bottom of the sea to Prince Eric's ship, his residence and rowboat as we follow Ariel's story to becoming human, accompanied by 28 musical numbers, nine never heard before.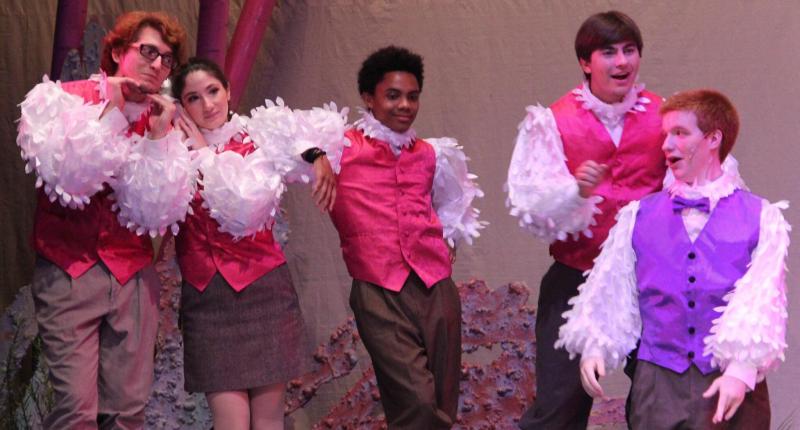 At the perfect volume, an eight-piece orchestra was under the expert direction of music conductor G. Frank Meekins. Anne Tully's choreography was fun to watch, especially the beautiful tap dancing in the second act, and Shelly Giles and Jamie Storvik's costume design and Ronnie Sanchez' wigs brought the characters to life brilliantly.
Waiting on their very late sister Ariel who would much rather watch the humans above than sing in a show below, the playful "Daughters of Triton" was harmoniously performed by the singing Mersisters Megan Guthrie, Jessica Jacobs, Melissa Mastromarchi, Angelina Samreny, Erica Speranza, and Kim Wacker.
Arial defied her mighty father, King Triton to pursue Prince Eric and to do so she was forced to make a deal with the sea witch Ursula, who transformed Ariel's mermaid tail into human legs in exchange for her voice - but at what cost?
Patty Smithey embodied the character of Ariel as easily as Cinderella putting on the glass slipper. It was an absolutely perfect fit. Besides an incredible voice, Patty had a smile that lit up the stage, an authenticity, an effervescence that can't be faked. You either got it or you don't, and Patty definitely had it, especially in the iconic numbers like "Part of Your World." Even when Arial couldn't speak to her prince, her expressions spoke volumes.
Eighth-grader Jordan Hunter played love-struck Flounder whom you truly felt his worshipping-from-afar for his best friend Ariel. Jordan's look broke our heart when you know he'd do anything for her, even giving her up for her dream of being with Prince Eric.
In a shiny white shirt, purple vest and bowtie, with shirt arms mimicking feathers, the comic genius of Chase Reeder personified the malapropism-prone gull Scuttle. Like Pumba singing "Hakuna Matata," Scuttle sang and danced into our hearts with the fun tap-dancing number "Positoovity."
The introduction of Prince Eric's ship through shadows on a curtain was a brilliant concept. Led in the song "Fathoms Below" by the talented Roman Ricardo as Pilot, the use of ropes with the performers from Shinobi School on the ship's mast highlighted the moment.
Eric Paul as the regal Prince Eric was perfect. With a strong and beautiful voice, his performance of "One Step Closer" and later as a quartet with Arial, Sebastian, and King Triton, "If Only" caused goosebumps.
If you looked up the definition of vocal talent or charisma in my make-believe dictionary, it would say read "see Sebastian" and you would see Dwuany Cannon Jr's face smiling out from the pages. From red suit and hat to painted red nails, Dwuany shone as the oft flustered crab and determined protector of Ariel, Sebastian. In any scene Sebastian was in, he owned the stage. One of the funniest moments was with Chef Louis, Eric Bohner in his riotously funny performance of "Les Poissons." Darting around the kitchen, Sebastian barely escaped from being part of Ariel and Prince Eric's dinner. Eric and Dwuany's comedic timing was spot on and laughter filled the auditorium. Dwuany also showcased his extraordinary vocals for my favorite songs of "Under the Sea" where Shiboni School's silks were incorporated and also in the romantic "Kiss the Girl."
It was the scheming Ursula played deliciously evil by Janelle Richardson that was, without a doubt, the stand-out performance of the night. From the white wig to the eight tentacles held by her underlings wearing glowing hairpieces, Janelle simply was Ursula. The notes she belted in "Daddy's Little Angel" and her outstanding powerhouse performance of "Poor Unfortunate Souls" as the lighting changed to a blood-red was worthy of Broadway. When Janelle was on stage, she was nothing less than riveting.
In amazing lit body-hugging costumes, perfectly complementing Ursula's wickedness were her to hench-eels Flotsam and Jetsam played by Kate Cordes and Taylor Hendershot. "Sweet Child" showcased both women's beautiful vocal ability as they slithered around poor unsuspecting Arial.
Both James Cass and Scott Paine as Eric's guardian Grimsby and King Triton respectively had incredible voices and were expertly cast as two men from very different worlds, with the same task - protecting their children.
In the entire two-and-half-hour production, there were but two tiny imperfections. Eric's rescue from the sea with Arial on a lira hoop felt a bit clumsy and during Eric and Arial's romantic boat ride, they were supposed to have their kiss stopped by Urusula's hench-eels in "Kiss the Girl." The two paused moments too soon waiting for them and it felt inauthentic when the hench-eels' special effects occurred to hinder something that didn't get a chance to be interrupted.
Beyond that, this was an absolutely spectacular performance for the young and young at heart. A huge talented all-aged enormous cast (with a special call-out to the ingeniously designed jellyfishes,) with just the right amount of cirque aerial magic, delivered a show that was pure Disney enchantment.
Related Articles View More Jacksonville

Stories

Shows