Review: THE LOVE OF DON PERLIMPLIN AND BELISA IN THE GARDEN at Hasimta Theatre - A Fresh Take on Lorca
This classic play by Federico Garcia Lorca is probably one of his less famous works, but this fresh new version by Scapino Theatre Company surely shows us that it's definitely an unheralded masterpiece.
It is the story of an elderly bachelor, Don Perlimplin (played by
Dror Teplitzky
), who is persuaded by his servant that he should marry the youthful and beautiful Belisa (played by
Orit Peres
).
Despite their marriage, Belisa cannot control her craving and lust for younger men. Even on their wedding night Don Perlimplin is cuckolded by five different men in his own bedchamber, which surprisingly doesn't lead him to a jealous behavior. On the contrary, he declares that he has discovered the true meaning of love and he's willing to play along. Graphic love letters to Belisa begin to arrive at the house from a mysterious caped man, a man whom Don Perlimplin swears he will challenge.
In this new theatrical era in which we live in we can hardly see any classic plays being done without giving them a new take and a fresh adaptation. They need to be relevant again after many productions were made throughout the years and should be relatable to the audience nowadays.
This play, as written originally, is already relevant to our lives today for dealing with issues such as romantic relationships with age differences, cuckoldry and forbidden passions.
In this production they've managed to take the original content of this play and wrap it with commedia dell'arte, which is the main style used by Scapino Theatre Company in all their other productions.
Scapino took the two characters of the duendes in this play (played by Rotem Nachmany and Barak Gonen) and turned them into the storytellers. They're also those who ignite the events and plant the ideas in the couple's minds, even by playing Perlimplin's servant and Belisa's mother.
This 4 actors cast under the direction of Haim Abud succeeded in delivering us this story within the appropriate theatrical atmosphere they've managed to create during this one hour show.
Another aspect that assisted in achieving this goal is the marvelous set designed by Roi Vaturi. He created a modular set that is used very smartly and changes on each scene according to the needs. This adds a lot to the entire story-telling feeling this production has tried to create.
It is indeed a complete pleasure to sit and watch what this talented group of people has created.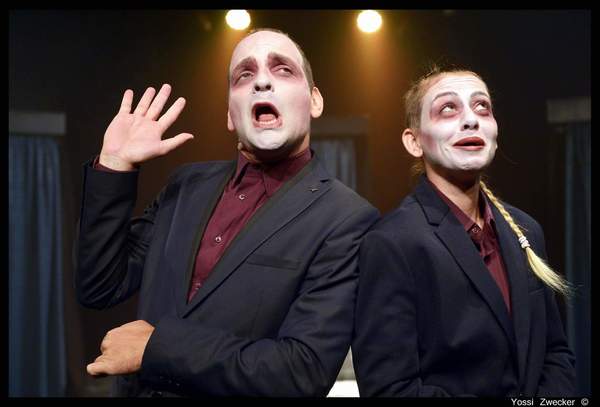 Play by: Federico Garcia Lorca.
Translation: Rina Litvin.
Director: Haim Abud.
Adaptation and Dramaturgy: Barak Gonen and Shahar Golan.
Costume Designer: Meirav Nethanel-Danon.
Set Designer: Roi Vaturi.
Lighting Designer: Adi Shimroni.
Mask Designer: Ella Gofer-Abud.
Music: Dan Hupert.
Cast: Barak Gonen, Dror Teplitzky, Orit Peres, Ella Gofer-Abud/Rotem Nachmany.
Next performance: 8.4 at Hasimta Theatre.
For tickets and further information click here.
Photo credit: Yossi Zwecker.