Review: Houston Ballet's Summer and Smoke Takes My Breath Away with Its Gorgeous Storytelling
This world premiere only has three more performances on Friday, Saturday, and Sunday; don't miss your chance to see the story before it heads to New York!
I will be honest; as much as I admire the art of ballet, and for as many dance classes that I have taken in my life, I have never attended anything outside the well-known canon, such as The Nutcracker and Romeo and Juliet. I have been part of original dance shows, but I also have never seen a new, professional ballet performance, one that no one else has seen before. So, to say I was excited to be in the audience for the opening night of the world premiere of SUMMER AND SMOKE is an understatement!
I knew I was in for a treat that night, too. SUMMER AND SMOKE is part of a "triple bill", which means that every performance of SUMMER AND SMOKE includes two other small ballet performances before it. In other words, a night of SUMMER AND SMOKE includes three shorter ballet performances rather than one traditional 3-hour long ballet. As a person who could consume hours of episodic television but somehow believes that a 3-hour movie is a commitment, I thought that this set-up would be perfect for someone like me, and it certainly was!
---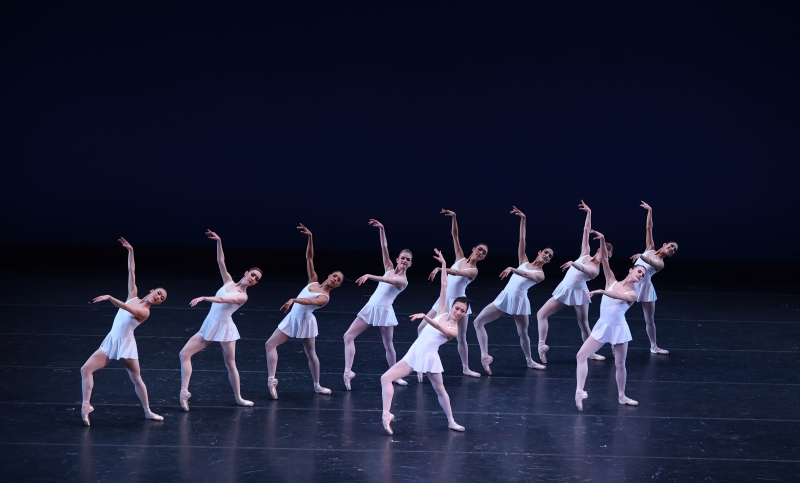 The "triple bill" begins with CONCERTO BAROCCO, which is a piece originally choreographed by George Balanchine to Johann Sebastian Bach's Concerto in D Minor for Two Violins. The piece includes 10 women and features one man. All of the female dancers were dressed in simple, white leotards with short skirts, white tights, and classic pink pointe shoes, and the one male dancer wore a white shirt, black leggings, and white ballet shoes. The purpose of the piece was to spotlight the relationship between dance and music by having the dancers act out the music. There is no narrative, like in most other ballets; the dancing tries to interest its audience only by its movement and its treatment of the music rather than any subject matter. Two solo dancers personify the two violins in the first movement, the male dancer joins in for the second movement in order to incorporate some partner work and lifts, and then the entire ensemble rounds out the final movement.
Houston Ballet's performance of CONCERTO BAROCCO highlights Yuriko Kajiya and Jacquelyn Long as the soloists in the first movement, and Harper Watters is the one male dancer showcased within the piece. All three of these featured dancers are incredible in their art; they have such poise and technique, and it was fun to see them again after they had just performed in ROMEO AND JULIET (Kajiya as Rosaline, Long as Miranda, and Watters as Paris). However, Kajiya certainly caught my eye the most in this piece; she is just so light on her feet and beautifully expressive. Also, her smile is simply infectious!
The piece's ensemble of dancers was stunning, and I enjoyed it when they did movements altogether. I have a lot of admiration for dancers who can move in time with one another since I know (as a dancer myself) how difficult that can be. As a student of theatre studies, I missed the storyline that most ballet performances offer. However, CONCERTO BAROCCO was a visually stunning piece, and I enjoyed the playfulness of the score as well as the communication between the dancers. It was a sweet way to start the night.
Next in the program was CLEAR. CLEAR features seven men and one woman, and considering the gender of the performers alone, this piece contrasts with CONCERTO BAROCCO. The two are a good pairing in my eyes because of this. Like CONCERTO BAROCCO, the piece is set to music by Johann Sebastian Bach, but the choreography (designed by Houston Ballet's artistic director, Stanton Welch AM) is effectively bold and dynamic, somehow being concurrently striking and smooth. The costumes (designed by fashion icon, Michael Kors) are nude-colored and very basic, leaving us to focus on the sheer magnitude of the emotion within the choreography, and Lisa J. Pinkham's warm lighting design is very effective in portraying the mood of the piece. I can understand why this piece is a staple in Houston Ballet's repertoire.
CLEAR showcases the depth of talent of Houston Ballet's male dancers due to the piece's casting. To name a few, Naazir Muhammad showed such athleticism in his jumps and posture, Connor Walsh (who I recognized as Romeo from the prior week's performance) seemed to turn forever in one section of the piece, and Aaron Daniel Sharratt (who was Tybalt in ROMEO AND JULIET) brought the house down with his strong ability to jump to new heights and complete dizzying turns with ease. Yuriko Kajiya made an appearance again as the one female dancer in the piece, and she certainly held her own whenever she graced the stage. Her facial expressions are just so compelling, which was important for this dance.
I enjoyed watching the dancers take the stage in both solos and small groups while slowly adding and taking away dancers throughout the emotional moments of the music. I felt that the choreography (which was made in the wake of 9/11 in 2001) showcased the resiliency of humans in the face of conflict, trauma, and hardship. One of my favorite parts of the piece was when Kajiya and Walsh were performing some partner work while the male dance ensemble flailed their arms up into the air, one by one. I felt that this moment communicated the feeling of helplessness during some events, even though (as Walsh and Kajiya were communicating with their choreography) we as humans still soldier on by supporting each other; we always try to find the beauty of life despite any adversity. Another one of my favorite moments was when the whole ensemble was onstage in a grand plié in second (which is a squat with their legs apart and their toes pointed outwards). That stage picture was strong and impactful, and it communicated community to me. I also adored the stage picture at the end of the piece, which included Kajiya and Walsh embracing on another center stage, looking up at a beam of light as if they were looking for a better tomorrow. I was a bit confused at first when they embraced since it looked like they were about to kiss, but the eventual visual that they ended on was a nice way to finish off the piece.
Did I miss the fact that there were no plot points within this piece, too? Absolutely, but I felt that- due to a clearer purpose for this dance- I was more enthralled with CLEAR than with CONCERTO BAROCCO. However, I did watch CLEAR with excitement to see the next piece, which I knew had plenty of narratives...
SUMMER AND SMOKE was the final piece of this "triple bill", and it was a wonderful way to finish out the night. SUMMER AND SMOKE is a world premiere of Cathy Marston's work based on the Tenessee Williams play of the same name, and it is the first time that her work has been shown to Houston audiences. The piece is a co-production with American Ballet Theatre set to a commissioned score by Michael Daugherty (who did such a beautiful job putting the story to music, by the way).
SUMMER AND SMOKE is focused on two characters: Alma and John. The pair grow up as neighbors, and as the ballet starts, the audience sees them play around as children. Alma is the daughter of a minister, and her mother is mentally unwell, so she is forced to grow up quickly and take care of her mother from a very young age. This has led her down the path of having to always be sensible and careful, while John is the opposite. He is the son of the town's doctor, and he is very rambunctious and full of life. He quickly falls for Alma, but Alma refuses to engage with him due to her responsibilities. So, he goes away to medical school. When he comes back to town with his degree, Alma and John are reacquainted as adults. We can feel the connection that is still between them when he returns, but they still could not be more opposite in the ways that they view the world. Alma is very religious and soul-focused, whereas John is a man of science. He also believes that you have to fuel your mind, gut, and sensuality. The story is about their journey of telling each other what is important about life, learning from each other, and then slowly evolving as people. However other lovers get thrown into the mix, parent relationships come into play, and a tragedy occurs. Will they end up together? Well, you will just have to come and see the show yourself to find out!
There are 30 dancers in the cast, and each one of them certainly adds to the piece. Bridget Kuhns does a great job bringing beautiful Rose, John's other love interest, to life. She certainly adds intrigue to the story with her flirtatious looks and movements! It was a joy seeing Connor Walsh again as Dr. Buchanan, John's father. Seeing him perform as a strict father with firm movements rather than with the fluid romance of Romeo was amazing; he has such versatility as a performer! Samuel Rodriguez as Reverand Winemiller (Alma's father) and Melody Mennite as Mrs. Winemiller (Alma's mother) were great in their conflicting characters. They had such fun banter between the two of them (with the reverend carrying his wife out of the scene as if she was a doll multiple times), and I especially enjoyed how clearly Mennite portrayed the strained yet playful relationship that Mrs. Winemiller had with her daughter.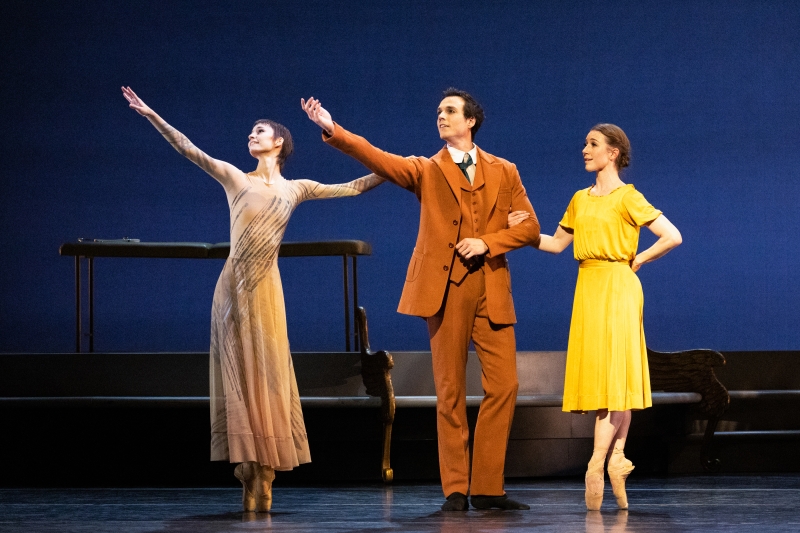 Mackenzie Richter was simply breathtaking as Alma's angel. She wore a sheer costume and had a pixie cut that made her look like a magical fairy to me. She was always there when Alma was onstage, watching the events unfold and trying to support Alma with fluid movement and a kind gaze. Whenever Alma and John danced together, the Angel moved with them in harmony, and she had such energy emulating from her, even when she was completely still.
Of course, I have to give praise to Chase O'Connell and Jessica Collado, who played the leads of John and Alma respectively. They had some pleasant moments of chemistry, and Chase O'Connell was so buoyant and larger than life with his dancing. However, it truly was Jessica Collado who stole the show for me. Seeing her recently as Juliet's mother in ROMEO AND JULIET, I saw again how Collado's facial expressions are always purposeful and focused while she is dancing; because of this, I could always feel the agony and conflicting emotions that Alma was going through. In my eyes, Collado was the perfect fit for this role, and watching Alma grow as a character was a beautiful metamorphosis to watch due to Collado's care with the character.
The set (designed by Patrick Kinmonth) was very effective. It was a simple platform that was curved with stairs in the middle, and it even included a small pond of water that was used at the beginning and the end of the piece as a fountain. In an interview that I had with Jessica Collado, she told me that the singular set piece was modeled after the Mississippi River, which is where the story takes place; what a neat effect! I took the water in the performance to symbolize freedom. Alma denies John's wishes to play with water when they are children at the beginning of the piece. However, at the end of the show, Alma pours water over herself with a smile on her face to show her liberation and her peace with escaping the rigidity of her old viewpoints.
The stairs in the set design as well as the platforms were used throughout the piece as varying levels to run along, sit on as a bench, jump onto, and be lifted off of. At certain points during the story, a geometric fixture was brought in as a backdrop. I am not sure what the meaning of it was, but I interpreted it as a visual representation of change, not only in the modernity of the time when it came to medicine and technology, but also in the viewpoints of John, Alma, and society at large. The set was additionally simple enough to align with every part of the story, which I appreciated.
The turn of the century costumes were also designed by Kinmonth. The male performers mostly had suits on, and the ladies wore sweet dresses of varying colors. I thought that they were a nice touch to the overall look of the show! David Finn also did an incredible job with lighting; my favorite stage picture within SUMMER AND SMOKE was when the angel and her ensemble formed a fountain statue around the body of water onstage, and it was incredibly effective thanks to the lighting that peered from the water.
All in all, I had a wonderful time following the dynamic and dramatic story of this one-act ballet, and I cannot wait to see where it goes from Houston.
---
There are only three more performances of CONCERTO BAROCCO, CLEAR, and SUMMER AND SMOKE, so buy your tickets now! You do not miss out on the special experience of seeing a world premiere here in Houston. The remaining three performances are at 7:30 pm on Friday and Saturday and 2:00 pm on Sunday, and you can get tickets at houstonballet.org.