Modern Classic HOLES Takes the Stage at Main Street Theater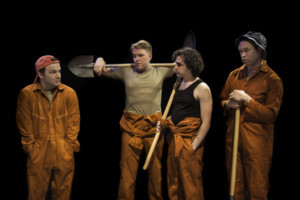 Main Street Theater (MST) presents the beloved modern classic Holes by Louis Sachar (who resides in Austin). Children and adults alike love the book Holes, the now-iconic movie of Holes, and the play. Performances are Sundays, January 28 - February 18 at 2:30pm at MST's Midtown location, 3400 Main St. in Matchbox4. All tickets are on sale via phone at 713.524.6706 or online at MainStreetTheater.com. Tickets are $18 - $22, depending on section. Large print playbills are also available at Will Call.
Main Street Theater offers Accommodations Performances. January 28 is a Sensory-Friendly performance. February 4 has an Audio Description opportunity available: just ask for a headset at Will Call.
About Holes
Stanley Yelnats has been unfairly sent to a boys' detention center, Camp Green Lake, where the kids spend all day digging holes exactly five feet wide and five feet deep. Soon Stanley realizes that there might be more to these holes than meets the eye... He tries to dig up the truth in this inventive and strangely humorous tale of crime and punishment - and redemption. Recommended for 5th grade and up. Children under the age of 3 (including sleeping babies) not allowed in the theater.
Holes is directed by MST Executive Artistic Director and Founder Rebecca Greene Udden. The cast includes Brian Chambers (A Charlie Brown Christmas), Chioke Coreathers (A Charlie Brown Christmas, Click, Clack, Moo: Cows That Type), Aaron Herrera, Bryan Kaplun (Enemies, Native Gardens), Lex Laas (Ramona Quimby), Chaney Moore (Miss Bennet: Christmas at Pemberley, The Wizard of Oz), Anna Maria Morris (The Wizard of Oz), Prince Nnaji (Akeelah and the Bee), Devin Norwood (Akeelah and the Bee, Mockingbird), Amanda MarieA. Parker (Bunnicula), Justinian Rex, Jonathan Teverbaugh (The Wizard of Oz).
The Holes design team is Amber Stepanik (costume), Adam Spencer (set), David Gipson (lighting), Bryan Ealey (sound), and Mark B. Robbins (props). Danielle Docwra is the production stage manager.
About Main Street Theater
Main Street Theater provides theater experiences for all ages. Founded in 1975, our MainStage produces professional, intimate, literary plays for adults and operates under an Actors' Equity Association union contract; our Theater for Youth produces professional, engaging productions based on children's literature for families and school groups, both in-house and on tour around Texas; and we offer Education and Outreach programs on-site and at satellite locations around the Greater Houston area for youth aged 4 - high school. We work out of 2 facilities: our Rice Village home on Times. Blvd., and as part of the MATCH (Midtown Arts & Theater Center Houston) on Main Street.
Main Street Theater is a member of Theatre Communications Group (TCG), the national service organization for not-for-profit theaters, of Theatre for Young Audiences/USA (formerly ASSITEJ), the world theatre network of theatre for children and young people, and a founding member of Houston Arts Partners. Main Street Theater is funded in part by grants from the City of Houston through the Houston Arts Alliance, and the Texas Commission on the Arts. United Airlines is the official airline of Main Street Theater.
Photo: (L-R) Stanley (Lex Laas), Tough Kid (Jonathan Teverbaugh), Zigzag (Bryan Kaplun), and Zero (Devin Norwood)
Photo by Blueprint Film Co
More Hot Stories For You