Due to Hurricane Harvey Houston Ballet Announces New Dates and Venue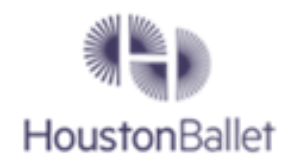 Due to Hurricane Harvey, Houston Ballet is unable to perform the opening two productions at the company's home venue. However, Houston Ballet is pleased to report that select performances of fall programming have been rescheduled at THE HOBBY CENTER - SAROFIM HALL. For a limited time on October 26 and 27 at The Hobby Center, Houston Ballet will perform an exhilarating mixed repertory program, Poetry in Motion, featuring a collection of three works that reflect different traditions and expressions in ballet.
Artistic Director Stanton Welch AM debuts Powder in Texas with its Houston Ballet Premiere, a sensuous contemporary ballet that will bring beauty to the stage as the opening act of this mixed repertoire. Tony Award-winning Choreographer, Christopher Wheeldon OBE, returns with the enchanting Carousel (A Dance). The evening concludes with an iconic display of choreography by George Balanchine, as Houston Ballet brings back Symphony in C for the third time.
Artistic Director Stanton Welch's Powder - A Houston Ballet Premiere
"Fluid and sensual, this piece is a brilliant celebration of nostalgia, beauty and joy." - Official London Theatre

Originally commissioned for Birmingham Royal Ballet, Artistic Director Stanton Welch's Powder premiered on October 7, 1998 at Hippodrome Theatre in Birmingham, England. A production for 14 dancers, it explores the expressiveness of Wolfgang Amadeus Mozart (1756-1791), centering on his iconic "Clarinet Concerto in A Major." The Scenic and Costume Designer for Powder is Kandis Cook and the Lighting Designer is Mark Jonathan. This will be Houston Ballet's first time performing this one-act contemporary ballet.
Similar ballets by Mr. Welch in Houston Ballet's repertoire include Son of Chamber Symphony, Tapestry, A Dance in the Garden of Mirth, Maninyas, Indigo and Velocity.
Carousel (A Dance) by Tony Award Winner, Christopher Wheeldon OBE
"Carousel (A Dance) is a perfect distillation of emotion, a successful evocation of a story without actually telling a story." - The New York Times
This will be Houston Ballet's second time performing the enchanting ballet Carousel (A Dance) by Tony Award-winning British Choreographer Christopher Wheeldon OBE. Carousel (A Dance) is a Co-Production between Pacific Northwest Ballet and Houston Ballet, and it premiered on November 26, 2002 by New York City Ballet at New York State Theater in New York, New York. Created as a tribute to Rodgers and Hammerstein and their beloved Broadway musical, Carousel (1945), Mr. Wheeldon poignantly adds his charming touch to this familiar score. Catching the emotion of the music and the doomed nature of the lead couple's relationship, this evocative and rich ballet is set to the music of Richard Rodgers (1902-1979) and Oscar Hammerstein II (1895-1960). The Costume Designer is Holly Hynes with Mark Stanley's lighting designs.
Internationally acclaimed Choreographer Christopher Wheeldon OBE is Artistic Director and Co-Founder of Morphoses/The Wheeldon Company. A former dancer with The Royal Ballet and Soloist with New York City Ballet (where he served as Resident Choreographer from 2001 to 2008), Mr. Wheeldon has led a successful and inspirational career, choreographing ballets such as Morphoses, Carnival of the Animals, Liturgy, After the Rain, An American in Paris, Klavier, The Nightingale, The Rose, Rococo Variations and many more. In 2015, Mr. Wheeldon won the Tony Award for Best Choreography on behalf of An American in Paris.
Prior ballets by Mr. Wheeldon in Houston Ballet's repertoire are Carnival of the Animals and Rush.
George Balanchine's Symphony in C Returns to Houston Ballet
"...an amazing piece of mostly symmetrical dance architecture, designed to show off classical legwork in all its crystalline glory." - Houston Chronicle
For the third time, Houston Ballet will revive George Balanchine's Symphony in C. First commissioned for Paris Opera Ballet, Symphony in C premiered on July 28, 1947 at Opéra Garnier in Paris, France. This neo-classical ballet is choreographed to French composer Georges Bizet's (1838-1975) ravishing "Symphony in C Major," and radiantly showcases the full company's technical aptitude and poise. Houston Ballet's first performance of this production was on September 10, 1992, and features costume designs after Barbara Karinska and original lighting designs by Ronald Bates.
George Balanchine is regarded as the foremost contemporary Choreographer in the world of ballet. In 1948, Mr. Balanchine founded New York City Ballet with Lincoln Kirstein. His more than 400 dance works include Serenade, Concerto Barocco, Le Palais de Cristal later renamed Symphony in C, Orpheus, The Nutcracker, Agon, Symphony in Three Movements, Stravinsky Violin Concerto, Vienna Waltzes, Ballo della Regina and Mozartiana. Having an inestimable influence on the growth of dance in America, his ballets are now performed by all the major classical ballet companies throughout the world.
Previous ballets by Mr. Balanchine in Houston Ballet's repertoire are Tchaikovsky Pas de Deux, Waltz and Variations, Prodigal Son, Concerto Barocco, The Four Temperaments, Theme and Variations, Western Symphony, Agon, Serenade, La Valse, Apollo, Ballo della Regina, Jewels, Ballet Imperial and Allegro Brillante.