BWW Review: EIGHTH DAY OF THE WEEK Is Cozy at The Ensemble Theatre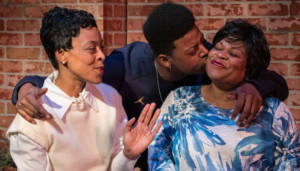 EIGHTH DAY OF THE WEEK is a dramatic comedy that shows us a family beginning to fray around the edges as change forces them to confront each other. At the center is the mother starting to struggle with dementia caused by Alzheimer's, but as the evening progresses we see challenges facing each member of the house. It's all heavy topics, but the play has a sweetness and humor that makes the whole thing feel cozy and approachable.
---
The show is written by Cleveland State University Professor and playwright Prester Pickett and directed by Ensemble Theatre Artistic Director Eileen J. Morris. EIGHTH DAY OF THE WEEK is smart, funny, and has a lot to say about family and how they face problems in the modern era. At its core is a love for tradition, identity, and keeping history alive and breathing. But the real problem is what the world has become, and that disorients each character almost as much as the one who suffers from a disease that confuses.
We open with two sisters (Rachel Hemphill Dickson and Britney Walker-Merritte) who are living with their mother (Joyce Anastasia Murray) who lost her husband two years ago. There is a sense the eldest daughter is the one keeping everything together as the mother shows early signs of dementia and the younger daughter is there only to escape an abusive relationship. Also living in the house is the son of the older daughter (Tanner Ellis) who seems distant and eager to disappear as often as possible. A brother from Chicago (Shane Warren Jones) enters once medical challenges face the mom. Also in the mix is an old childhood sweetheart (Robert Marshall) who is courting the oldest daughter.
Over two acts EIGHTH DAY OF THE WEEK allows us to witness how these players solve the problems each of them is facing as a result of the loss of the parents. What is most surprising is the amount of comedy and love expressed even when situations seem darkest. This is a tight ensemble that knows how to play off each other in masterful ways. Rachel Hemphill Dickson has to carry the weight of the show, and she does so gracefully even while playing the stressed out tightly wound head of the household. Britney Walker-Merritte is cute as a button and fun to watch as the decidedly spoiled and selfish little sister. She makes the most of her role. Tanner Ellis gives a strong performance with few words as the cagey son with a secret. Shane Warren Jones and Robert Marshall are solid in both dramatic and comic moments throughout. But the one to watch is Joyce Anastasia Murray whose crack comic timing and loveable demeanor brings the mother to life. Even when dementia makes her run off the rails, you want to just give her a big squeeze and pray she'll make you some biscuits. She is the momma we all want to have.
Larry Wesley's set design is strong, and it's amazing to see a house complete with plumbing and stoves that all appear to work to the audience. Melissa Greggs comes up with inventive costumes to bring 1995 back to life in Cleveland. This is a handsome production that rivals any technical work done by Stages or the Alley.
EIGHTH DAY OF THE WEEK is a lovely portrait of what family means in the face of the unthinkable. It's a positive and affirming show that taps something anybody can relate to, the need for your family to understand exactly what you are facing. Whether that is emotional strife or a sickness, just having them around and honest makes us better people. This is a well thought out, well-acted, lovely dramatic comedy that is perfect for anybody looking for a warm good natured production to share with some loved ones.
EIGHTH DAY OF THE WEEK plays through April 15th. The Ensemble Theatre is located at 3535 Main. To buy tickets or get more information, call 713-520-0055 or visit the ensemblehouston.com