BWW Interview: Next Iteration's 2nd Annual Intercultural Play Reading Series Shines a Spotlight on Diverse Voices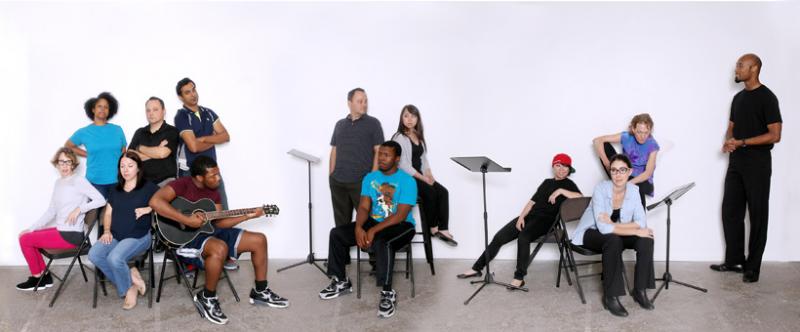 dianne k. webb readily admits that she's white.
"I look and present as a white person," says the artistic director of Next Iteration Theater Company, which presents its 2nd Annual Intercultural Play Reading Series this weekend. "An Anglo European is what I usually refer to that as, and I see that representation or some version of it on the stage most of the time."
And what's wrong with that? Why stage a play reading series featuring the voices of three women playwrights - one Chinese-American, one a Jewish-American lesbian, and one Indo-American?
"I don't think we can be fully humanized, I don't think we can know our full sense of humanity until we begin to understand one another," says webb, who is actually of a mixed cultural background herself. "So for me, it's a really important thing to get diversity on the stage to not just see ourselves, but to give the audience this remarkable opportunity to puzzle through their reactions and thoughts and feelings about how we are and who we are."
Though webb admits she's more interested in the ways that theater encourages thought and allows for self-reflection and meaning-making (simply put, she doesn't "do theater for fun"), she says she's always looking for plays with insight and a good dose of comedy, like the opening night play, Lauren Yee's IN A WORD, which uses absurdist humor stemming from the confusion of constructed memory to explore the lingering grief two years after a child has been kidnapped.
"I'm drawn to theater that has heavy themes or themes that give me a way into thinking more deeply about myself, about the world in which I live, about what I would rather have or what I like about this world or what I would change. That builds empathy for others," says webb. "[But] I don't want to hit people over the head with a two-by-four, because for me I'm not trying to convince you to think any given way."
The 42-year-old linguist of Madeleine George's equally quirky PRECIOUS LITTLE discovers that her unborn baby may never be able to learn language and faces the potentiality through a gorilla at the zoo, but it's also "a serious story of a woman having to make hard choices. I think in this day and age it gives us an opportunity to realize a lot of the choices women make are not simple."
And the immigrants populating the subway of Aditi Kapil's AGNES UNDER THE BIG TOP face similar tough choices. "It's beautifully tragic, if there's such a thing," says webb. "[Kapil] puts immigrants and the journey of immigrants and the idea of the American dream they thought they were choosing with the reality they find."
webb hopes audiences will give the shows a chance and be open to being part of something bigger than themselves, something that makes them feel more human and alive, because "sometimes the biases or the fears that we hold about 'other' can be broKen Down through the theater so directly and so easily by just enacting plays that have diversity in them or are from diverse voices."
Next Iteration Theater Company's 2nd Annual Intercultural Play Reading Series will run May 11-13 at The MATCH, 3400 Main Street. For tickets, please call 713-521-4533 or visit matchouston.org. Pay-what-you-can; suggested price of $15 per staged reading.
*AGNES UNDER THE BIG TOP Cast: Rachel Ollagnon, Liz Rachelle, Sammi Sicinski, Rhett Martinez, Jonathan Palmer and Karthik Chander. IN A WORD Cast: Rhett Martinez, Jonathan Palmer and Mai Le. PRECIOUS LITTLE Cast: Mai Le, Michele Capri and Polly Reavis. NARRATOR (for all three): Andraes Hunt.
What do Peja Stojakovic, Richard Kline, and Weird Al Yankovic all have in common? The answer: their autographs all reside amongst Natalie's most prized possessions. (read more...)