BWW Interview: Breast Cancer and Drug Use and Nazis, Oh My! Jennifer Decker Talks the MUSEUM OF DYSFUNCTION IX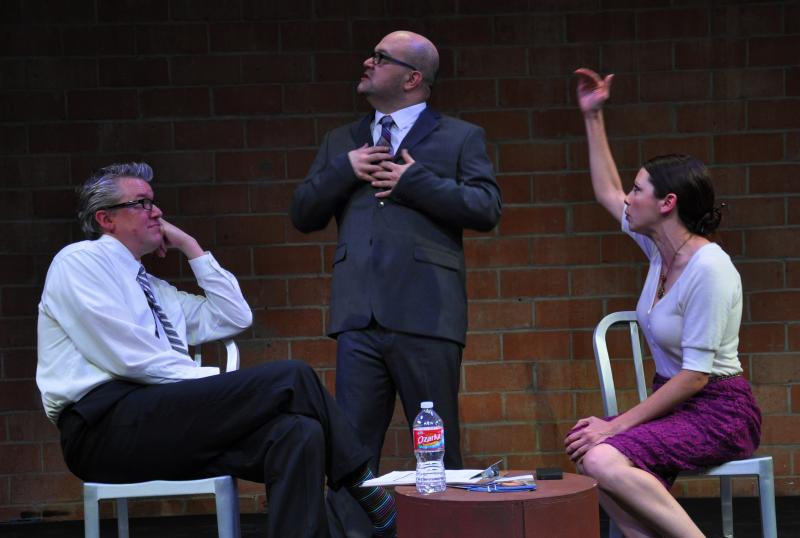 Breast cancer, drug use, Nazis -- sounds like the MUSEUM OF DYSFUNCTION is back. Today, Mildred's Umbrella Artistic Director Jennifer Decker joins us to talk about their ninth edition of the short play festival, this year with a new twist (nine of nineteen spots reserved for high school and college students), the art of writing a short, and what might happen when the Houston staple turns the big one-oh.
---
First, tell us a little about the selection process. I understand that you had to narrow down over 100 submissions to 19. Who's making the decisions and what is it that they're looking for?
Decker: We have a panel of readers who read the scripts without knowing who wrote them. There are guidelines (no more than 12 pages, four or fewer characters, simple set and tech requirements). They also need to either be written by women, or featuring at least as many female characters as male characters to fit our mission.
This year, we accepted scripts from high school and college students, as well as adult writers. We judged the student ones separately from the others, and we chose eight from that category and 11 from the general submissions, based upon these guidelines and our readers' judgement of the writing quality. All of the readers were either seasoned theatre directors or professional writers with no conflict of interest with the playwrights. Two people read and score each play, and we chose the ones with the highest scores to be finalists, with myself and our project manager, Leighza Walker (also a writer and director), making the final choices from the highest scoring pieces in each category.
Museum of Dysfunction runs over two weekends, with the plays split between the first and second weeks. How to you group the plays together? What kind of balance do you hope to achieve with each lineup?
Decker: We normally group them depending on the availability of the directors. We allow the directors to choose from a group of plays sent to each of them. We also tried to take into account the schedules of the writers, so that they could see their plays on stage. The pieces are all strong, and around the same length, so it balances fine. The weekends will be different because they will each be a mix of comedy and drama, with interpretations from many different directors and actors. It's always a mixed bag, but we've been pleasantly surprised at the outcome each year. Some of the directors are seasoned professionals, and others are new directors hoping to gain some experience, but when given a good script and strong actors, they are always quite successful with their efforts.
There's a true art to writing a short play. In general, what do you think makes for a successful short?
Decker: Just like a long play, it needs to have an introduction, a well-paced buildup and a strong conclusion. Short plays do very well with ironic conclusions. It's always important not to get too complicated with them. When dealing with festivals, we are transitioning between many plays in a row, and too much of a set or complicated tech hinders the production process, which is fast and must go quickly. Adding too many characters also makes it impossible to follow, as it's hard to get to know them all in a short time, which is why we added that to our guidelines.
As you mentioned, a new addition this year is that eight spots were reserved specifically for high school and college students. What made you decide to do this and -- be honest -- did you have any concerns going in?
Decker: We added it this year, because we tried it last year with one young writer, and we realized how important it is to the young playwrights to have a chance to see their work on its feet. So, we opened it up to more young writers.
The concerns were mostly that we wouldn't get enough high quality work, as the younger writers are less experienced with writing and with life. They only trickled in at first, and we thought we'd have to abort the mission. Then we got a surge of them all at once. However, we were happily surprised. Many of the plays written by students are just as strong as the ones we chose from the adult writers. We were sorry to have to turn some of them down, but we just didn't have any more space for them. We chose some from college students around the country, but two local high schools had teachers who encouraged their students to submit, and we ended up blindly choosing equal numbers from each of them [High School for the Performing and Visual Arts and Heights High School].
So, what kind of dysfunction can audiences expect this year?
Decker: The submissions are all strong and interesting, and range from comedy, to dark comedy, to drama, to tragedy. I have a few personal favorites, but I'll highlight two of them.
One of the student submissions, HANDCUFFED, by Audrey Webb [directed by Bree Bridger] is about a teen who's asked a stranger to buy beer for her, and instead he tries to explain to her what's so dangerous about being so reckless -- but she might already be in more danger than she realizes.
Another submission is by well-known playwright Suzanne Bradbeer, who submitted one to us called BETHLEHEM, PA [directed by Rod Todd]. It's a dark comedy about loss and connection to the world. Joe, a loner, has just lost his pet rabbit, which he has raised from a baby bunny. His new next door neighbor and a bit of an extrovert, is dealing with the loss of her husband and employment after having a mastectomy, and is trying to reinvent herself. Their worlds collide in the middle of the night in his backyard.
The big one-oh is right around the corner for MUSEUM OF DYSFUNCTION. That's some impressive longevity. Looking back over the years, what is your favorite memory? What are you most proud of?
Decker: The first one! The idea came to me in 2008, because my company couldn't yet afford to do full seasons and I didn't have enough for everyone to do. So I got Mariana [Lemesoff], who owns Avant Garden (formerly Helios when we worked there) to let me use her bar for a couple of evenings before the bands came in. I let about eight or ten actors either choose something they'd always wanted to do or create something themselves. We walked the audience around to the different rooms of the bar like they were touring a museum, and they'd stop and watch a little play on the patio, a weird monologue in the corner, a puppet show or a film in another room, etc. The following year, I was flooded with local artists submitting stuff, and it was just too big to lead all those people around a small bar venue. I'd like to have a reprise of that original idea, and I'm actually working on it -- not getting rid of the festival, but adding a new project that goes with the original spirit of what I was trying to do. I'll keep you guys posted!
MUSEUM OF DYSFUNCTION IX will be June 29-July 1 (Group 1) and July 6-8 (Group 2) at Studio 101, Spring Street Studios, 1824 Spring Street. For more information, call 832-463-0409 or visit mildredsumbrella.com. Pay what you can; $10 suggested admission.
Photo credit: Rod Todd