Audiences Respond To MR. BROOKER T. AT THE DOOR At Midtown Art Center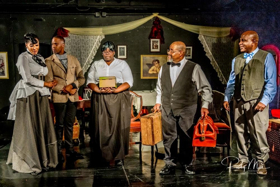 Vincent Victoria Presents, the small theater organization in Houston, Texas that prides itself on doing good work on a small budget and dedicated to recreating forgotten historical moments from African American History onstage, recently took matters into their own hands because of the unfortunate shortage of theater reviewers in the city, and asked audience members to submit their own thoughts and reviews of the World Premiere period drama "Mr Booker T. at the Door". The idea is similar to what travelers do on Trip Advisor when reviewing a Hotel and restaurant diners do on on YELP
"Mr. Booker T. at the Door" tells the story of the moments leading up to educator Booker T. Washington's historic visit to the White House in 1901 and his dinner with then President Theodore Roosevelt. During that Jim Crow era, it was an unwritten code of law that if a black man dined with a white person he would be considered his equal. This is well before the Civil Rights movement in the 1960's, so social equality for African Americans in the U.S. was unthinkable to many people especially Southerners who considered Washington's dinner with Roosevelt to be the ultimate affront.
Audience member John Manley, Founder of Houston's New Era Theater said "I saw the show last night and it was wonderful, very well written. If you can, go see it. The Cast and crew were fantastic. It was great to see Joyce Murray one of my favorite actresses and a staple of the Ensemble Theater. Great job!
Another audience member Aminia Ujuzi wrote of the play " Vincent Victoria Presents NEVER disappoints! I had the honor of seeing Mr. Booker T. at the Door on opening night. It was a stunning performance!! As a graduate of Tuskegee University it was a pleasure and honor to see this production!! The creativity was awesome!
"This was my third play I have seen by Vincent Victoria Presents and I feel as though I have grown with his company and the various actors I have seen perform at the different plays. I always take my young daughter with me and we discuss what we learned and share our thoughts on the plays."
Actress Sheronica J. added "I must say myself that this was an Awesome opening night for a Great Historical stage play by Vincent Victoria Presents...everyone did an amazing job in telling the story of Booker T. Washington...this story is important and I would highly recommend that you go see it ."
The cast features among others long time Ensemble Theatre players James West III, Joyce Murray and Ray Walker, along with Jasmin Roland who portrayed Josephine Baker in last year's hit play "The Last Night of Josephine Baker".
This is the last weekend of the play so if you don't want to wait until Black History Month to see a story about an important African American figure from the past, this is the play to see.
Performances are Fri Oct. 12th and Saturday Oct. 13 at 8 pm. Sunday Oct. 14th at 5 pm and an industry night performance on Tuesday October 16th at 7 pm , which is not coincidentally the 117th anniversary of the famous Washington dinner at the White House.
All performances are at Midtown Art Center 3414 La Branch. Tickets are $20 online at http://www.banksbrothersproductions.com and $25 at the door.
Photo by Rudy Mui