BWW Review: SWEENEY TODD at Fort Wayne Civic Theatre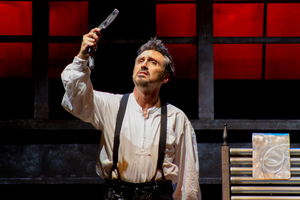 If you're smart, you'll grab your tickets for the Fort Wayne Civic Theatre's SWEENEY TODD: THE DEMON BARBER OF FLEET STREET while they're still available, because by all rights, they should sell out faster than Mrs. Lovett's meat pies (once she adds their secret ingredient, that is). SWEENEY TODD, the well-loved and appropriately-macabre Sondheim musical about a barber who embarks on a murderous rampage in order to get revenge for the mistreatment of his wife and daughter, has one more weekend in Fort Wayne under the direction of Leslie Beauchamp with music direction by Ben Wedler and assistant direction by Christopher J. Murphy.
This production's starring pair, with Todd Frymier as Sweeney Todd and Amy Ross as Mrs. Lovett, was absolutely captivating. I forgot just how funny this musical is until Ross' line delivery brought tears of laughter to my eyes. (Yeah, of course there's blood and murder, but there's also a bucket of laughs. This show has something for everyone.) Their duets and shared scenes were a highlight of the show, especially when Mrs. Lovett's optimistic, overzealous attitude was juxtaposed against the barber's deadpan expression due to his constant hyperfocus on his goal. Plus, Aaron Robertson's pure-hearted Anthony (a voice of gold, I'm telling you) and Brooke O'Mara's melancholy, relatably anxious Johanna served as a fun contrast to the older duo.
I cannot shower enough appreciation and admiration upon the show's lighting, with reliably stellar design by Corey Lee and cues executed by stage manager-slash-goddess Shawna Roberts. The uplighting at the front of the stage that was reminiscent of previous fall shows like ROCKY HORROR and JEKYLL AND HYDE was artfully used, and the color and mood of the lighting in each scene felt like another character alongside the actors onstage- it brought that much to the story. Another favorite lighting-related aspect of mine were the few scenes where the windows in the back of the set became backlit stages for shadowy dancers. These moments were both eerie and beautiful, and they elevated the scenic aesthetic to a new level.
The costumes were thoroughly impressive as well, so shout-out to costume designer Angela Sahli. I loved the leather accents and the deep, rich colors in some of the outfits (some royal purples, some brilliant golds) that accompanied the browns and blacks in the ensemble's costumes.
My only dissatisfactions for this production were that 1) I wish the accents had been less distracting (I know that London contains a number of different dialects, but some of the accent choices were... questionable and also variable from scene-to-scene within the same character), and 2) I wish that the actors could have been accompanied by a live orchestra instead of pre-recorded backing tracks.
That said, this ensemble of actors brought Sondheim's immensely difficult music to life in a polished production. Also: the barber chair did not disappoint. No spoilers, in case you haven't seen the show. But, like, when the chair descends from the sky - get excited. Grab your tickets for SWEENEY TODD now for their last weekend by calling the Arts United Box office at 260-424-5220 or going to the Civic's website.
Photos by Brock Eastom, provided by the Fort Wayne Civic.
Related Articles View More Fort Wayne

Stories

Shows