TO LIFE: STORIES & MUSIC CELEBRATING THE CONTRIBUTIONS OF JEWISH COMPOSERS TO THE GOLDEN AGE OF BROADWAY Comes to The Willow Theatre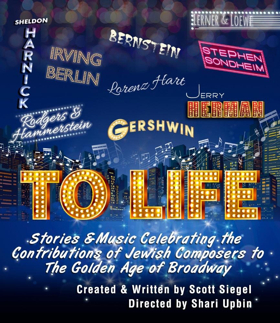 From Irving Berlin to Leonard Bernstein, and from Rodgers and Hammerstein to Stephen Sondheim, not to mention Fanny Brice, Zero Mostel, Jerry Orbach, and Barbra Streisand, Jewish composers and artists have contributed tremendously to Broadway. Black Box Booking and Hy Juter will present To Life: Stories & Music Celebrating the Contributions of Jewish Composers to The Golden Age of Broadway at the Willow Theatre in Sugar Sand Park from January 18th through February 3rd.
To Life: Stories & Music Celebrating the Contributions of Jewish Composers to The Golden Age of Broadway is chock full of fascinating narrative and charming anecdotes about some of the greatest Broadway artists of the 20th and 21st century. The production features five of South Florida's top actor/singers: Jeffrey Bruce, Broadway's Jodie Langel, two-time Carbonell Award-winner Wayne LeGette, Alix Paige, and Carbonell Award-winner Mark Sanders.
Producers Jerry Seltzer of Black Box Booking and Hy Juter have tapped Shari Upbin to direct the show, and Paul Reekie to handle To Life's musical direction.
"Jewish contribution to the Broadway musical has been phenomenal," Upbin says. "In fact, Jewish composers and lyricists created the Broadway musical. Children of immigrants, called outsiders - people who struggled for acceptance in mainstream society - created the greatest American shows in history. Show Boat, West Side Story, My Fair Lady, Fiddler on the Roof, Gypsy... and scores (pun intended!) more!
"Growing up in a household where my mother was a singer and my dad a writer for
Jack Benny
, I learned musical theatre songs early, and created dances for my parents to enjoy," she continues. "I was encouraged by their enthusiasm for a good song, a good joke. Yes, my parents spoke Yiddish when they did not want me to understand what they were saying... but I always felt the warmth of the light in their eyes. I dedicate all the Jewish one-liners and the amazing songs heard in this show to my parents and grandparents. Immigrants who found their place in America urging me to continue their legacy. Tradition!"
To Life: Stories & Music Celebrating the Contributions of Jewish Composers to The Golden Age of Broadway was created and written by Scott Siegel. Siegel is a well-known pop culture critic who covers film, theatre, and cabaret with his wife, Barbara, writing "The Siegel Column" for TheatreMania.com, and "The Two of Clubs" column for Talkin'Broadway.com. He has created more than 300 major concerts that have been performed worldwide, he has written/produced/directed concerts for Michael Feinstein, and has created scores of nightclub acts that have played at major clubs around the globe. However, he is perhaps best known as the creator/writer/director/host of New York City's Town Hall Theatre's signature series, Broadway by the Year and Broadway Unplugged.
Nicole Stav is the production's Stage Manager, and Jason Pierre will serve as Assistant Stage Manager. Technical crew includes Laura Fulton (Lighting) and Andrés Alessandro Beuses Casasanta (Sound).
To Life will run from January 18 through February 3 at the Willow Theatre in Sugar Sand Park. Tickets are $35; group rates (6 or more tickets purchased in one transaction) are $30. Tickets can be purchased on line at www.willowtheatre.org or by phone at 561-347-3948. The Willow Theatre is located at 300 South Military Trail, in Boca Raton's Sugar Sand Park (33486).
| | | |
| --- | --- | --- |
| | Donations | Arts Orgs |
Related Articles View More Fort Lauderdale

Stories

Shows