BWW Review: RAGTIME at The Des Moines Playhouse
From Harry Houdini, to baseball, to Booker T. Washington, to the American Dream, Des Moines Playhouse's production of Ragtime covers a lot of ground - ten years to be exact. In presenting an encyclopedic glance of these ten years from 1902 - 1912, the musical, with book by Terrence McNally, lyrics by Lynn Ahrens, and music by Stephen Flaherty, slowly becomes a big ball of dense nostalgia with glimpses of heart every now and then. But that seems to be a bigger problem with the intent of the show to nicely wrap up ten years of history in under three hours rather than The Des Moines Playhouse's production. Yes, The Des Moines Playhouse's production (directed by John W. Viars) is grand, beautiful, heartfelt and absolutely delicious to listen to, which makes it an excellent season closer for the company as they head into their 100th season and a renovated theatre.
Of course, Ragtime does have some anchorage in character rather than spattering American ideas randomly about. Based on E. L. Doctorow's novel of the same name, three different groups of New York City are represented: African Americans, Eastern European Immigrants, and Upper-class Whites living outside the city. One important figure from each group gets the spotlight throughout the show including Coalhouse Walker Jr. (Blake Clyde), a Harlem Ragtime musician attempting to find his love and child; Tateh (Brett Spahr), a Jewish immigrant trying to provide for his daughter; and Mother (Dani Boal), a matriarch struggling to understand the role she must play in the world. Surrounding these leads are supporting characters and historical figures also looking for their American Dream who, while fill up the stage nicely, unfortunately don't get much depth or attention as show churns.
The leads are all excellent and dig deep into their sometimes tropey-impressionistic characters. Clyde as Coalhouse offers some of the most impressive vocals of the production and intense determination to fight for his own American Dream especially in his standout number "Wheels of a Dream." Boal as Mother, whose role's name suggests the vague characterization I am talking about, presents a rich character that spans from a docile housewife to engaged citizen who, after taking responsibility for others from different backgrounds than her, understands that there is no going back to being docile. Her standout number describing this change is "Back to Before" towards the end of the show, which rouses loud cheers and whoops from the crowd. Spahr as Tateh provides an excellent paternal warmth who remains hopeful for his daughter and himself even when things in NYC are worse than in Latvia. Spahr's actual daughters Lily Spahr and Nina Spahr alternate the role as The Little Girl, which makes for truly touching moments on stage. Also to watch out for are Erayle Amacker as Sarah, Derek Phelps as Mother's Younger Brother, Laura Sparks as Emma Goldman, and Taylor Millar as Evelyn Nesbit who all use their brief time on stage and their voices effectively.
Speaking of voices, the sound of the entire ensemble is stunning. Music director Brenton Brown and Sound Designer Josh Jepson have both worked together well to ensure that the large ensemble's sound is clear yet grand, which, in the past, sometimes was a problem for larger Playhouse shows. Ragtime is worth seeing even just to hear the cast, working with a fantastic live orchestra, sing the Act I closer "Till We Reach That Day" with Alexandra Gray's incredible vocals. It is in moments like this where Ragtime works best. The roughly and quickly stitched together plot lines get tossed away, the entire cast comes together, and use their voices to convince the audience that unity is possible. This was also perhaps the case with the original 1998 Broadway production, which divided critics but took home Best Score at the Tony Awards (yes the music is incredible).
The choreography by Alison Shafer is also strong, even in moments of making a cast this size move well together on stage. Also beautiful is the scenic design by Nicholas Amundson and lighting design by Virgil Kleinhesselink that work together especially well in the silhouette work on stage. I also couldn't help but be reminded of Hamilton, of course another show about immigrants with a diverse cast, as I watched the turntable and on stage move around a set with brick columns.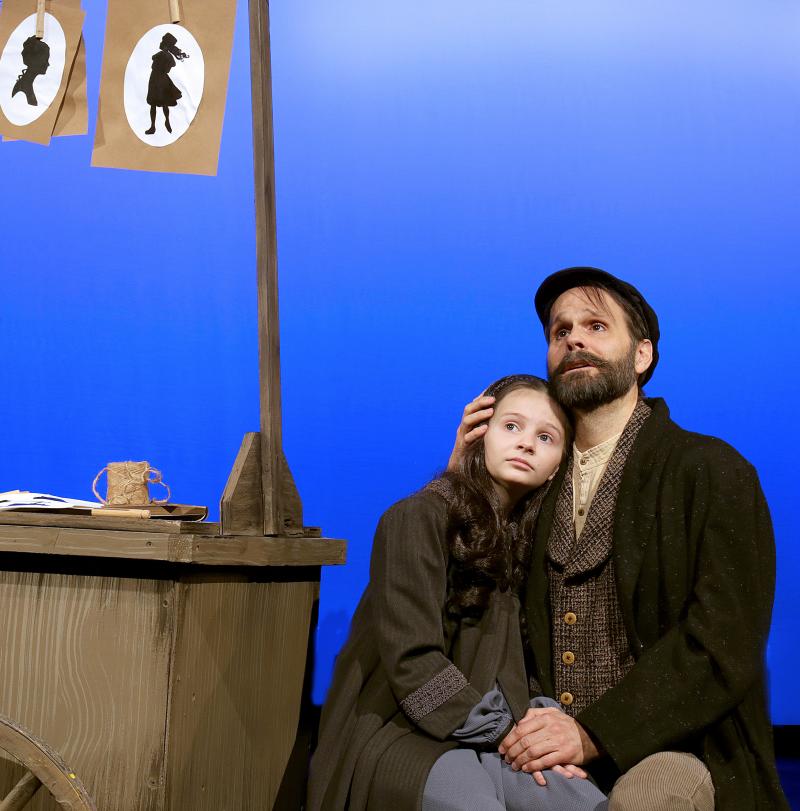 In all, Ragtime is a show about investigating the differences and similarities that separate and unite Americans. In today's world, it can be very tough to see any glimpse of the American Dream left. The Des Moines Playhouse's production offers a little bit of that dream in this strong and resilient production that, even if it drifts about for a while, finally finds truth in the hope that so many Americans depend upon. Yes, there is still hope and let's watch some musical theatre while we find it.
The Des Moines Community Playhouse presents
Ragtime
Apr. 6-29, 2018.
Tickets may be purchased online at dmplayhouse.com, by phone at 515-277-6261, or at the Playhouse ticket office, 831 42nd St. "Ragtime" is sponsored by Des Moines Radio Group.
Related Articles View More Des Moines

Stories

Shows
Nolan Boggess is a student at Grinnell College obtaining a degree in Theatre & Dance. Originally from Des Moines, IA, Nolan grew up experiencing theatre (read more...)