BWW Review: MEN ARE FROM MARS... at the DCPA's Garner Galleria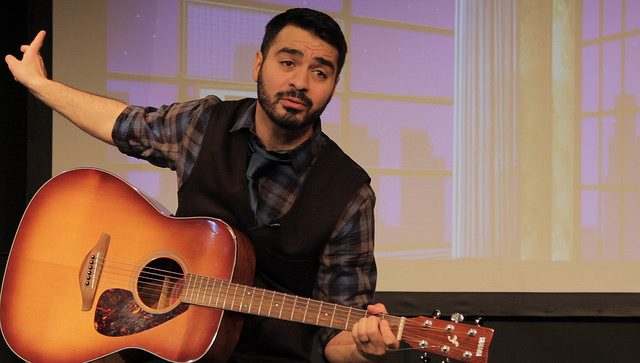 A production of Men Are From Mars - Women Are From Venus Live! is exactly where you'd expect a couple of young gay fiancés on a Friday night, right? I mean, it's that iconic book Tai read in Clueless. (And that is literally the extent of my knowledge of this title before attending.)
Perhaps all the banners for Denver's launch of the Broadway-bound Frozen musical lured us in. Who knows. We were about to watch a one-man show about straight-people problems based on a book published decades ago. Vodka and sativa, please-I was stoked.
There aren't too many relationship shows that cater to millennial queers on the verge of marriage, but we figured we'd give this a shot. Rob and I are just nearing our 2.5-year mark. You know, that time where you really start to figure out how much work your adventure really takes.
And I don't mean the work where you divide chores and then complain who did more of them. That's the easy stuff. I'm talking the "I cannot mentally comprehend why you don't understand me the way I understand me" kinda stuff. The arguments where you can't even recall how they started. The range of emotions you never knew you could feel for a single human in one day.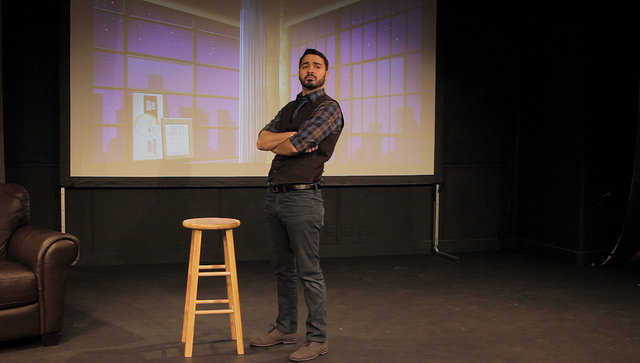 So yeah, maybe this show could draw us a map.
Led by witty and charming host Amadeo Fusca, the show utilizes major points from John Gray's 1992 book, effervescently explaining why women clean and nag while men are inherently lazy. It's a dated concept, promoting a gender binary that's becoming much more flexible in 2017. Even Gray himself published a revamped version of his book earlier this year to accommodate for modern couples. However, the live show's topics still seems a bit stuck in the '90s...but it isn't without its merits.
Fusca tells stories of his relationship with his wife, and how their experiences relate to the book's topics. There's also a few videos featuring Gray explaining his ideas accompanied by cartoons that will at least make you chuckle.
But I found myself relating to much more of the female behaviors. I, too, have a Narnia closet, but it's bursting with flannels and tank tops and shoes I haven't worn in years. I lack a basic understanding of football and have zero desire to acquire one. If there was something classified as a lady trait, chances are, it was me. So I'm technically the wife in this logic, which doesn't bug me, but I can't imagine how a Venutian straight man must feel.
There were a few ideas that I felt were helpful to any couple. First, the point system. Fusca explained how Venutians (women) tend to rack up points for themselves through a variety of tasks, no matter the size, while Martians (men) think larger tasks bank more points. I'm absolutely more Venutian in this respect.
Venutians also tend to go on anxiety-feuled sprees, unable to fully relax until there's no more dishes in the sink and laundry is hung. Martians are more adept to kick up their feet and relax after a long day at work. Depending on the day, I'm either of these things, but I related.
Otherwise, the stories of Fusca and his wife were entertaining and very gesticular as he brought them to life amidst a simple couch set. If you're a couple who's been together a while, or even a couple just starting out, you'll find valid relatable points throughout, just don't expect this to replace a therapist.
The best part for us was the conversations it launched with laughter. No matter what kind of couple you are, there's those moments of "OH YOU SO DO THAT!!" that make the tiny problems a bit more bearable, and what more could you really ask for in a night out?
Men Are From Mars - Women Are From Venus Live! plays the Garner Galleria with the Denver Center for the Performing Arts through Aug 27. Tickets are available at DenverCenter.org, by calling (303)893-4100 or at the ticket counter located in the Helen Bonfils Theatre Complex.