Review: Human Race Theatre Company bats a 1000 with World Premiere of BANNED FROM BASEBALL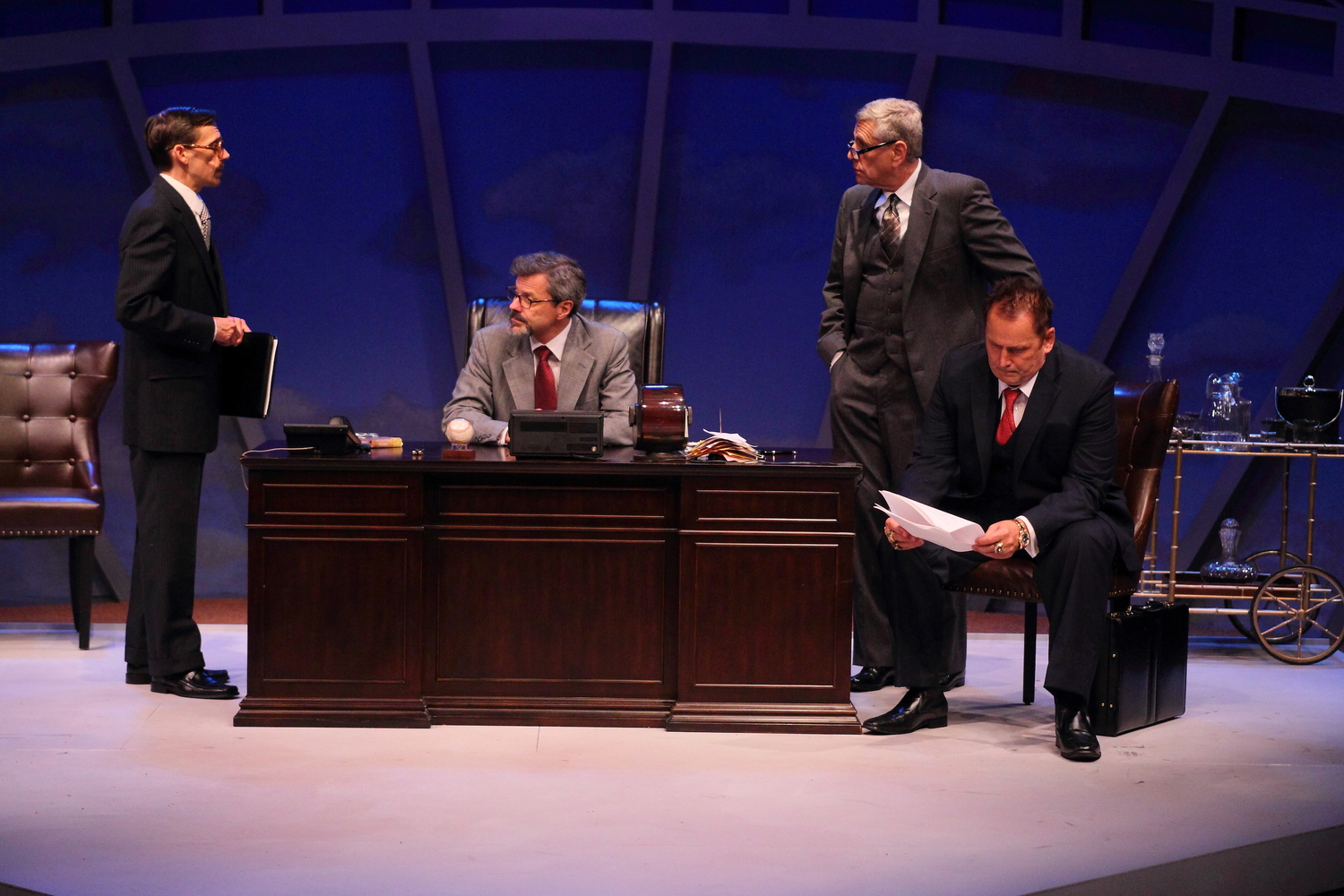 I want to begin this review with a little disclaimer. I do not like baseball. I know. Its our national pastime and all that. I have tried to like it and I fail every time. The closest I come to liking baseball is in the movies. As someone who grew up in the greater Cincinnati area in the 1980's though, I did know three things coming into this play. 1. Pete Rose played for the Cincinnati Reds. 2. Pete Rose Held some sort of hit record. 3. Pete Rose was banned from baseball. That is about it. I wasn't sure what to expect from BANNED FROM BASEBALL but I was pleasantly surprised.
BANNED FROM BASEBALL, the first play written by Patricia O'Hara, is making its world premiere at the Human Race. Seems fitting to be so close to the original action. O'Hara is not only a writer but also a Professor of English Literature at Franklin and Marshall College in Lancaster, Pennsylvania where she teaches a course titled, not surprisingly, Baseball in American Literature and Culture. I really liked how she was able to tell this story and keep the audience interested, even though, at least the majority of us, knew how the story ended. The play was nuanced in a way that helped you see into the minds and hearts of the major players, Pete Rose and Bart Giamatti, the Baseball Commissioner. Excellent casting brought this all to life.
Brian Dykstra brought the "King of Baseball" to life so we could see the man as more than just a baseball hero wielding a bat or behind the podium at a press conference. He portrayed Pete Rose as a man with inner struggles and not always heroic actions; a flawed man that is no more than human, despite all of the hype surrounding him. It was heartbreaking to watch as he dreamed of being in the Hall of Fame, knowing the ending ourselves and that through his own actions, he won't be able to make that dream come true. Dykstra's portrayal made me simultaneously dislike Rose and root for a different ending for him, even though I knew it would never come.
Doug MacKechnie's exceptional performance Bart Giamatti showed us a man with similar struggles. Both men struggled with past and present decisions all based on their shared love of the game of baseball. Mackechnie showed us not only Giamatti's disappointment in the falling of a hero but the disappointment of the nation at Rose's fall from grace. His monologue about Shakespeare's Henry IV was one of the most powerful moments in the show.
Scott Hunt as Fay Vincent and Marc Moritz as Reuven Katz provided excellent support and some much needed comic relief at times. Both were faced with the task of being the devil's advocate counterpart who tried to bring Giamatti and Rose back to the reality and legalities of the situation when all they really wanted to think about was baseball.
The set, by Tamara Honesty, was remarkable. With the backdrop of what was Riverfront Stadium and the moving baseball diamond on the floor, it was the perfect setting for all of the action. Costumes by Janet G. Powell also fit perfectly, with the clothes accentuating the characters beautifully. Lighting Design by John Rensel and Sound design by Jay Brunner helped to complete the picture perfectly. Voiceover by the actual voice of the Cincinnati Reds, Marty Brennaman provided a nice touch. Director Margarett Perry did a lovely job of bringing all of the components together with the actors.
While I enjoyed the evening and the performances, particularly, I have to say that I was a little lost at the beginning just because I don't really know anything about baseball. I don't know anything about designated hitters and the like so some of the conversations about the technicalities of baseball, etc, went over my head. I had to go home and look up a few things after the show but the show made me want to go look those things up. It still did what I want from theatre. It made me think and it stretched my mind in a new way.
Tickets for BANNED FROM BASEBALL start at $14. Prices vary depending on the day of the week and seating location. Group discounts are available for parties of 10 or more. The Sunday, September 9 7:00 p.m. performance is "Sawbuck Sunday," when any available seat can be purchased in person for just $10 at the Loft Theatre box office two hours prior to the show. Prior to the Tuesday, September 18 7:00 p.m. performance is "Beer, Here!", which will begin at 5:30 p.m. Additional information and details for "Beer, Here!" can be found on our website and Facebook Events page. Discounts are subject to availability and some restrictions apply.
All performances are at the Metropolitan Art Center's Loft Theatre, located at 126 North Main Street in downtown Dayton, Ohio. Show times for Banned from Baseball are 8:00 p.m. on Thursday, Friday and Saturday evenings. Performances on Sunday, Tuesday and Wednesday evenings begin at 7:00 p.m., and at 2:00 p.m. on Sunday matinees. Please note that the show runs 100 minutes and is performed without an intermission.
Tickets and performance information for BANNED FROM BASEBALL are available at www.humanracetheatre.org or by calling Ticket Center Stage at (937) 228-3630, and at the Schuster Center box office. The show runs until September 23, 2018.
Photo credit: Scott J. Kimmins