Click Here to Visit the College Center

Blogs are the opinions of the authors and do not necessarily reflect the opinions of BroadwayWorld. BroadwayWorld believes in providing a platform for open and constructive conversation.

Student Blog: Stocked for the Summer Part 1
Doing the work to get back onstage
CW: Mention of Weight Loss
Like so many performers who have been itching for work since the pandemic began, I am so blessed and excited to be back on stage this summer! I'll be performing as Rusty in the New Paradigm Theatre Co.'s production of Footloose this August. Being a little "rusty" myself having not performed live in a while, I am so ready to get back into shape and prepare for this role.
My "first day of school" is August 1, so that means I have a little over a month to be as ready as I can be for this gig. In this mini-series, I'm going to share all of my tips and tricks on getting back into the rehearsal room.
Memorization
Everyone always tells you that for a professional gig, you need to be off-book day one. I'm sure we've all been in situations where people are definitely NOT memorized at the table read, but I'm determined to make this process a whole lot easier for myself by preparing ahead of time.
I am a visual learner. Writing down lyrics and lines and seeing them in front of me has always helped me memorize. I'm not sure how true this is, but someone once told me that writing things down in blue ink helps you retain what you're writing down. I've now become a hoarder of blue pens.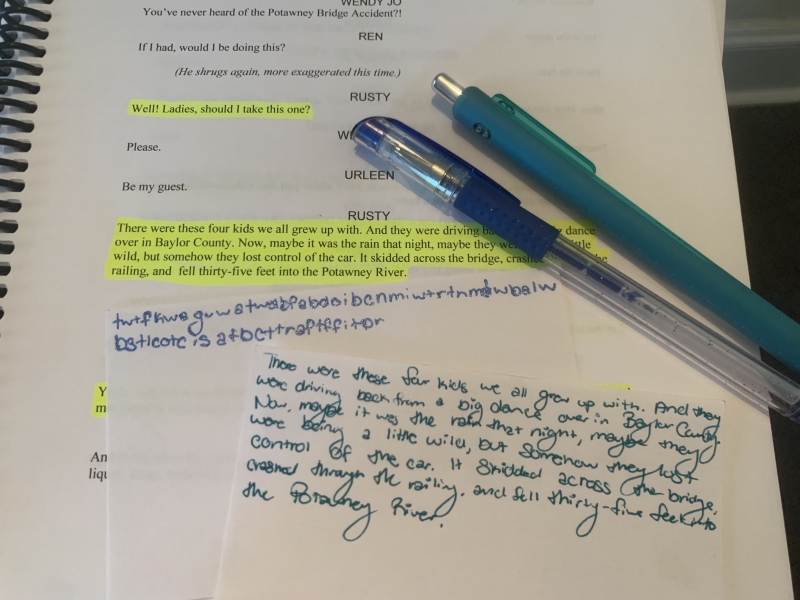 I have notebooks upon notebooks filled with lyrics of songs I've worked on in the past, scenes and monologues I've done in class, and lines for roles that I've played. Writing down the text helps me focus on the words themselves. I'll grab some paper and write the line down word for word, copying it straight from the page. I'll repeat the process until I can look away from the script and I've fully embodied the text.
Another hack I've learned is to just write down the first letter of each word in the line. No full words, only initials representing each word. I'll normally write down the entire line when I'm first becoming acquainted with the text, but using this shorthand method is great when I'm in rehearsal waiting to be used or just trying to refresh my memory.
Endurance
I love Footloose. It's such a fun show full of musical bops and high-energy dance numbers. The first time I performed in Footloose was three summers ago (crazy to think about) right after I graduated high school. As a dancer, I had so much fun! But boy did it kick my booty! That production was performed outdoors and we rehearsed in a sweltering studio space. I lost fifteen pounds in one week (at least that's how I remember it) just from rehearsals alone.
That was pretty scary for me, I'm not gonna lie. It's been three years and my body has changed so much since then. And that's a good thing! All bodies are supposed to change over time. But I'm making sure that I'm physically prepared for such a demanding show before I step foot into the rehearsal space this time.
While school is out and I can't be in the dance studio as often as I'd like to be, I've taken to barre workout classes and running to stay active.