NATIONAL CRITICS INSTITUTE at O'Neill Theater Center Honors Mark Charney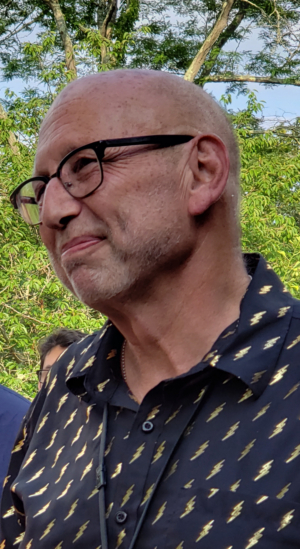 The National Critics Institute at the O'Neill Theater Center in Waterford bid farewell to Mark Charney July 12 who is stepping down as associate director of the National Critics Institute. Friends and colleagues gathered as O'Neill Executive Director Preston Whiteway shared remarks and comments sent in by well-wishers who have been connected with the program over the years.
Charney receive a brick outside of Eugene's Pub. He shared the following thoughts:
As I say goodbye to my 18 years at the O'Neill Theatre Center, I look back with love and appreciation to all the artists who welcomed me each year. I started in 2002 as a Critic Fellow and then continued as a (very old) intern of sorts, working with Helene Goldfarb and Dan Sullivan. The pay wasn't much-ok, I lost money (just ask my wife)-but the experience was invaluable. I learned what it meant to be an artist /journalist with integrity from Dan, Helene, and the guests at the time, intent on teaching criticism but also improving the world around them by commenting brilliantly on it.
Marla Shaffer would greet me each year with a big "Welcome Home!" And during the Jim Houghton years, we'd gather together each week more than once, introducing all of the new folks and sharing guest artists, ideologies and communal strategies. I will always remember a three-hour conversation with August Wilson, an interview with Lee Blessing, and big drinks with Chris Noth. Readings by Adam Rapp. Workshops with Paula Vogel. John Patrick Shanley. Brian Dennehy. Doing a liquor shot with Michael Douglas.
But it wasn't about the stars. Not really.
The real joy was and has always been the critic fellows. Sure, some were eccentric, some disappointed, and some downright rude/weird/aggressive. But, by in large, most were exceptionally bright, curious, and interested in understanding and representing the world of art around them. They shared their insecurities, their hopes, their aspirations, their talent, and under the steady hands of Dan and Helene, they learned more than they thought possible. And under the current leadership of Chris Jones, they not only explore theater and film but also nod towards dance and food as well, while enjoying jaunts to the Berkshires, Jacob's Pillow, and Williamstown. And, best of all, they currently live in the new cottages on campus, quite an improvement from the "monastery-like" dorms of Connecticut College.
The institute began to integrate the critics more fully as the years went by, and the conversations had in Blue Gene's were among my favorite-so much about life inspired by the developmental process, so expertly led by Paulette Haupt for musical theatre and Houghton for plays, as many as 18 a summer. Theatre happened every night but Monday in those days.
During times of financial crisis, compromises were made, numbers of plays to be developed shortened, and the many days between readings compressed, but the spirit held strong. Members of NCI were discovering the next important voices, especially critical ones, in an atmosphere that encouraged honesty, integrity, and acceptance of diverse opinions and behaviors.
Advocacy for the arts above all.
With the exception of a few board members, as I retire from the O'Neill, my 18 years makes me one of the folks presently here the longest (nothing compared to earlier records of those who have already been retired). Change is inevitable, and much of it has been good, all of it muddied by the lens of nostalgia that often circumvents an honest examination of the present. And my send off was just lovely, surrounded by friends who also know and love the O'Neill.
I leave the O'Neill with love and appreciation for all it taught me, and the myriad voices to which it introduced me, especially since community was seen as a contributing factor to the understanding of the creation of art. The professional critic mentors will always represent strength, goodness, commitment, challenge, and love. And all of the critic fellows, for 18 years-the reason we were there-encourage me to trust in a future made bright by their willingness to learn, their flexibility, and their love for their art. This group was an especially good one, a perfect group for a sendoff.
The world of criticism, indeed, in very good hands.
Thanks O'Neill Theater Institute for continuing to support the National Critics Institute. I look forward to supporting NCI as it continues to train voices to best represent the future.
-- Mark Charney