BWW Review: World Premiere of Bess Wohl's MAKE BELIEVE at Hartford Stage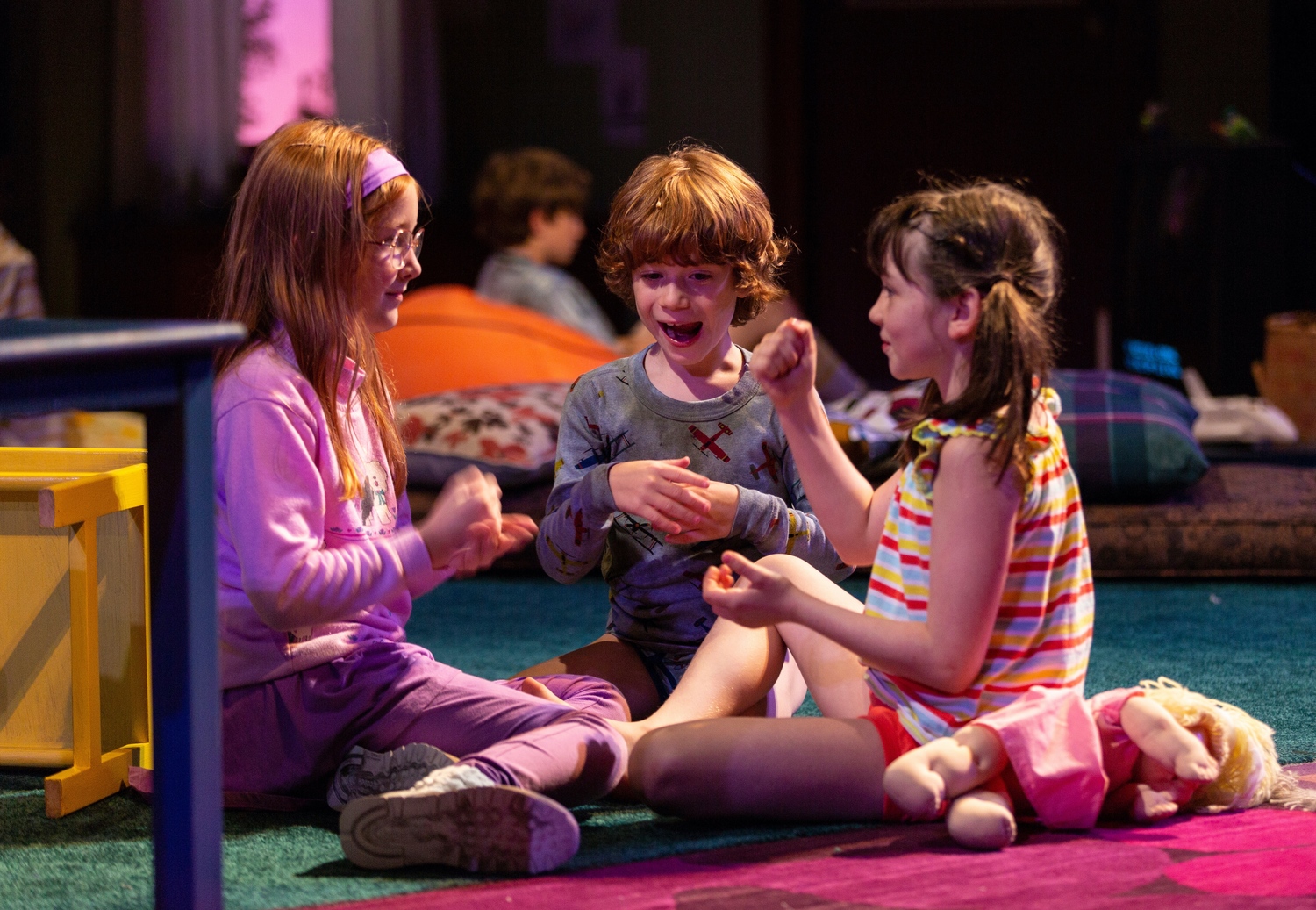 Do you remember when you were a child and the best of days were made up of adventures in the woods, tea parties with your stuffed animals, and fantastic sword fights between friends? These exciting, but entirely made up worlds entertained our young minds for hours on end and, for some, kept us from focusing on the harsh realities of life. For the characters at the center of Bess Wohl's world premiere play, MAKE BELIEVE, the opening production of Hartford Stage's 2018 - 2019 season, childhood fantasy fills a void and serves as a protective shield. Imagination shelters the children at the center of the play (and even their grown-up selves) from their real-life problems and provides a shared bond that carries on throughout their lives.
MAKE BELIEVE is a play in two parts, the first, set in the 1980's, centers around four siblings - Kate (Sloane Wolfe), the brainy and bossy eldest sister, Chris (Roman Malenda) the sly and precocious oldest brother, Addie (Alexa Skye Swinton) the free-spirited youngest sister, and their little brother, Carl (RJ Vercellone). Set in the siblings' playroom, the audience gets a peek into a typical scene of childhood, filled with the children playing house, video games, and a lot of bickering and playful banter. These children, however, are also dealing with an escalating and very real issue regarding their parents, taking them from annoyance, to confusion, to real concern. The children's fantasy play and the "make believe" of the title serves to distract them and provides a sense of protection, much like the bedsheet fort that features prominently in their room. The second half of the play takes place some thirty or so years later, with the siblings back in their old playroom during a less than joyous occasion. Old scars are revealed, truths brought to light and bonds that were forged in their youth, re-discovered. And though the fantasies of childhood are long gone, they have been replaced by other stories that keep these characters from having to deal with the uncomfortable realities that impact their lives.
In MAKE BELIEVE, Bess Wohl has written a strong story that captures the innocence of childhood and our ability to adapt and find ways to cope, even in the most difficult of situations. Her dialogue is sharp and witty, especially in the first half amongst the young siblings, and conveys a sense of reality and urgency in each scene. She captures the voices of these children in a real and authentic way and carries over this tone into the second half, showing the characters grown up, jaded by the harsh realities of life, but still, at heart, the same people introduced at the start. Helping bring the story to life, Jackson Gay's direction is extremely strong, punctuating the frenetic and energetic lives of the children and the more somber, reserved adults they become.
All the actors in MAKE BELIEVE deliver strong performances, but it is the four children who truly make it shine. Roman Malenda's Chris is tough on the outside, but with real peeks into a vulnerable and scared young man. Sloane Wolfe's Kate is direct and studious, Alexa Skye Swinton's Addie is a free-flowing ball of energy, and RJ Vercellone, as Carl, is hilarious as he bounds all over the stage doomed to play the family dog for all time. The adult actors (Megan Byrne, Chris Ghaffari, Brad Heberlee, Molly Ward) build on these characters further, demonstrating the impact of time on each. The siblings are convincing as adults who have grown out of their childhood ways and grown apart. Most importantly, as an audience member, you grow fond of these people, and care about them in a deep and personal way beginning with their childhood antics, and ending with their emotional and somber reunion.
Antje Ellermann's set is the perfect time capsule of a 1980's playroom. As a child of the 1980's myself, I was thrilled, pre-show, to pick out bits of nostalgia (Labyrinth poster, Cabbage Patch dolls, Fisher Price garage, Pound Puppies, etc.). Junghyun Georgia Lee's costumes help punctuate the period, and with a style for each character that carries over a bit into their adult lives. The original music and sound design by Broken Chord and the lighting by Paul Whitaker are also quite effective.
Overall, Bess Wohl's MAKE BELIEVE is a poignant, funny, and touching look at the lives of four siblings and the role that fantasy plays in protecting us from the less desirable parts of life. It builds in emotional intensity throughout, beginning with playful urgency and closing with a heartfelt and emotional conclusion and takes the audience on a journey of delight and discovery. It is a great opening production for Hartford Stage's 2018 - 2019 season, and should have a strong life following this inaugural run.
MAKE BELIEVE runs at Hartford Stage in Hartford, CT through September 30. Hartford Stage is located at 50 Church Street, Hartford, CT 06103. Performances are Tuesday, Wednesday, Thursday, and Sunday at 7:30 p.m., Friday and Saturday at 8:00 p.m., and Saturday and Sunday at 2:00 p.m. with a Wednesday matinee at 2:00 p.m. on September 26 only. Weekly schedules vary. For tickets or for more information call 860-527-5151 or visit www.hartfordstage.org.
Top Photo: L-R: Sloane Wolf, Roman Malenda (background), RJ Vercellone, Alexa Skye Swinton Photo by T. Charles Erickson
Mid-Photo: Roman Malenda Photo by T. Charles Erickson
Bottom Photo: L-R: Molly Ward, Megan Byrne, Brad Heberlee Photo by T. Charles Erickson