BWW Review: WORKING at ACT Of Connecticut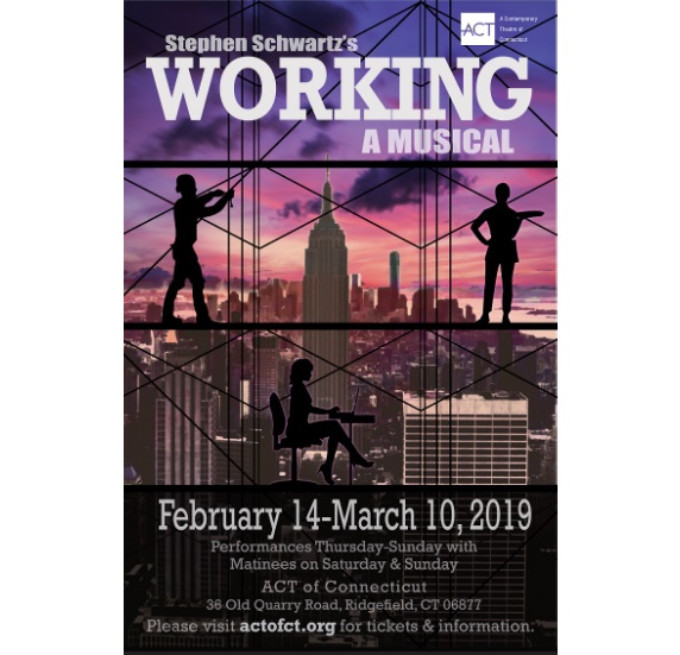 After seeing the best performances I have ever seen of Mamma Mia! and Evita at the ACT of CT, I entered the ACT of CT on Thursday, February 21, with high expectations for their third major production, WORKING, and have found that my expectations were exceeded by a wonderful production! While I have never seen WORKING before, anywhere else, I could not possibly imagine it ever having been performed any better than what I experienced at the ACT of CT! Based on a 1974 book by Studs Terkel, this Stephen Schwartz musical features music by multiple songwriters, including James Taylor and Lin-Manuel Miranda. Artistic Director Daniel C. Levine has made some amazing additional contributions, involving multi-media, a concept approved by Stephen Schwartz. The ACT of CT has yet again exceeded audience expectations with another phenomenal production!
The multimedia included moving screens on both sides of the stage, sometimes moved to center stage, and screens in the back of the stage, depicting Ridgefield residents telling their stories about their jobs and lives. These screens were also used for special effects, like steam and fire, in a way that truly made them look real, especially due to the multiple dimensions.
One of my favorite features of the ACT of CT is the rotating circle in the center of the stage. It is well used in this production to move part of the set around with the cast on it. This production even features a cast member riding a bicycle, circularly, within the rotating circle, opposite the rotating of the stage.
The talented live orchestra is led by conductor Dan Pardo on keyboards, and also features Matt Hinkley on electric and acoustic guitars, Arnold Gottlieb on electric and acoustic bass, and Dennis Arcano on drums and percussion.
The cast members shine in their multiple roles, generating feelings and emotion in their various songs, a particularly impressive task in a show like this where there are no central characters and no central storyline. Rather, this tells the various stories of different people in a myriad of jobs, including firefighters, masons, teachers, cashiers, fast food deliverers, customer service representatives, housecleaners, truck drivers, food servers, receptionists, and factory workers. Brad Greer, Andre Jordan, Cooper Grodin, Monica Ramirez, Zuri Washington, and Laura Woyasz all provide absolutely wonderful performance, truly showcasing their multiple talents.
My favorite song in this show, musically, is "Delivery," which was written by Lin-Manuel Miranda and reflects the best of his genuine song writing.
"Nobody Tells Me How," is a song about the teaching profession, and some of the new and unreasonable demands placed on modern teachers, demands that come unaccompanied by practical resources.
"Just A Housewife" is a song that makes a strong social commentary on the way society and the media have been so frowning upon motherhood and the beauty of family, that stay-at-home mothers are now actually starting to feel insignificant or unimportant, even though they are playing a priceless role that has a positive impact on society that is beyond measure.
The fireman speaks of how his role in society is one that has a clear tangible positive impact that makes the job rewarding and worthwhile, a very positive and true nod to these brave heroes who risk their lives to save the lives of others.
Part of what makes this show so powerful is the way that it opens the audiences' minds and hearts to the challenges and emotions that other people in other professions face every day. It inspires people to want to make a positive difference in the lives of others, at our own jobs, and to feel genuine sympathy and even empathy towards the challenges that others face at work, and in balancing work with family life.
For mature audiences, (there is some coarse language), I highly recommend WORKING, which is scheduled to continue to run at the ACT of CT, through March 10, 2019. For times and tickets, please go to https://www.actofct.org/upcoming-shows or call the box office at (475) 215-5433.