BWW Review: NANA'S NAUGHTY KNICKERS at Connecticut Cabaret Theatre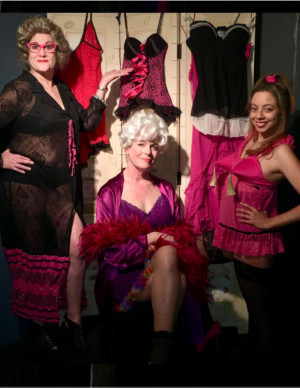 Connecticut Cabaret Theatre in Berlin, CT provides a first rate production of NANA'S NAUGHTY KNICKERS, a comedy by Katherine DiSavino. I had the pleasure of seeing the Saturday, April 7th, performance, with a packed house of audience members who tremendously enjoyed the show, too. As director, Kris McMurray continues to bring out the best in talented cast members who perform well together on stage.
Lori Feldman is excellent in the role of Sylvia Charles, a.k.a. Nana, a grandmother living in a New York City apartment, an apartment with some secret compartments in which she hides the products of her business, lingerie that she has designed for seniors. Lori Feldman is a young actress with an amazing ability to realistically convey the voice, vocal patterns, and movement styles of a woman in her early eighties.
Sylvia's granddaughter Bridget has come to stay with Sylvia during the summer, unaware of Sylvia's secret business. Ashley Ayala excels as Bridget, providing realistic reactions when she finds out about her grandmother's shocking business, including the fact that Nana is operating without a license and without paying taxes on her income, details that could get her evicted and arrested, if the wrong people found out. Bridget's initial reaction is to want to see her grandmother completely shut the business down. Ashley Ayala sells every line she delivers with facial expressions and vocal tones that reflect every emotion that Bridget is feeling. Anyone who has ever attempted to park a car in Manhattan can certainly relate to her challenges in finding a spot.
Karen Gagliardi has the audience cracking up with nearly every line, in the role of Vera, Sylvia's often blunt and sarcastic friend who has some hearing difficulties and a casual attitude towards things that would normally provoke a much larger reaction. Vera was also unaware of Nana's business, but is more receptive of it, when she finds out.
The stage chemistry between Lori Feldman, Ashley Ayala, and Karen Gagliardi is incredibly strong, with all three actresses truly becoming their characters as individuals, and in terms of their relationships and interactions with each other. The triple protagonist dynamic works incredibly well in this show. The three lead actresses play well off each other together as a cohesive comedy unit, bringing out the maximum potential of all three of their respective characters. Sylvia soon appoints Bridget and Vera to positions within her underground company, a situation that further forces teamwork between the three characters, reflecting the stellar teamwork of the actresses who portray them.
Josh Luszczak portrays Tom, a young police officer who is a love interest for Bridget, which leads to some amusing moments that are unpredictable and unexpected, while highly entertaining. The humor is also enhanced by appearances from Chase Fish, Russell Fish, Dave Wall, Bonnie Sprague, and Melissa Pelletier.
I highly recommend NANA'S NAUGHTY KNICKERS which is scheduled to continue to run at the Connecticut Cabaret Theatre in Berlin, CT, every Friday and Saturday night at 8:00 P.M. through May 5th, 2018. For tickets, please go to http://ctcabaret.com/. This is a comedy that will have you laughing from start to finish!
Related Articles View More Connecticut

Stories

Shows
To see more from Sean Fallon, please click on http://bit.ly/SeanFFallon and link to more theater reviews, movie reviews, television reviews, satirical spoof articles, mock interviews (read more...)