Review: MURDER ON THE ORIENT EXPRESS at Hartford Stage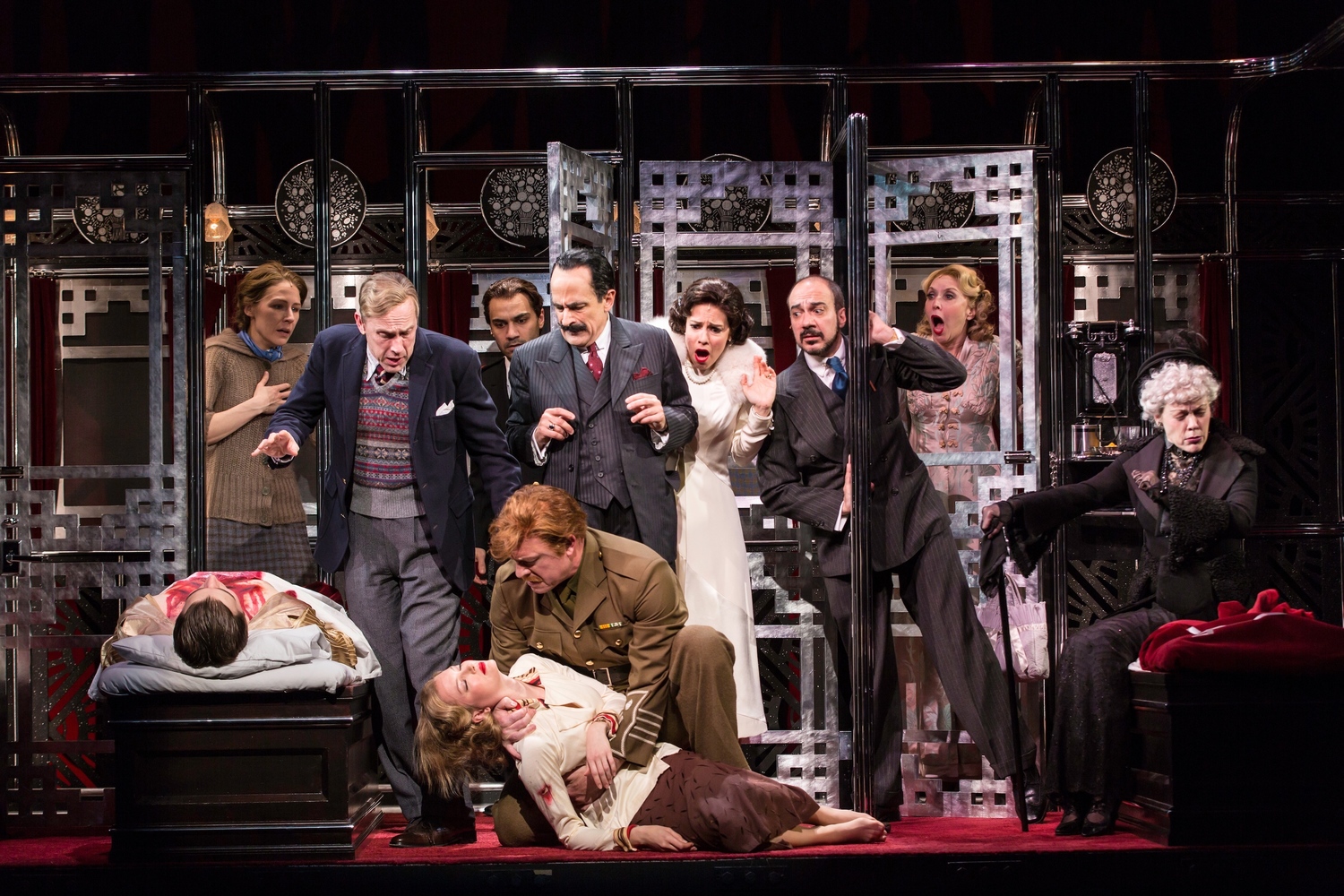 "The story you are about to witness is one of romance, tragedy, primal murder and the urge for revenge." These words, spoken by the famous Belgian detective, Hercule Poirot open Agatha Christie's MURDER ON THE ORIENT EXPRESS, the latest production at Hartford Stage (in collaboration with the McCarter Theatre Center), and set the scene for what is soon to be a fast-paced and extremely entertaining evening of theatre. The play, newly adapted by Ken Ludwig (LEND ME A TENOR, CRAZY FOR YOU, MOON OVER BUFFALO) at the request of the Agatha Christie estate, takes the story from Christie's bestselling 1934 novel and breathes new life into the tale of an unlikely group of strangers on the lavish Orient Express and the murder that shines the spotlight on each of them.
For anyone unfamiliar with MURDER ON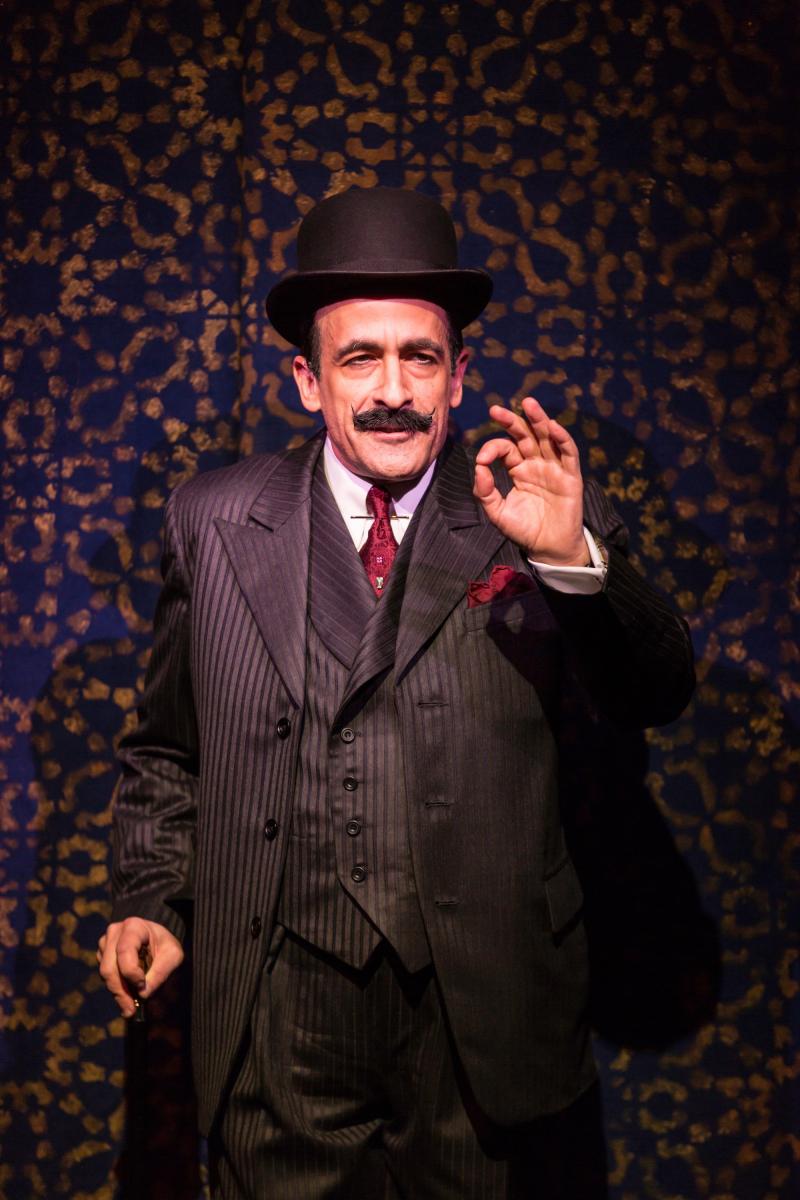 THE ORIENT EXPRESS, the story centers on the inimitable detective Hercule Poirot (David Pittu) who is taking a vacation in Istanbul following a particularly trying case. He is soon called back to London on urgent business and finds himself booked on the Orient Express, due to the machinations of his friend and manager of the train, Monsieur Bouc (Evan Zes). Along with M. Bouc and conductor Michel (Maboud Ebrahimzadeh), Poirot joins an unlikely group of travelers in the first class cabin of the Express, including Russian Princess Dragomiroff (Veanne Cox), Hungarian Countess Andrenyi (Leigh Ann Larkin), Swedish nurse Greta Ohlsson (Samantha Steinmetz), American divorcee Helen Hubbard (Julie Halston), English nanny Mary Debenham (Susannah Hoffman), her secret love Colonel Arbuthnot (Ian Bedford) and a mysterious American gangster Mr. Ratchett (also Ian Bedford) and his assistant Hector Macqueen (Juha Sorola). A gruesome murder takes place and as the train finds itself stuck in a snow bank somewhere in Yugoslavia, M. Poirot jumps into action to try and solve the murder before whoever is responsible has the chance to escape.
Seeing that MURDER ON THE ORIENT EXPRESS has been around almost 85 years and is considered one of Agatha Christie's most loved novels, it is likely that many will already be familiar with the story and the unlikely outcome of M. Poirot's investigation. However, Mr. Ludwig has taken the familiar tale and adapted it for the stage in a fresh and thrilling way. First, he has significantly reduced the number of primary characters, making it easier to stage and for audiences to keep track of each person and their back stories. He has also written dialogue that is quick paced and focused, filled with humor, but relying on the glamorous sensibilities of the period and the characters present. The script is engaging, entertaining, and keeps the audience enthralled from beginning to end.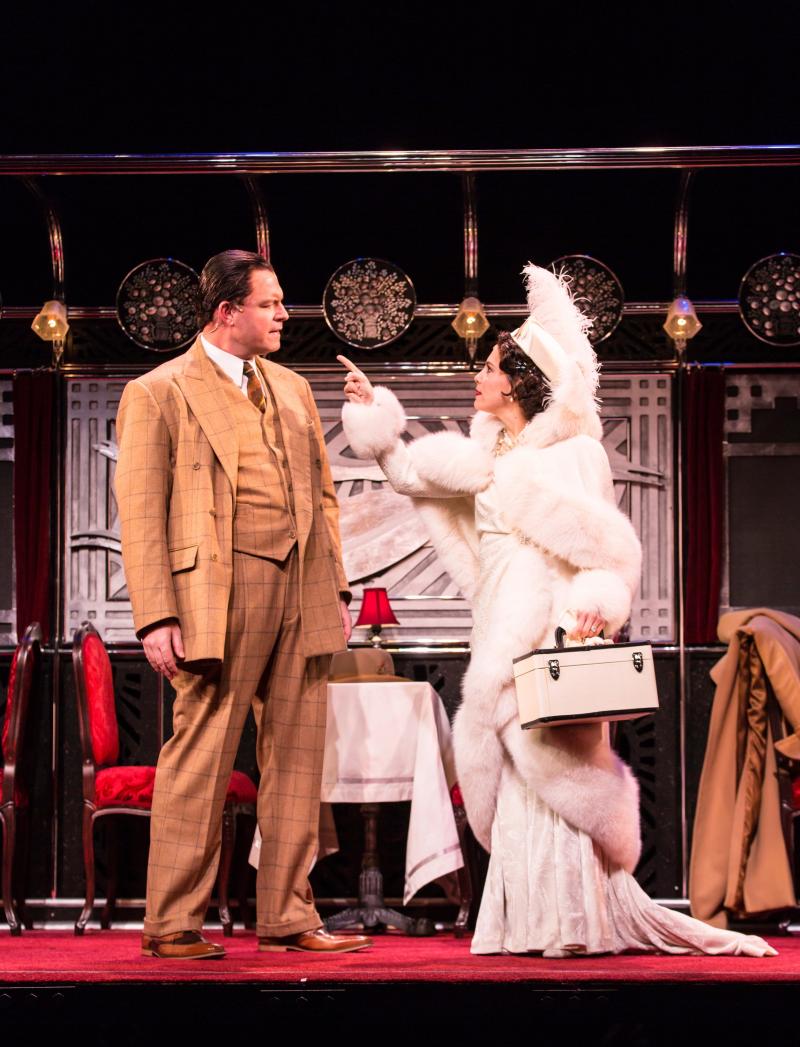 Speaking of enthralling two of the high points of Hartford Stage's production of MURDER ON THE ORIENT EXPRESS are Beowulf Boritt's breathtaking scenic design and Tony-award winning costume designer William Ivey Long's stunning costumes. The audience on opening night audibly gasped when the Art deco inspired train set was revealed and proceeded to applaud for it before any action on the train even took place. Mr. Long's costumes also caused quite a murmur upon revealing themselves, especially the fabulous white fur and feather ensemble of Countess Andrenyi at the start of the play.
While the set and costumes are truly a sight to behold, the actors, who have been brilliantly directed by Emily Mann are what truly flesh out this story. Ms. Mann nimbly movement (sometimes literally) with her cast, taking advantage of the tight quarters to elevate the sense of urgency and danger. Mr. Pittu is the epitome of M. Poirot - from his Belgian sensibility and his no-nonsense approach to his short fuse with those who he perceives as not being 100% truthful with him. He is the glue that holds this story together. The rest of the cast are each brilliant in their own
way, some with spot-on comedic characterizations (e.g., Ms. Halston's Helen Hubbard or Ms. Cox's Princess), others capturing the melodramatic flair of the time (Mr. Bedford and Ms. Hoffman as the Colonel and Mary). Mr. Zes' M. Bouc plays a great foil for Pittu's Poirot, part panicked train manager, part excited fanboy watching his friend in action.
Overall, MURDER ON THE ORIENT EXPRESS has it all - a strong adaptation of a beloved story and a stellar cast wearing beautiful costumes on a breathtaking set. Add these things up and you get one heck of a train ride, and one truly magnificent night of theatre.
MURDER ON THE ORIENT EXPRESS runs at Hartford Stage in Hartford, CT through March 25th. Hartford Stage is located at 50 Church Street, Hartford, CT 06103. Performances are Tuesday, Wednesday, Thursday, and Sunday at 7:30 p.m., Friday and Saturday at 8:00 p.m., and Saturday and Sunday at 2:00 p.m. Wednesday matinee at 2 p.m. on February 28th only. Weekly schedules vary. For tickets or for more information call 860-527-5151 or visit www.hartfordstage.org.
Top Photo: The cast of MURDER ON THE ORIENT EXPRESS (Photo by T. Charles Erickson)
Mid-Photo 1: David Pittu as Hercule Poirot (Photo by T. Charles Erickson)
Mid-Photo 2: Ian Bedford as Ratchett and Leigh Ann Larkin as Countess Andrenyi (Photo by T. Charles Erickson)
Bottom Photo: The cast of MURDER ON THE ORIENT EXPRESS (Photo by T. Charles Erickson)