BWW Review: GLITZ! THE LITTLE MISS CHRISTMAS PAGEANT MUSICAL at Pantochino Productions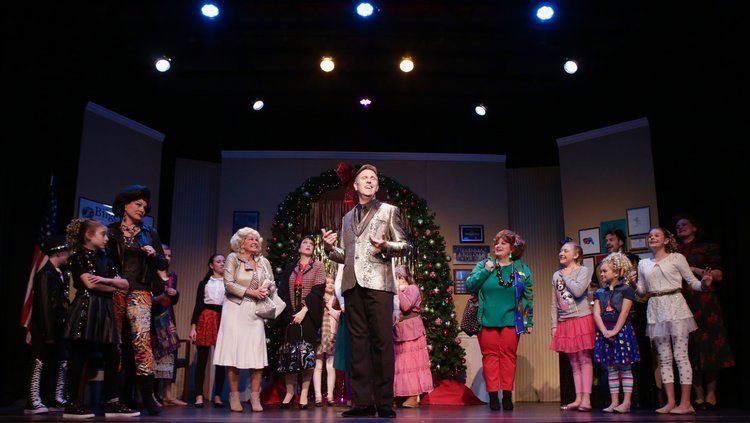 On Sunday, December 9, I had the pleasure of seeing the musical comedy GLITZ! THE LITTLE MISS CHRISTMAS PAGEANT MUSICAL an original production by Pantochino Productions, at the Milford Arts Council in Milford, CT. This exciting musical which is appropriate and entertaining for the entire family is written, staged, and directed by Bert Bernardi who also wrote the lyrics for the show's music, music which itself is written by Justin Rugg who is the Musical Director, and is also great in the acting role of DJ Buddy Panache.
The story revolves around a young teen/preteen girls' beauty pageant that is run by a crooked man named Shayde Shams who is convincingly played by Jimmy Johansmeyer. Shayde Shams has claimed that the money raised by the pageant would be given to a specific community of nuns in an obscure foreign country that no one has heard of. In reality, Shayde Shams, however, plans to pocket the fifty thousand dollars that the pageant was generating, unbeknownst to the contestants and their overly zealous mothers.
The final ten contestants are soon narrowed down to a final five, and the story follows the friendly dynamic of the five girls, juxtaposed with the unhealthy competitive dynamic of many of the mothers.
All ten young actresses are very impressive with their poise and confidence on the stage. They show strong articulation and projection skills with their lines, and stay in character at all times. Most importantly, they all appear to be having a great time up on stage, radiating positive energy towards the audience. Peighton Nash, Keira Degnan, Adrienne Crowley, Mikaela Franklin, and Claire DeRosa make the most of their roles as the five contestants who get cut from the top ten, when the contest is narrowed down to the top five.
The actresses portraying the top five contestants have their individual talents more showcased in this show. Annabel Wardman has a totally convincing southern drawl and dialect in her role as Hailey Ann Haley. Sierra DiMartino uses a totally believable Italian tough Jersey girl voice in her role of Sophia. Brianna Jackson genuinely comes across as being a young genius in her role of Taylor. Ainsley Novin, in the role of Barbie Spangles has her strong singing talent showcased with her intentionally and successfully comedic solo number, "Valerie Bertinelli." Adelina Horne, in the role of Goodness Gracious, has her strong singing talent showcased in the more serious and moving musical solo number, "Simple Little Moments."
Dale Allen, Shelley Marsh Poggio, Mary Mannix, and Maria Berte, are hilarious in their roles as the pushy mothers of Hailey Ann, Sophia, Taylor, and Barbie, respectively. Rachelle Ianniello meanwhile gives a likeable performance in the likeable role of Marybeth (Goodness Gracious' mother) who is more relaxed and positive, supportive without being pushy. The other four mothers humorously come across as intentionally mocking the helicopter mothers who are trying to relive their youths through their daughters' successes and push their daughters in ways that are more self-serving to the mothers than beneficial to their children, highlighted in the talent round of the pageant, where they farcically interfered in their daughters' performances.
Hazel Foley successfully plays the challenging role of Donna Lisa Derringer, a teenager who is slightly older than the pageant contestants, and is being paid to pretend to be the previous year's pageant winner, and forced to read her speeches off cards, some containing words that Donna was not overly familiar with. It is not easy for any actress to intentionally authentically portray a character who is being obviously yet unintentionally inauthentic, but Hazel Foley excels in this role, reflecting a great depth of acting talent.
Connor Rizzo brings great wise-guy humor into the show in his role of Giovanni, Sophia's brother who always has something humorously sarcastic to say to Sophia, much to the chagrin of their mother. The stage chemistry between Shelley Marsh Poggio, Sierra DiMartino and Connor Rizzo is tight, convincingly making them come across as a believable Italian family from New Jersey, who along with the kids' father (spoken about, but not appearing) could potentially be the center of a very hilarious spin-off musical.
The positive message of forgiveness, even towards one's enemies is extolled in this show, reflecting the Reason for the season.
Pantochino Productions gives back to the community, and if they were to record a soundtrack to this show, with this cast, I strongly believe it would be highly marketable, as the music is well written and wonderfully performed by this extremely talented cast. I personally believe that soundtrack sales could raise a good amount of money to help needy children in the community.
So, who ends up winning this pageant? Will Shayde Shams get away with his shady sham? Come to the show to find out!
I highly recommend GLITZ! THE LITTLE MISS CHRISTMAS PAGEANT MUSICAL, which is scheduled to continue to run through December 22 as put on by Pantochino Productions at the Milford Arts Council, in Milford, CT. For times and tickets, please go to http://www.pantochino.com/glitz/.