BWW Interview: Ginny Anderson's CRADLE WILL ROCK at Connecticut College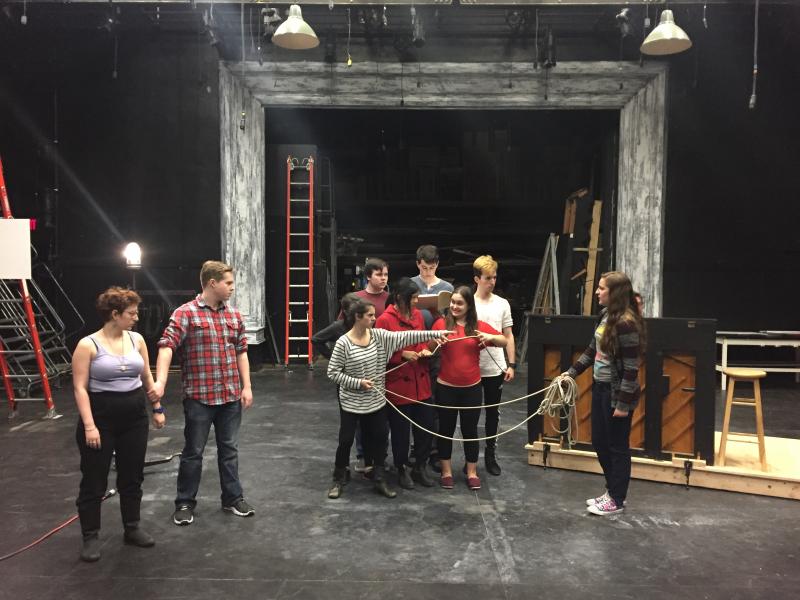 As relevant today as it was when it debuted in 1937, "The Cradle Will Rock" electrifies the Tansill Theater stage at Connecticut College, with performances Friday, March 3, at 7:30 p.m, Saturday, March 4, at 2 and 7:30 p.m., and Sunday, March 5, at 2 p.m. The infamous musical, a biting critique of unrestrained capitalism and income inequality, features musical styles that leap from classical to jazz to pop and capture a story as satirical as it is uplifting and empowering.
Director Ginny Anderson, assistant professor of theater at Connecticut College, says the musical is legendary in theater history. The original production, directed by Orson Welles for the Federal Theatre Project, was shut down by the WPA on its opening night, the theater padlocked and surrounded by security. But the cast and creative team, including director Orson Welles, famously marched 21 blocks north to another, empty theater. The actors' union prohibited them from "performing on stage," but they cleverly found a loophole and performed from within the audience instead, with only composer Marc Blitzstein at the piano on stage. Those in attendance were spellbound.
I was lucky enough to hear from the director about her experiences, both personally and artistically that led up to this important piece of theater being done at Connecticut College this weekend.
Christopher Castanho: What's your background, where are you from and where did you go to school?
Ginny Anderson: I joined the faculty of Connecticut College in 2013 where I direct for the main stage and teach courses related to issues of theater and culture, including Musical Theatre in American Culture. Cradle beautifully melds my scholarly and creative interests. I grew up outside of Buffalo, NY in a small town called Elma and I received a BA in English and Theatre from Carleton College, MA in Drama from Stanford University, MA in Performance and Culture from Goldsmiths College, University of London, and Ph.D. in Drama from Tufts University. Through these programs I was educated to be a scholar-artist and I was mentored by people who cultivated my passion for civic engagement.
CC: I see that you've trained in Theatre but specialize in pieces with strong themes of the LGBT community, women, the Aids epidemic, what has drawn you to such work?
GA: When I was 16 years old I saw a production of Falsettos, directed by Randy Kramer for what was then known as Summerfare, a musical theatre company in Buffalo. It was a defining experience in my life. I went in as a fairly typical teenager, generally unaware of what was going on in the world beyond my social sphere, but I can honestly say that the show changed me. I left an activist - a fierce advocate for HIV and AIDS awareness, for LGBTQ equality, for women in traditionally male-driven narratives (how are Charlotte and Cordelia's names never spoken???) - the story so moved me. It made me ask questions that desperately needed to be asked and after just a few hours I saw the world differently. A few years later, in 1997, I was an assistant stage manager for an incredible production of Angels in America through Buffalo's Studio Arena, directed by Robert Moss. It felt then, as it does now, like such important work. I was a sophomore in college and those artists were so generous and inclusive. From these early experiences and so many more I've learned the significance of bringing people together in the same room, whether through rehearsal or through performance, to experience the lives of others, to be challenged to look at the world in a new way. And not to stop there: to take action, to speak out when social injustice occurs, to learn about our history. Which, of course, leads us to Cradle.
CC: What inspired you to direct "The Cradle Will Rock"?
GA: I care deeply about the relationship between theatre and the world in which it takes place - past and present. When we, as a department, chose the show a year ago, it was exciting to expand the students' repertoire into the highly influential work of Marc Blitzstein through what even then felt like a timely tale of greed, institutional corruption, and disenfranchisement. But our country and our community have gone through a tremendous shift, even since this play was chosen. As evidenced by The Ghostlight Project, forums like that at The Public and through American Theatre, and gatherings like "National Conversation" in which I participated at the Eugene O'Neill Theatre Center in December, many of us have been left with the burning question, "What can theatre do?"
CC: What has been your most memorable and challenging experience throughout the rehearsal process?
GA: One of the most challenging aspects of our production has also been one of the most exciting and rewarding. Bertolt Brecht was such an important influence on Blitzstein and his aesthetic has certainly informed our work, just as the legendary 1937 production in which Blitzstein played the score from an empty stage has ghosted our work from the beginning. One of the exciting challenges we've set for ourselves has been how to create each specific locale from items found within a theatre: ladders, exposed lights, rope, wood and platforms. Visually, it's a nod to our driving question of "what can theatre do, especially in times of crisis?" I had been trained in Moment Work under Tectonic Theater Project's Leigh Fondakowski a few years back and the students took to it immediately, creating a common vocabulary that merged all of the elements of theatre, from lights to costumes to the work they were already doing as actors.
CC: How do you think the current political climate affects the story you're telling with this show?
GA: There was not a rehearsal for which something had not happened that morning, that afternoon, even minutes before which frightening resonance in the lines that Blitzstein wrote 80 years ago. From the status of immigrants, to "fake news", to the mortgage crisis, to a single line comparing the United States to Russia - this production has provided us with an answer to that question: it brings people together - a community - to speak up and out. It's a pro-union story and I think it's fair to say that the current political climate has led us to tell it also as pro-Union -- with a "capital U"; what are the ideals of this country? Equality. Opportunity for all. There's no room for complacency in this show as written and there's no room for it in our production today.
---
Tickets are $12 general admission; $8 for seniors, military and students. Purchase tickets online or call the theater department, 860-439-2605, for more information.