BWW: Connecticut's Top Theater Picks for March 2018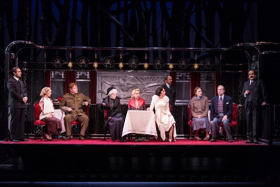 By Lauren Yarger
Don't want to be outside in all of the snow predicted for the region? Here are my top picks for enjoying the warmth and comfort of a theater seat with some March offerings from Connecticut theaters.
HARTFORD STAGE
The McCarter Theatre Center production of Agatha Christie's MURDER ON THE ORIENT EXPRESS (adapted by Ken Ludwig --LEND ME A TENOR, MOON OVER BUFFALO) has been extended at Hartford Stage through March 25. McCarter's Artistic Director Emily Mann directs. David Pittu is iconic detective Hercule Poirot. The production's set by Beowulf Boritt - most of it depicting action on a moving train --- is worth the price of admission. Hartfordstage.org
LONG WHARF
Ken Ludwig gets a second Connecticut staging this month when BASKERVILLE offers a comedic take on Sherlock Holmes (Alex Moggridge) and Dr. Watson (Daniel Pearce) as they solve the mystery of "The Hound of the Baskervilles." Brendan Fox directs. Through March 25. Longwharf.org (Note, due to the impending storm, Wednesday evening's performance (march 7) has been cancelled.
YALE REPERTORY
Liz Diamond directs Suzan Lori Parks' FATHER COMES HOME FROM THE WARS PARTS 1,2 AND 3 in a co-production with Sab Francisco's American Conservatory Theatre, where it has a run April 25-May 20. The play, which was a finalist for the Pulitzer Prize, takes place during the Civil War and follows a slave who is offered his freedom in exchange for serving the Confederacy. Parks also composed songs and additional music for the piece. Yalerep.org
IVORYTON PLAYHOUSE
A 50-year-old stage classic, THE FANTASKTICKS, opens the 2018. With music by Harvey Schmidt and lyrics by Tom Jones, the allegorical musical features David Pittsinger, whose marvelous baritone we don't have to try to remember after seeing him in SOUTH PACIFIC and MAN FROM LAMANCHA at the playhouse, returns as storyteller El Don't miss it! March 21-April 8. ivorytonplayhouse.org
MUSIC THEATRE OF CONNECTICUT
And if you don't get your fill of comedy over at Hartford Stage or Long Wharf, try THE 39 STEPS playing through March 18 over at MTC. This comedic take on a classic Alfred Hitchcock film, adapted by Patrick Barlow, is a riot with clever staging. More than 150 characters are played by a cast of four. Pam Hill directs. Through March 15. musictheatreofct.com