Cain Park to Present RENT and FUN HOME in 2023
Guest director Nathan Henry will direct Cain Park's production of RENT, and Cain Park Artistic Director Joanna May Cullinan will direct FUN HOME.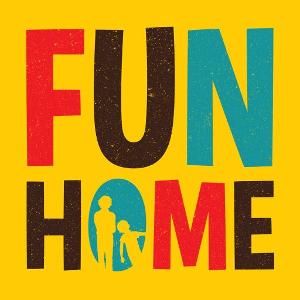 Cleveland Heights Mayor Kahlil Seren has announced the Alma Theater productions for Cain Park's 85th season: RENT, which will run June 8-25, 2023; and FUN HOME, which will run August 10-27, 2023.
ABOUT RENT
Jonathan Larson's Pulitzer-Prize-winning phenomenon, RENT, shaped a generation, and its legacy has continued for over 25 years. Based loosely on Giacomo Puccini's La Boheme, this rock musical follows a year in the life of a group of young artists struggling to create and survive in New York's Lower East Side under the shadow of poverty, social unrest, and the AIDS epidemic. With universal themes of falling in love, finding one's voice, and living for today, RENT teaches us to measure our lives in love.
Guest director Nathan Henry will direct Cain Park's production of RENT, with music direction by Bradley Wyner and choreography by Kenya Woods.
ABOUT FUN HOME
Adapted from Alison Bechdel's groundbreaking graphic novel memoir of the same name, FUN HOME explores the haunting pull of memory and its power to shape one's identity. Moving between the past and present, the musical traces Alison's unique childhood and relationship with her father to unlock deep family secrets on her journey of self-acceptance.
With music by Jeanine Tesori and book and lyrics by Lisa Kron, FUN HOME became the first show written entirely by women to win the Tony Award for Best Musical in 2015.
Cain Park Artistic Director Joanna May Cullinan will direct the Cleveland premiere of FUN HOME with music direction by Rachel Woods and choreography by Monica Olejko.
DIRECTORS
Having previously appeared in Alma Theater favorites The Wiz, Kiss Me Kate, and Damn Yankees, Nathan Henry happily returns to Cain Park-this time as director. Nathan's recent directing efforts include: the world premiere of The Absolutely Amazing and True Adventures of Miss Joan Southgate at Cleveland Public Theatre; the regional premiere of Kill Move Paradise at Dobama Theatre; Night Visions at Ensemble Theatre; Detroit '67 at Baldwin Wallace University; and the world premiere of The Web of Anansi at Near West Theatre.
Nathan received the 2018 Cleveland Scene Theatre Award for Best Director for Karamu House's critically acclaimed production of Passing Strange, where he also directed Eric Coble's The Velocity of Autumn. His production of Ya Mama! was part of the 2018 Hollywood Fringe Festival.
Joanna May Cullinan is the artistic director of theater at Cain Park and has worked there in various capacities over the past 20 years. Her Cain Park directing credits include critically acclaimed productions of School of Rock, Sondheim on Sondheim, Ragtime, Memphis, Rock of Ages, and Godspell (co-directed).
As a freelance director, Joanna has worked with the Great Lakes Theater Company, the Cleveland Playhouse, the Mercury Theatre Company, the Ensemble Theatre, the Beck Center, and other theaters across northeast Ohio. Joanna graduated from Baldwin-Wallace University with a B.A. in Theatre and completed the graduate studies program in Arts Management at The University of Akron.
CAIN PARK
Cain Park is Cleveland Heights' municipally owned and operated summer performing arts park and one of the nation's oldest landmark outdoor performing spaces.
The City of Cleveland Heights manages Cain Park, which is located on Superior Road between Lee and South Taylor Roads.