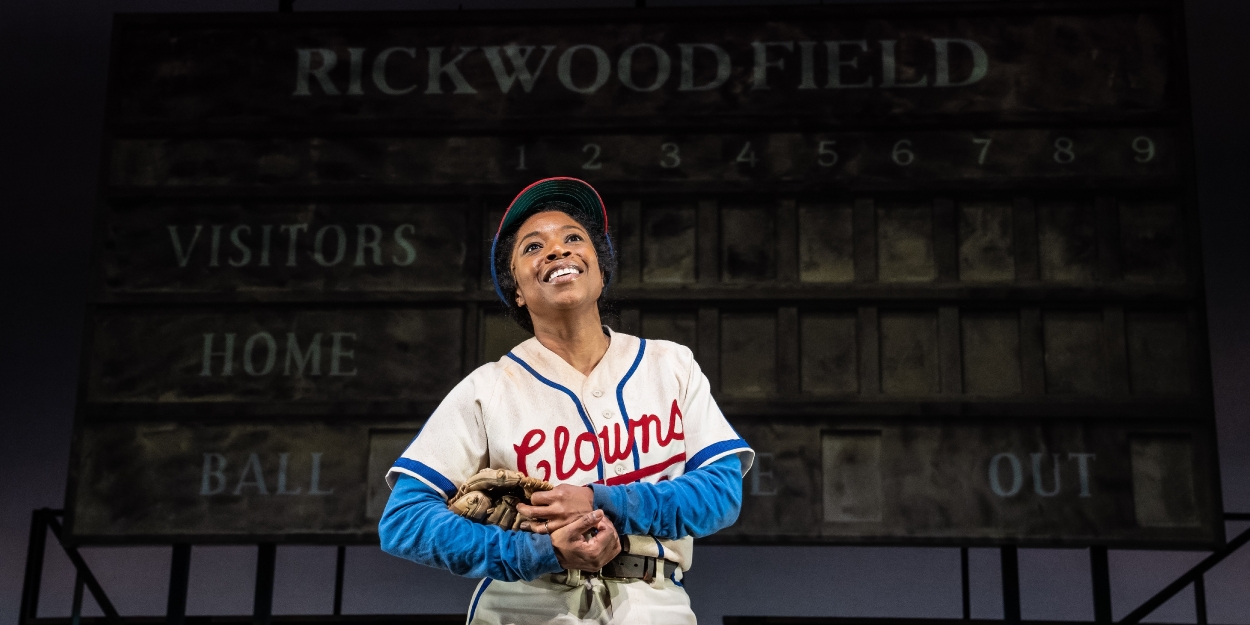 Review: TONI STONE at Goodman Theatre
The Chicago premiere of Lydia R. Diamond's play runs through February 26, 2023
TONI STONE is a memory play-in more ways than one. Lydia R. Diamond's play is indeed structured in non-linear (and yet, still mostly chronological order) as the titular Toni Stone recounts her memories as the first woman to regularly play professional baseball. It's also a memory play in the sense that it captures a moment in history that many audiences may not know before they see the work. In real life, Toni Stone played for the Indianapolis Clowns, a Negro League team, in 1953. The play itself never references that year-or any dates in Toni's timeline-outright (the program merely lists the setting as "1920's-1940's USA.") Instead, Toni weaves between different moments in her life, diving in and out of them-much like she might dive to catch a ball in the outfield (although she played second base).
It makes sense that Diamond would envision TONI STONE as a memory play. While Toni Stone was a real person, the play also clearly presents Diamond's specific vision for the character: An outspoken woman who, in many ways, didn't want to be seen as a woman at all. Rather, Toni wanted to be recognized for her abilities on the field and go under the radar as "one of the boys." Toni's insistence on taking conversations literally-and her initial reluctance to accept the overtures of her eventual husband Alberga, who was more than 30 years her senior-reflect her peculiar and dogged personality. Toni's a determined woman, and Tracey J. Bonner's performance under the direction of Ron OJ Parsons underscores that.
It's a meaty part, and Bonner appears in every scene. Portraying Toni is a tall order, and Bonner succeeds. She necessarily anchors the play; she's affable in many moments, particularly in the play's opening scene when she's waxing poetic about her love of the game. But Bonner also beautifully captures Toni's seriousness-and her unending desire to be taken seriously as a ball player.
As Toni recounts her memories, Diamond also throws a number of issues into the play. There's moments of blatant racism, sexism, and the eventual threat of sexual assault from a fellow player. All these elements of Toni's experience have their rightful place in the play, but the material tends to skim the surface on some of them because it often flits so quickly from moment to moment.
I was particularly interested in the idea of Negro League baseball as performative in a way that "white" Major League Baseball was not at the time. Toni recounts that she and her teammates would need to put on a minstrel-like show when walking onto the field; each player took on a different role. Indeed, the Indianapolis Clowns were required to "clown" as part of their work. Movement director Cristin Carole's choreography draws on vaudeville influences in a couple scenes, underscoring this literally performative aspect. I found this part of the play fascinating, and I think it would have been interesting if Diamond had taken that theme and stylization even further.
Because of its non-linear fashion, the play loses steam in the second act. The act meanders and doesn't reach a natural climax, until the decided button right at the end.
Aside from offering a juicy role for Toni Stone herself, however, the play most succeeds in creating dynamic work for the ensemble. TONI STONE rightfully centers Toni, but the other characters in the play are rich, humorous, and poignant. Toni's teammates are an eclectic bunch; aside from Bonner, the other actors combined play her teammates, her husband Alberga, and a few other characters from Toni's life. Some of the actors even have double or triple roles, and slide between them easily. With this cast, the Indianapolis Clowns come colorfully to life. Kai A. Ealy easily earns laughs as the team comic King Tut; Ealy knows how to milk the material for maximum comedic value, but he also demonstrates that King Tut doesn't always want to have to play the part of the "clown." Travis A. Knight is delightful as Stretch, the team's catcher and one of the leaders; he's also funny as the Clowns' coach Sid, entirely changing his mannerisms to portray that role. Joseph Aaron Johnson has a grounded presence as Elzie, while Victor Musoni gives off vibrant, youthful energy as Jimmy. Matty Robinson has great physical play as Rufus, and Terence Sims tows the line between humor and intimidation as Woody. Edgar Miguel Sanchez nails the role of Spec, a Clowns player who has a simultaneous love of literature and a notable reputation among the women in each town the team visits. Chiké Johnson provides a great scene partner for Bonner as Alberga; he's fascinated by Toni's resistance to conformity, but he ultimately also wants her to play the role of dutiful wife.
As the only other primary female character in the play (aside from a brief appearance from Toni's mother), Jon Hudson Odom is spectacular as Millie, a sex worker in a town near one of the baseball stadiums-and Toni's only female friend. Odom is both caring and a little bit cutting in his portrayal. Millie and Toni's friendship is a welcomed contrast to Toni's dynamic with her teammates. Odom and Bonner's scenes are a highlight of TONI STONE, though there's a few too many of them.
Though the roles for the ensemble are rich and varied, TONI STONE never forgets to center Toni herself. Not surprisingly, she has the first and last word in the play. Diamond doesn't let us forget that the play is about one woman's unique experience, and her unending desire to use her talents and engage with her love of baseball in a world that wanted her to do otherwise.
TONI STONE plays the Albert Theater at Goodman Theatre, 170 North Dearborn, through February 26, 2023. Tickets are $25-$80, subject to change.
Photo Credit: Liz Lauren
Review by Rachel Weinberg