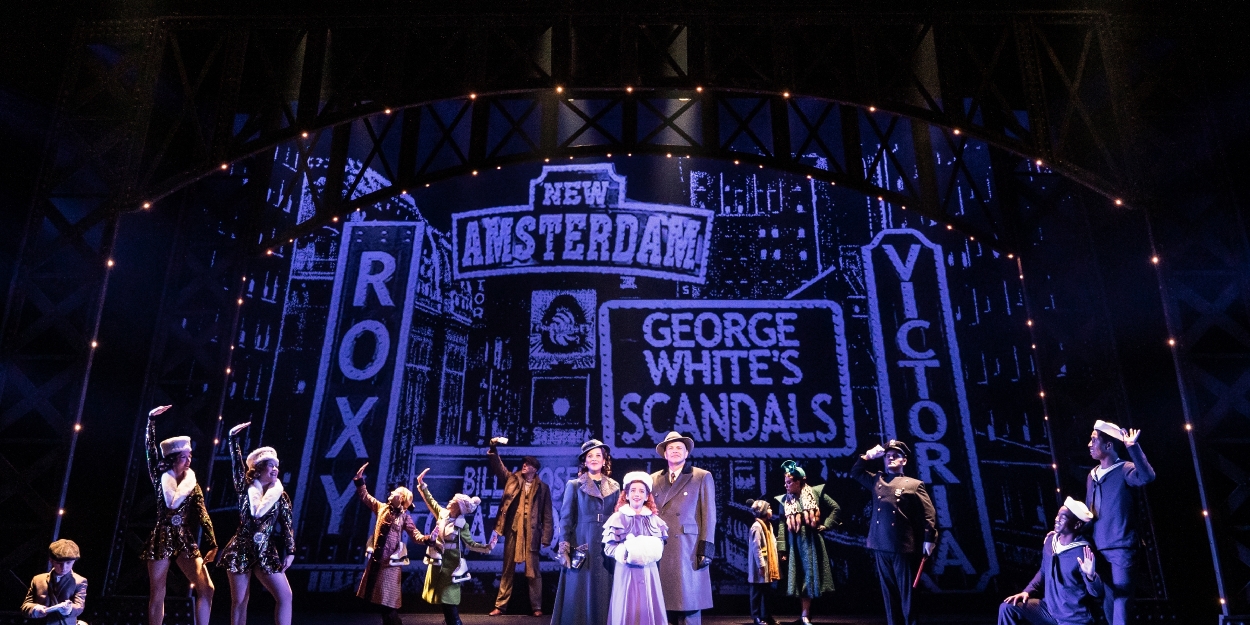 Review: ANNIE at Cadillac Palace
Production runs through March 19
The sun is still out....
The new national tour of Annie is the current offering at Chicago's Cadillac Palace. Hard to believe Annie has been entertaining audiences since it opened on Broadway in 1977. The book was written by Thomas Meehan with lyrics by Charles Strouse and lyrics by Martin Charnin. Director Jenn Thompson's recreation is very similar to the original production and why not? She was the original Pepper in the Broadway run starring Andrea McArdle. Ms. Thompson's history with Annie is very apparent in this production. I had forgotten the emotional aspect of this story. The talented ensemble of young actors portraying the orphans is an absolute joy to watch. Their energy is infectious. This production is the national tour debut for each of these young actors. This is also Ellie Rose Pulsifer's (Annie) national tour debut. She fits the role perfectly. Especially touching was her interaction with Daddy Warbucks (Christopher Swan giving a very in depth portrayal) and his assistant Grace Farrell (Julia Nicole Hunter breathtaking). Then there is Miss Hannigan (Stefanie Londino's commanding portrayal spot on), her conman brother Rooster and his girlfriend Lily St. Regis (wonderful singing, dancing and comedy by Nick Bernardi and Krista Curry) round out the villains in Annie's life. The story is about Annie trying to find her parents who left her at the orphanage as a baby. Daddy Warbucks enlists the help of President Franklin Roosevelt (Mark Woodard in his national tour debut) to find her parents. Annie runs away where she immediately befriends a dog named Sandy. She also has soup with inhabitants of a Hooverville under the 59th Street Bridge. This wonderful ensemble of adults also portray Oliver Warbucks' employees, other citizens of NYC and the cabinet of FDR. Quick costume changes are also involved!
The anticipated moments in Annie are the singing of Tomorrow and Annie's appearance at the top of the stairs in Warbucks' home in red dress and her coiffed red hair. Tomorrow was specifically written in response to what our nation was feeling in 1974. Strouse and Charnin felt this song would uplift our spirits and they were right. This song still stirs deep emotions. Annie's adoption and transformation at the end of the show, which includes being reunited with Sandy, fills us with hope. There are some very poignant moments between Warbucks and Annie. Warbucks has discovered there is more to life than acquiring wealth. He has been missing someone to share his life with. This little redheaded girl changes everything for him and he is thrilled. You can feel the much needed love between Warbucks and Annie.
Scenic director Wilson Chin along with the lighting designed by Philip Rosenberg really evokes the feeling of 1933 America. The NYC number is filled with brilliant light and wonderful marquees. A feast for the eyes, ears and senses. Alejo Vietti's costumes are so incredibly authentic. His designs for Grace are stunning. There was an audible gasp when Grace appears in her gown for Annie's adoption celebration party. Patricia Wilcox' choreography was filled with high energy and stayed true to the original. The orphans dance to You're Never Fully Dressed brought some of the loudest applause. Easy Street with Miss Hannigan, Rooster and Lily is always a favorite. The orchestra under the superb direction of Elaine Davidson filled the theatre with the sounds of old friends. During the final chorus of Tomorrow during curtain call, the audience sings along as well. This new national tour is a wonderful production for both adults and children. It will fill you with happiness. Sometimes an optimistic 11 year old redheaded girl is all you need. You will find her, and her dog, at the Cadillac.