Photo Flash: First Look at Promethean Theatre Ensemble's ROSENCRANTZ AND GUILDENSTERN ARE DEAD
Promethean Theatre Ensemble presents the second play of their 2013/2014 season, Tom Stoppard's ROSENCRANTZ AND GUILDENSTERN ARE DEAD. ROSENCRANTZ AND GUILDENSTERN features PTE ensemble member Nick Lake and Special Guest Artist Tom McGrath. BroadwayWorld has a first look at the cast in action below!
PTE Artistic Director Beth Wolf will set Tom Stoppard's classic re-imagining of Hamlet in a Steampunk world, the unique visual aesthetic that typically blends Victorian elements with steam-powered machinery, clockwork, and gears. The Steampunk aesthetic blends worlds - both the past and an imagined future - just as Stoppard blends the traditional with the unknown.
Featuring the actors: Gary Barth, David Cady, Jr., Jared Dennis*, Ashlee Edgemon, Cameron Feagin, Brendan Hutt*, Nick Lake*, Tom McGrath, Cami Rene Philgreen, Melissa Reeves and Elizabeth Rentfro.
Creative Team: Director - Beth Wolf*; Assistant Director - Nicole Hand*; Stage Manager - Nathaniel Nesheim-Case; Scenic Design - Sarah Dalton Lewis; Lighting Design - Megan Turnquist; Costume Design - Beth Laske-Miller; Sound Design- Michael Kunc; Dialect Coach - Cate Gillespie*; Props Design - Ross Lemmon; Violence Design - Dave Skvarla*; and Production Manager - John Arthur Lewis*. (*indicates PTE ensemble member)
Specially priced preview performances are April 18, 19, 24, & 25 at 7:30 pm. Press Opening Night is Saturday April 26, 2014 at 7:30 pm. Performances continue through Saturday May 24, 2014, on Thursdays, Fridays, and Saturdays at 7:30 pm and Sundays at2:00 pm, with a special industry performance on Tuesday April 29, 2014 at 7:00 PM. Rosencrantz and Guildenstern Are Dead will perform in Studio One at the Athenaeum Theatre, 2936 N Southport Ave, Chicago, IL 60657. Admission price is $22.00 for adults, and $12.00 for children/students/seniors. To purchase tickets please call the Athenaeum box office (773) 935-6875 or visit www.prometheantheatre.org.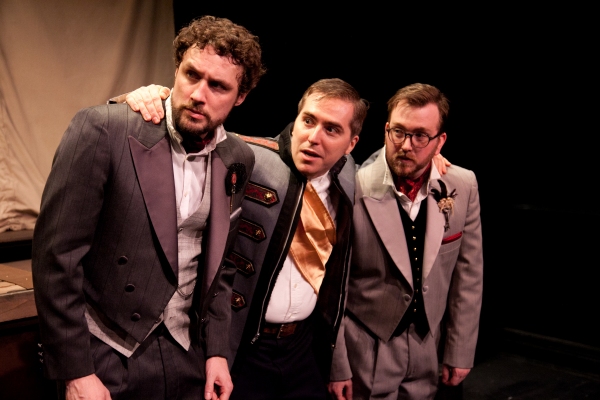 Nick Lake as Rosencrantz, Brendan Hutt as Hamlet and Tom McGrath as Guildenstern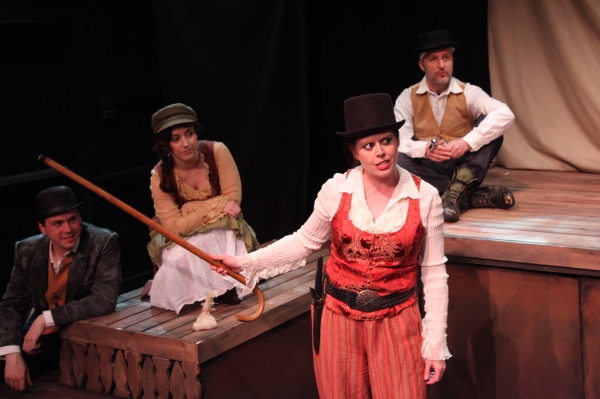 Cameron Feagin as The Player with Jared Dennis, Ashlee Edgemon and Gary Barth as Tragedians

Tom McGrath as Guildenstern, Cameron Feagin (The Player) and Nick Lake (Rosencrantz)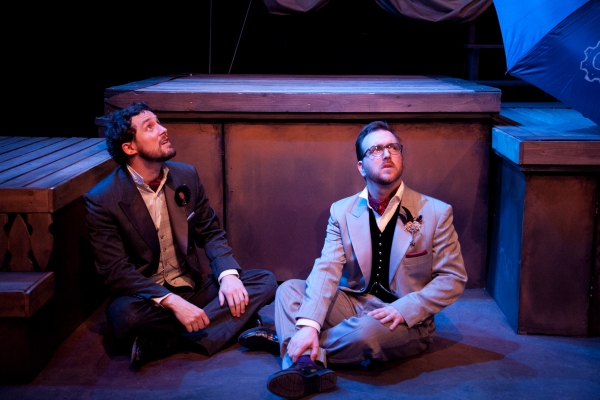 Nick Lake (Rosencrantz) and Tom McGrath (Guildenstern)

More Hot Stories For You