Dance Center's 45th Season Opens With Chicago Debut of Ephrat Asherie Dance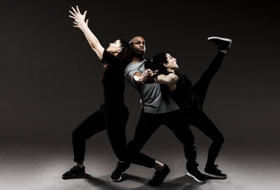 To open the 45th season of its Dance Presenting Series, the Dance Center of Columbia College Chicago presents the Chicago debut of Ephrat Asherie Dance (EAD), a company rooted in street and social dance. Performances take place October 11-13 at the Dance Center, 1306 S. Michigan Ave., Chicago.
Odeon, an original work for seven dancers and four musicians, is the second collaboration between sister-and-brother team Ephrat "Bounce" Asherie and Ehud Asherie (choreographer and musical director, respectively). Set to the music of Brazilian composer Ernesto Nazareth, known for mixing early 20th century romantic music with samba and other popular Afro-Brazilian rhythms, this work takes a hybrid approach to movement. Odeon delves into what happens when you bring together the extended family of street and club dances-including breaking, hip hop, house and vogue-remix them, pick them apart and challenge them to inhabit unfamiliar spatial and choreographic contexts. Following the premiere of Odeon at Jacob's Pillow, Carolyn and Eli Newberger wrote in The Berkshire Edge, "Just when you thought you knew something about dance, along comes Ephrat Asherie to blow that all to smithereens. ...Asherie stretches boundaries and categories of dance, and in the process, redefines what dance is and what dance can do." Also in The Berkshire Edge,
Liz Thompson
wrote, "Ephrat Asherie creates a world I want to live in. ...The dancers and musicians are stellar. The work is a gift."
Coinciding with EAD's residency on Saturday, October 13 is the B-Series, the Dance Center's free mini-festival celebrating the cultures, histories and aesthetics of hip-hop and street-dance forms, such as breaking, popping and Chicago footwork. With a jam as the focal point, blurring the lines between spectator and participant and spotlighting some of the most talented street dancers in the region going head to head in dance battles, the B-Series is a gathering space where all can learn through and connect to the rich culture of hip hop.
Ephrat Asherie Dance is dedicated to revealing the inherent complexities of street and social dance. EAD explores the expansive narrative qualities of various street and club styles, including breaking, hip hop and house, as a means to tell stories, develop innovative imagery and find new modes of expression. The company has presented work at The Apollo Theater, Dixon Place, FiraTarrega, Jacob's Pillow Dance Festival, La MaMa, LMCC's River to River Festival, New York Live Arts, Summerstage and The Yard, among others. Ephrat "Bounce" Asherie, a 2016 Bessie Award Winner for Innovative Achievement in Dance, is a New York City-based B-girl, dancer and choreographer. She is a regular guest artist with Dorrance Dance, having performed in Chicago with that company, and has worked and collaborated with Doug Elkins, Rennie Harris, Bill Irwin, David Parsons, Gus Solomons jr, Buddha Stretch and more.
A post-performance conversation with the artists takes place Thursday, October 11. "Moving Beyond Beauty: Finding Meaning in Dance," a pre-performance talk with Interim Theatre Department Chair Dr.
Peter Carpenter
, takes place Friday, October 12 at 6:30 p.m. at Sherwood Community Music School's Recital Hall, 1312 S. Michigan Ave. (next door to the Dance Center). Additional residency activities with community partners and Columbia College Chicago students take place throughout the week leading up to the performance weekend.
Photo Credit: Matthew Murphy