26 PRESENTS: NET-FLIX AND KILL Continues Late-Night Comedy Series at Pride Arts Center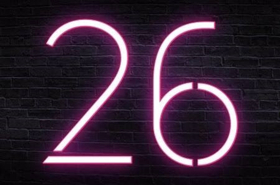 26 PRESENTS: NET-FLIX AND KILL, the third installment of "26," opening September 30 and running up to the Saturday before Halloween, will take on a horror theme for its twenty-six scenes of horror-comedy and straight up horror written by various guest writers.
This is the third round of the ongoing late-night series "26"- a performance based on 26 scenes each inspired by a letter of the alphabet. The guest writers received letters at random and were asked to choose a word that starts with that letter to serve as the title of their piece. The result is a collection of sketch comedy, dance, music, poetry, and experimental theater performed by a cast of 10.
Following a public preview on Wednesday, September 27 at 8 pm, It will run every Saturday at 10:30PM September 30-October 28 in the Broadway, Pride Arts Center, at 4139 N. Broadway Ave.
The cast of 26 PRESENTS: NET-FLIX AND KILL will be Edward Fraim, Myesha-Tiara McGarner, Devi Reisenfeld, Julia Louise Trevor, Catherine Cable-Barber, Dan Jackson, Haley Mozer, Winter Jones, Emma Jo Schumacher, and Ryan Jendrycki. Understudies for the performance are: Matt Faries, Christopher Kauffman, Kayla Cole and Carolyn Plurad.
Guest writers for this round are David Cerda, Susan Messing, Rachael Mason, Derek Van Barham, Robert Bouwman, Todd Schaner, Allison Heinz, Kallie Rolison, Tim Skau, Daniel Polonka, Lindsay Bartlett, Brian Gore and Ross Christian. The production team will include Brian Gore (Director), Leslie Halverson (Assistant Director), Megan Chaney (Stage Manager), Michael Brooks (Set Designer) and Kallie Rolison (Sound Designer).
More information and tickets available at bitly.com/26netflixandkill.
IF YOU GO:
26 PRESENTS: NET-FLIX AND KILL
September 30 - October 28, 2017 (Preview performance Weds., Sept. 27)
PRESS OPENING Saturday, September 30, 2017 - 10:30 pm
Performances Saturdays at 10:30 pm
Tickets: $10.00.
All performances in The Broadway, Pride Arts Center, 4139 N. Broadway, Chicago
Tickets available at www.pridefilmsandplays.com or 1 800 737 0984
Pride Films and Plays changes lives through the generation of diverse new work (or work that is new to Chicago) with LGBTQ+ characters or themes that is essential viewing for all audiences. We accomplish this mission through fully-staged productions, writing contests and staged readings, film screenings, and special events. We foster long term relationships with artists to create programming that is as diverse, unique, and complex as the community we represent. In 2015, Huffington Post called PFP "A powerful and empowering entity." The company acquired its two performance spaces at 4139 and 4147 N. Broadway in July 2016, renaming the spaces the Pride Arts Center.
Pride Films and Plays is supported by The MacArthur Fund for Arts & Culture at The Richard Driehaus Foundation, The Illinois Arts Council, City of Chicago's City Arts Fund, the Elliott Fredland Charitable Trust, Proud to Run, the AmazonSmile Foundation, Arts and Business Foundation, Tap Root Foundation and Alphawood Foundation.
PFP is a member of the Smart Growth Program of the Chicago Community Trust. Pride Films and Plays is a member of the LGBT Chamber of Commerce of Illinois and The League of Chicago Theatres.
For more information, visit www.pridefilmsandplays.com or call 1.800.737.0984.
Pride Arts Center (PAC) opened in 2016 and consists of two performance spaces: The Buena at 4147 N. Broadway which has 50 seats and The Broadway at 4139 N. Broadway which has 85 seats, and it is run by Pride Films and Plays. PAC has become an important part of the arts environment in the Buena Park neighborhood and beyond by hosting events including After Orlando, Bechdel Fest, SheFest and the 525,600 Minutes Cabaret. Additional tenants in 2017 include Walkabout Theater, New American Folk Theater, Cor Productions, Underscore Music Theater, 20% Productions, About Face Youth Theater, Another Door Productions, and of course Pride Films and Plays.