10 on Tuesday with SOUTHERN GOTHIC's Michael McKeough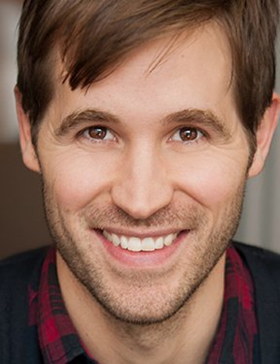 In Windy City Playhouse's immersive hit SOUTHERN GOTHIC, Michael McKeough plays big-hearted, recovering alcoholic Beau. We caught up with the talented actor to toss back a few (questions that is). Here's what he had to say:
1. Show you first auditioned for (and did you get the part)? My first professional audition was for Banyan Theatre Company in Sarasota FL. The play was The Lion in Winter and the part was Louis. I got the part and lived on my mom's couch (she was living in Sarasota at the time) for 3months.
2) Where are you originally from? I am originally from Sterling Heights, MI, a suburb of the Metro Detroit area.
3) When did you first know you wanted a career in theater? HA! I let you know once I have a career in theatre.
4) What's your dream role production? Oh jeez, I have no idea. I played Jerry from the Zoo Story a long time ago. I'd love another crack at it. It's such a haunting role.
5) Favorite post-performance haunt? Man, I did a show in Cincinnati and there was this pub called Arnolds. It was easily my favorite bar. Maybe one TV at the bar (maybe none - I don't remember that well), a nice garden with live music in the back and incredible menu of beer, wine, whiskey and cheep eats. It's great.
In Chicago, I like the Den's bars. They're nice. And chill.
6) Living or dead, who would you drop everything to see perform? Stevie Wonder.
7) What's your greatest vice/guilty pleasure? Ice Cream. I love it.
8) What are you currently listening to/watching/reading? I'm currently listening to The Optimal Finance podcast because I'm trying to get a little better with my money. I am also always listening to David Bowie. I'm watching nothing right now I am currently reading The Elegant Universe by Brian Greene. I think cosmology is exciting and I know nothing.
9) The one song you don't ever want to hear someone perform at an audition:
Can't stop the feeling - Justin Timberlake. It is currently my three-year-old's favorite jam and I have to listen to it multiple times a day. It's a good song but I'm starting to lose it a bit when I hear it now.
10) Describe the Chicago theater community in three words: Strong, United, Political.
SOUTHERN GOTHIC runs through July 29th at the Windy City Playhouse, 3014 W. Irving Park Road Tickets, $65-$85 at 773-891-8985 or www.windycityplayhouse.com