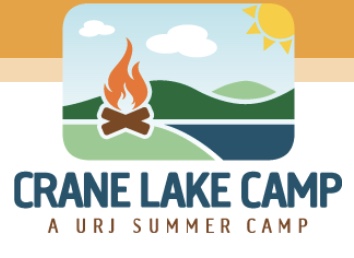 URJ Crane Lake Camp Theatre Camp Guide
Submit Camp Updates
URJ CRANE LAKE CAMP - CAMP INFORMATION

Camp Type: Overnight
Session Length: Multiple Length Options all Summer
Camp Focus: Jewish Studies, Traditional Camp Activities, Arts, Sports, Adventure

Extra Activities: Yoga, Music, Travel



Our caring and committed staff members (many of whom were campers themselves) strive to enrich the campers' experiences by helping them build lasting friendships. These relationships lay the foundation for our summer community, providing encouragement and support. Our intimate camp environment allows campers to embrace the challenge of learning new skills in athletics, aquatics, the arts, and adventure and nature programs. What's more, campers also immerse themselves in a wide range of innovative Jewish educational pursuits and creative spiritual experiences.

A Camp for Everyone! URJ Crane Lake Camp is a camp where everyone feels at home. We strive to make every camper's experience nurturing and fulfilling, and we do so by making sure that every child feels welcomed and supported.

At Crane Lake Camp, we build a Culture of Kindness through our actions every day. This Culture of Kindness can be seen all around us as we go about our daily activities, from the smallest of actions to the grandest of gestures. Our culture creates an environment that is filled with people who want to actively create a more compassionate and accepting community.

What happens at a URJ Camp? Camp is fun! Our campers enjoy engaging activities and programs, develop life-long friendships, and live with a super-star staff that acts as role models, living Jewish values-not just teaching them. When you entrust your children to us, they will experience what it is like to live in an immersive Jewish community. This complete immersion allows children to see the world through a Jewish lens, giving them a fuller appreciation of the richness of Judaism and strengthening their Jewish identities along the way. They live the Jewish values of Rachamim (compassion), Kavod (honor and respect), Derech Eretz (civility), G'milut Chasadim (kindness), Tikkun Olam (repairing our world), and so many more! And we know they'll take these values home with them at summer's end.

What if my family isn't very involved in Jewish life? Campers come to us from a variety of Jewish backgrounds. Some children come from families who are very involved in their synagogues attending Shabbat services regularly, and some do not. Some children attend Jewish Day Schools, and some attend Religious School only once a month. And everyone in between! We help our campers learn what they don't know, and embrace what they do know. Living in an immersive Jewish community offers all of our campers the opportunity to strengthen their Jewish identities while learning more about Judaism.

Crane Lake Camp is a welcoming community for interfaith families who have made Jewish choices for their children, including Jewish overnight camp. We welcome children from a variety of backgrounds, and know they will quickly mesh into one community.

What if my camper needs extra support while at camp? Camp has inclusion staff on site to work with campers who might need extra support and with the staff who will be caring or them. Before campers arrive at camp, we ask any parent who anticipates that his/her child will need extra support to complete a Background Questionnaire. This way, we can being to prepare for the camper before he/she arrives. As necessary, our inclusion staff stays in touch with parents throughout the summer.