Trans Voices Cabaret Announces One Year Anniversary Show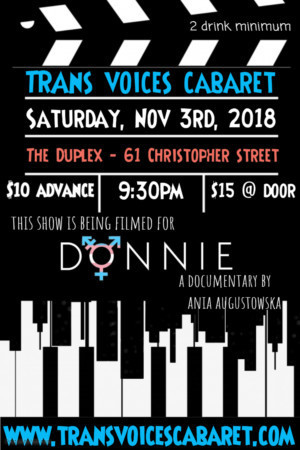 Celebrating their one year anniversary of highlighting transgender and nonbinary performers, Trans Voices Cabaret returns to The Duplex with a brand new show, a documentary film shoot, and a special out-of-town guest on Saturday, November 3rd at 9:30pm. The show is directed by Donnie Cianciotto, with Musical Direction by Anessa Marie.
"Trans Voices Cabaret was supposed to be a one time thing," according to creator and director, Donnie Cianciotto (Southern Comfort.) "I had no idea it would be as well received as it's been, and there are so many trans and nonbinary identifying singers auditioning for every show, it just kind of leapt out of my hands, took off, and kept going. I'm very grateful to the wonderful staff at The Duplex, and to our friends, fans, and chosen family who keep coming out to support the show."
While the November 3rd show will once again feature new and returning performers, it will also be filmed as part of a documentary by multiple Emmy award-winning filmmaker, Ania Augustowska. Augustowska has been filming Cianciotto's life since they first met in Tucson, Arizona in 2015, and documenting his experiences as a transgender man and performer. The 10 minute version of "DONNIE" won Augustowska her first Emmy, and the full length version will be released in 2019.
"It's very exciting to have the film crew here to shoot Trans Voices Cabaret on our one year anniversary, and because it will be the last thing we shoot for this documentary," said Cianciotto. "It's been a labor of love for three and a half years that has covered not only my experience in my medical transition, but my transition from running a community theater cabaret show in Arizona, to landing a role in an off-Broadway musical and moving back to New York City, and eventually creating Trans Voices Cabaret. I couldn't be more proud of how far I've come since we started shooting, and I'm thrilled to be able to wrap the shoot with a Trans Voices Cabaret performance."
Trans Voices Cabaret features a cast of all trans, nonbinary, or gender non-comforming musical theater performers and singers, and has sold out each of it's previous shows. The November show marks the 6th Trans Voices Cabaret in NYC, and the Chicago chapter will be presenting it's 2nd show in early December.
Returning cast members Maybe Burke, Donnie Cianciotto, Salem Corwin, Kristofer Eckelhoff, Jordan Ho, Kat Griffin, Anessa Marie, Jacob Michael, Ianne Fields Stewart, & Julian Wolfe will be joined by first-time performers Hannah Corwin, Stevie Goughner, Nina Kauffman, and Morgan Sullivan. Joining us from Colorado is special guest performer, Jillian Mitchell.
Tickets are $10 in advance, and $15 at the door. It is strongly suggested to purchase in advance, or arrive early to be put on the cancelation list. By attending, audience members agree to be filmed and possibly have their likeness used in the documentary. For more information, please visit www.transvoicescabaret.com, or email transvoicescabaret@gmail.com.