Review: BETWEEN THE LINES CAST ALBUM RELEASE CONCERT Is All Thrills and All Heart at 54 Below
A beloved musical play stays in the hearts and consciousness with new album and stellar concert.
For eighty-nine days last year something really special happened Off-Broadway, in New York, and on the internet, and it was called Between The Lines. The spectacular new work of theatrical magic played the Second Stage Theatre from June 14th through September 11th, capturing the attention and hearts of many devoted fans, both in person and online. Based on the Novel By Samantha Van Leer and Jodi Picoult, this new musical presented themes universal to anyone who has ever been a teenager, or a child of divorce, or a parent, or a single parent, or a mentor, or a friend, or a daydreaming lover of literature - in short, everyone. With a fine script by Timothy Allen McDonald and a glorious score by Kate Anderson and Alyssa Samsel, this modern-day fairy tale come to life resonated with many people but, especially, with young people who seek a musical that represents life as it is today, which the play does in many ways but, particularly, by including a non-binary character that was played by a non-binary actor. The fans flocked to the theater and the social media was lit up with love for the play.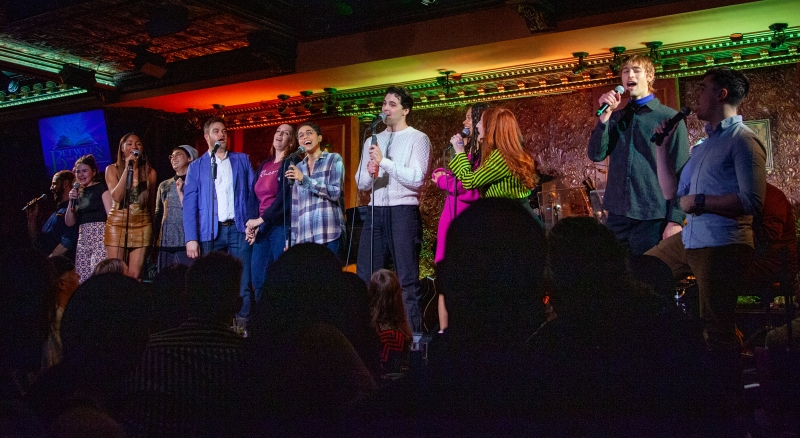 For whatever unexplainable reason is in the air, the artistic smash was not a commercial one, and the play closed after those mere eighty-nine days. Fortunately, the play is ripe for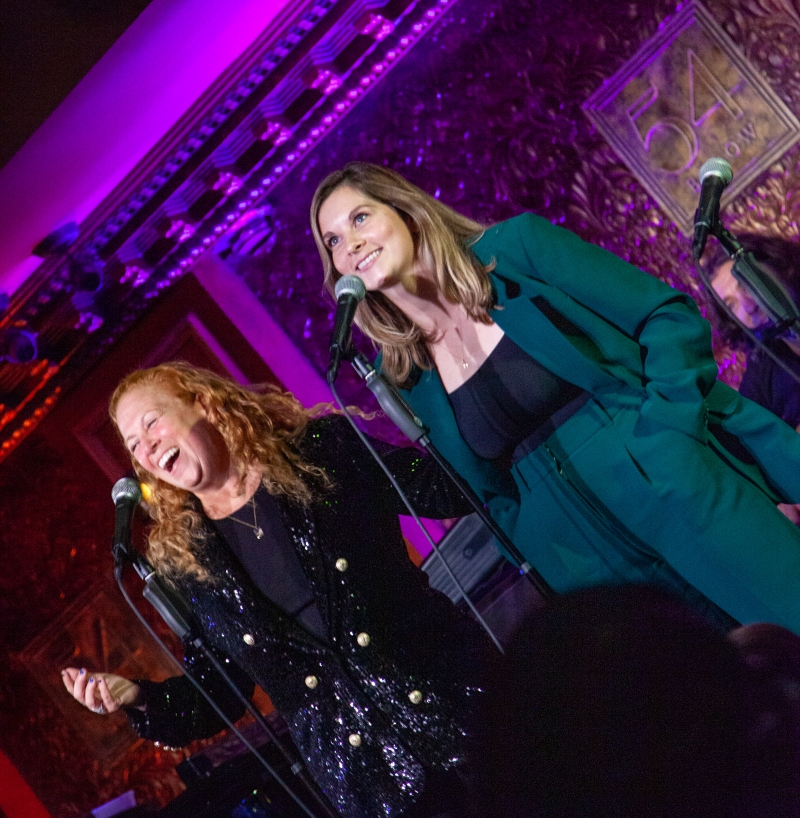 regional theater pickings, and can expect a healthy life across the country and, hopefully, around the world. There can be no doubt that that future success and those future productions will be aided by the play's wonderful (and wonderfully crafted) cast album (reviewed by Broadway World HERE), the release of which was celebrated recently in a concert performance at 54 Below that reunited the (almost) entire cast of the play, from star Arielle Jacobs to the swings and understudies to original creators Jodi and Samantha to theater makers Alyssa, Kate and Timothy to director Jeff Calhoun, and featuring a special guest appearance by Between The Lines producer Daryl Roth, a blessing to the industry who blessed the proceedings with her warmth and benevolence. It was one of the most loving, positive-energy, hopeful, and celebratory evenings this writer has ever spent in a cabaret room.
For their January 19th concert, all of the forces behind Between The Lines appeared on the stage to share behind-the-scenes anecdotes, tell tales, and communicate the joy and pleasure they felt for their part in the production of Between The Lines. With Misses Anderson and Samsel serving as Mistresses of Ceremony for the evening, the cast performed almost every song that appears on the cast recording, in chronological order (one can only assume that they could not play every song because of time restrictions). Each and every performance was a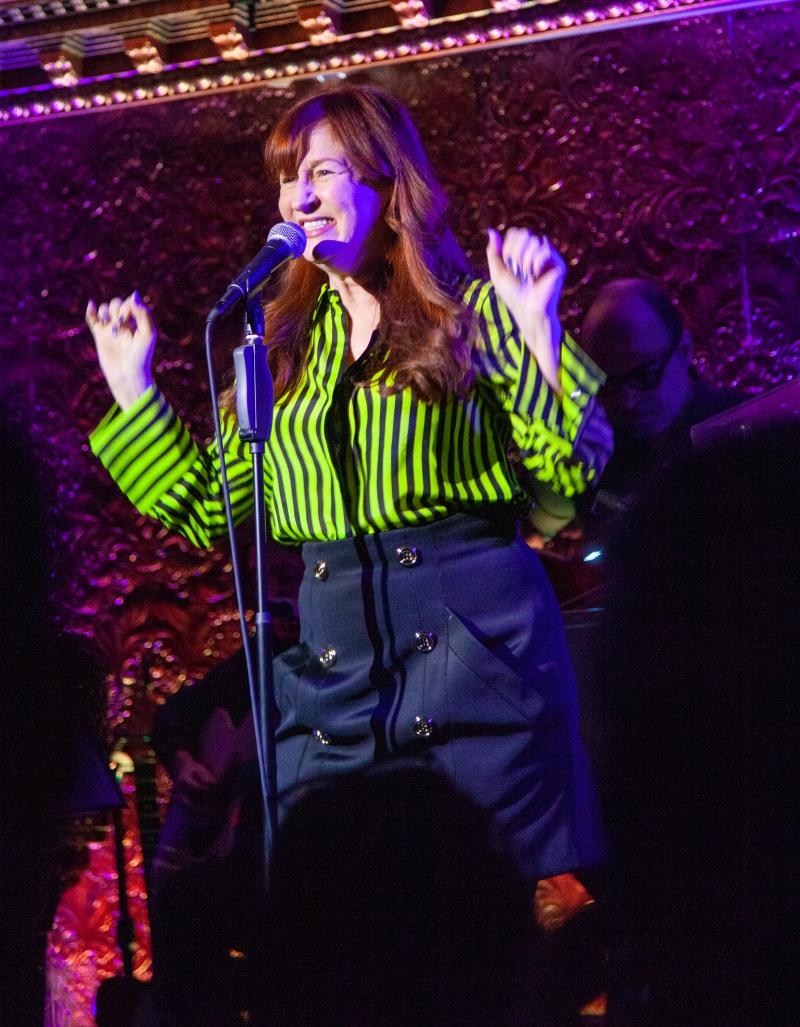 fully realized moment of storytelling informed by more than just love of the show, but respect for the play, the source material novel, the production, the fans, and each other, not to mention the art of storytelling. With rare and fabulous exception, almost every concert performance these last few years features actors with scripts, music stands, cheat sheets, and tablets - maybe it's because the play only closed four months ago but all the actors came to play off-book, giving them the luxury of total connection with one another and the material, and, especially, their adoring fans in the seats out front. Vicki Lewis and John Rapson were able to play with the audience, Arielle Jacobs and Jake David Smith were able to relate to one another, Julia Murney could break hearts or break out laughter, and Wren Rivera, Vicki Lewis, Jerusha Cavazos, and Aubry Matalon could bring out all the ferocity required for "Do It For You," one of the evening's many highlights. It was, from start to finish, a memorable night of musical theater and theater celebration, and those lucky enough to be in the room will remember it forever.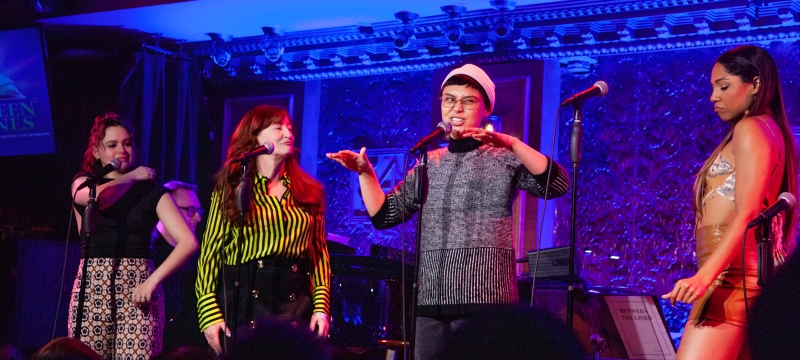 In spite of the overall excellence of the concert, there are a couple of things that should be said, regarding the night. The first of these things is that Kate Anderson and Elyssa Samsel are two of the funniest people alive, and watching/listening to them while they executed their hosting duties was like being at a Saturday Night Live taping. There was extensive
discussion, after the show, between this writer and his spouse about how welcome a Samsel and Anderson nightclub act would be (#bighint). Additionally, it should be said that Wren Rivera is a fireball of talent whose work in the play and in this concert was thrilling on the level of Beyoncé, Adam Lambert, and Donna Murphy, all rolled into one revolutionary new performer for a new age. And, finally, it cannot go without saying: Arielle Jacobs, Arielle Jacobs, Arielle Jacobs. What a star. What a mensch. What an artist. Listening to Samantha and Jodi tell the story of finding Arielle online and declaring that she was their Delilah, it seemed like a "Duh" moment because who else could have done it? Who else could have led this cast and this special play with such heart, such majesty, and such magic? It seems almost insulting to even consider that anyone other than Arielle Jacobs would have opened Between The Lines as Delilah, and all that heart, majesty, and magic was on display at this concert, whether Arielle was doing a one of her solos, slaying in duets with Rivera or amazing Jake David Smith (whose chemistry with Jacobs is unchartable), or just standing to one side while someone else took the spotlight. A handful of other people may have created Between The Lines and Delilah, but Arielle Jacobs brought her to life and brought her to the masses. She is the beating heart of the story and people (mostly young, but not entirely) will be looking to her as a beacon of light for years to come. Because of Between The Lines and Delilah, Arielle Jacobs is, now, immortal.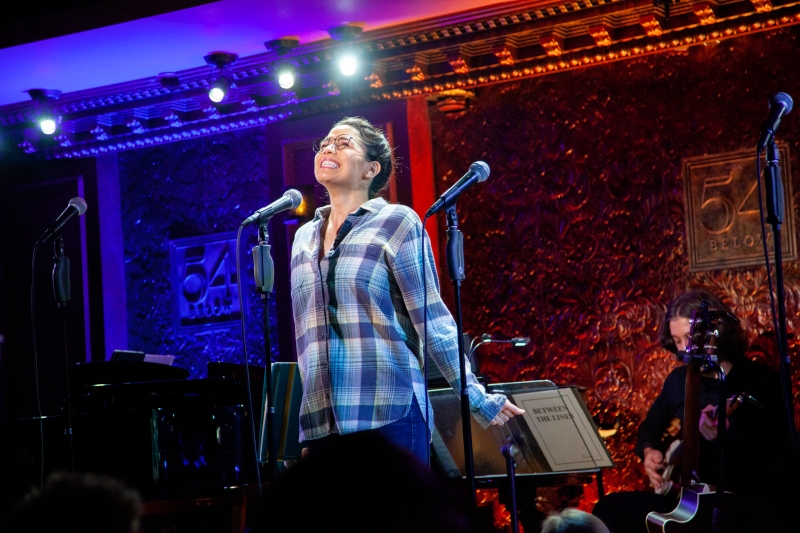 This is an important play. This is important literature. This is important storytelling. It will live forever and be loved forever. This album release party was a thrill to watch, from the audience, but it was also a thrill to watch the audience. This concert was tangible proof of what creating theater is all about, and how it can touch the lives of the people.
I'm so happy I was there to witness the magic and report back on it.
The cast list for this concert, as provided, was: Arielle Jacobs, Julia Murney, Jerusha Cavazos, Hillary Fisher, Dan Hoy, Martin Landry, Vicki Lewis, Aubrey Matalon, John Rapson, Wren Rivera, Jake David Smith, Sean Stack.
Find great shows to see on the 54 Below calendar HERE.
Visit the Between The Lines website HERE.
Find Between The Lines cast recording HERE.
Photos by Stephen Mosher; Visit the Stephen Mosher website HERE.