Love Trumps Hate this Valentine's Day in LOVE WINS Cabaret at the West End Lounge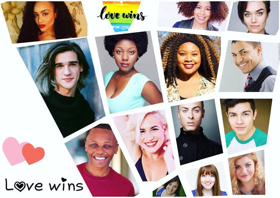 LOVE WINS: Love Trumps Hate will go up for one-performance-only tonight at 7pm at The West End Lounge in NYC. Featuring multifaceted spokesperson for the LGBT community, Cory Wade (America's Next Top Model), Deaf Queer Public Speaker and Stand up Comedian, Hayden Kristal (NBC's Stand Up for Diversity), Global Citizen and Passionate Storyteller, Raquelle M. Zuzarte (Huffington Post), and rising pop recording artist/songwriter, Morgan Reilly!
Musical performances from Nicole Vanessa Ortiz (Spamilton: Off Broadway), David LaMarr (Jersey Boys: National Tour), Elijah Curry (Carnival Cruise Line), Nicole Loewenstein, Alixe Ward, Shawday Graves, Nick Martinez,, Ariel Saul, Megan Malloy, Maybe Burke, Alexis Myles, Bessie D.Smith.
A night of inspirational storytelling through song and speech. A celebration of the type of love we hope to see from our neighbor, our sister, our community. Leading by example, performers will sing from their experiences, showcasing the goodness we are so capable of. Good energy. Good music. Good company. Love always trumps hate. Love. Wins.
Hosted by Jacob McKenna
Music Directed by Nathaniel Beliveau
Production Assistant: Marty Craft
Cast, Produced, and Directed by Ian Connor (@InstaIanConnor)
www.Ian-Connor.com / ConnorCasting
Tickets can be purchased at https://ianconnorpresents.ticketspice.com/love-wins $20
Doors open at 6:45pm, Show starts at 7pm. For additional information, please call (574) 549 4779
The West End Lounge is located at 955 West End Ave, New York, NY 10025.
Please note there is a two-item venue minimum.
###