BWW Review: Lorna Luft Rocks at 54 Below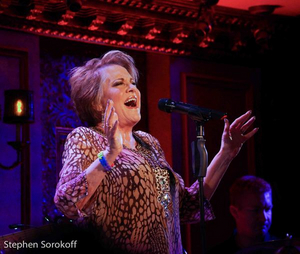 There's a new rock star in town and her name is Lorna Luft.
Everyone dreams of being a rock star, at least once in their lives. Lorna Luft has spent her career singing show music and standards and, all the while, she has been hiding a secret from the world: she wants to sing rock and roll -- and that is exactly what she did last night at Feinstein's/54 Below when she debuted her new club act to a packed house of screaming fans, excited to hear what she had to say about her love of The Beach Boys, The Byrds and, most of all, The Beatles.
Ms. Luft might well have entered to the song "Here Comes the Sun" because her smile alone was enough to light up the room, as she entered in groovy-chic pants, beaded tunic and sneakers, and launched into "All My Lovin'". After the rousing opener, the candescent Luft explained that the evening's setlist was all music from her teenage years which, looking at her, might have been only a few years back - such was the exuberant appearance of the bouncing, boogieing, beaming Broadway star, as she recounted the reasons why the music of 1963 to 1967 meant so much to her: "They gave us a voice...we were listened to."
Traveling musically with ease through the songs of each of the bands she was showcasing, Lorna employed appreciable storytelling skills that drew laughs and gasps throughout the evening - stories about the time her Mom worked with The Beatles at The Night of 100 Stars, and how they flew The Fab Four around the London Palladium. The well-studied musician informed that The Byrds were an acoustic band playing coffee houses until The Beatles caused them to pick up electric guitars: "Once you get an electric guitar, you are not a folk group anymore - you're a rock group." The daughter of a movie star, Ms. Luft shared a brilliant story about seeing The Beatles at The Hollywood Bowl with her friend Leslie, whose own movie-star mom insisted on a specific etiquette that did not jive with the other teenage girls in the audience. Whether singing or storytelling, Lorna Luft is simply infectious, an adorable delight who cannot help drawing smiles from every member of the audience, all of whom were chair-dancing, singing along, mouthing the words, waving their (makeshift) lighters in the air and crying out "Oh yes!" when they recognized an upcoming song just by the opening chords issuing forth from one of the four musicians on stage with her.
Interwoven in these poetic prose reminiscences were songs that one would not expect to hear from an artist known for The Great American Songbook, yet Lorna Luft proved she has the soul of a rocker inside of her with a frisky "Eight Days a Week" and an especially captivating "Here There and Everywhere". With her (sadly) truncated version of "California Dreamin" Lorna Luft reached true rock star levels, her voice growling, purring and soaring in lush, sensuous ways that fans of her Broadway belt never could have dreamed existed. Happily, her uniquely timbre'd "Hey Mr. Tambourine Man" lasted longer than "California Dreamin" because it was as sweet as french silk chocolate icing on a gluten-free cake. The reason, for those wondering, for the abbreviated song from The Mamas and The Papas was a good one: a delicious confection of a story involving Cass Elliot and a secret the two women shared about Cass's special diet - and while it was worth the curtailing of the musical offering, in this writer's dreams there will always be a full Lorna Luft version of The Mamas and The Papas biggest hit.
A particularly moving portion of the evening was Lorna's frank discussion with her audience about cancer, about fighting, about living life and about remembering those we've all known who have encountered the condition, leading into a medley of songs that best showcase the Champion, the Survivor, the Warrior that is Lorna Luft.
Ms. Luft is refreshingly relaxed and at home on the stage, with her musical director/arranger husband Colin Freeman by her side, and a sophisticated team of musicians backing her up, like brothers seeing to it their sister has a great time at the school dance - which is the expression of ebullient joy in which Lorna Luft was dressed last night - all dancing, all singing, all happiness in the celebration of her life, her loves and her love of the music that many have come to refer to as Laurel Canyon, but that Lorna Luft just calls "MY music."
Lorna Luft plays Feinstein's/54 Below August 9 & 10 at 9:30 pm Lorna Luft Ticket Link