Interview: Marissa Licata of STRINGS ON FIRE at Birdland Theater September 13th
"Ever since I was a little kid, I felt that I had something to say; something that was meaningful."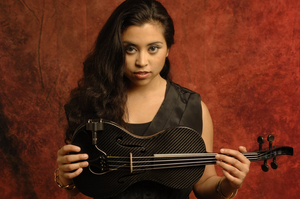 Marissa Licata is nothing if not versatile in her work. The classically trained violinist has worked for the last fifteen years playing for artists like Alicia Keys, Jethro Tull, H.E.R. and many more, in concert arenas and symphony halls all around the world, proving that there is no music she cannot play, and probably none she would not play, if the mood struck her, including some musical theater and some Christmas music that gets heard every year in a famed New York City called Radio. A true virtuoso, the Honduran American has been working her way up to a moment that, post-pandemic, she is really and truly ready for: her New York City debut show as a solo artist leading her own band.
Tomorrow night, September 13th, at 8:30 pm, Ms. Licata and her band (made up of musicians with whom she is so close that their friendship has become family) will take the stage at the Birdland Theater in order to present STRINGS ON FIRE, a program of music created for a 2020 debut that has waited, patiently, to come to the light. That moment arrived, Ms. Licata has a lot to say about her work, her feelings about going back to the stage, when to keep your mouth shut, and that lustrous hair of hers.
Because this writer's workload and schedule were uncooperative, Marissa was kind enough to do a digital interview with me, exchanging emails, questions, answers, and photos, the resulting interview appearing, without edits, below.
Marissa Licata, welcome to Broadway World! Thank you for chatting with us today, even via email, because we are really excited to hear about your upcoming show at Birdland. You've played everywhere in the world but this is your New York debut in a solo show. What does the last week of prep look like before a violin virtuosa hits the stage?
The last week of prep, for me, is similar to how an athlete would taper before a competition. The work has been done, the technical aspects have been practiced and rehearsed, the musical material and forms are decided as much as they are going to be. The only step left is for it all to be put together at the show.
I understand this is your first show back since the 2020 show business shutdown, and I have read that you share a close friendship with the members of your band. How did you guys manage to retain your closeness during the pandemic?
The band and I maintained our closeness through mostly FaceTime and video calls. We were all taking this time to listen to more music than ever before, learn new styles perhaps, or just discover new music and musicians out there. If I heard something cool on YouTube, I emailed the guys, "here, check this tune out", or "Woah! This bass player is a monster. Let's do this when the world comes back!" We tried to keep each other motivated by sharing what we liked, as we would have done in rehearsals, so we continued that as best we could. Then, moments after sending/receiving the YouTube link or recording, we'd have to FaceTime and talk about the music for hours and hours.
This Birdland show was designed as a 2020 appearance - now that you are finally able to make this debut, as your first show back with your team, has the long wait increased your personal feelings about Monday night?
The 18-month wait has certainly increased my personal feelings about Monday night. The huge honor of debuting at Birdland is combined with an extreme sense of thanks and gratitude for even making it to Monday night. I know for myself, that there will be an even wider range of emotion through my playing; the frustration, the losses, the patience... It will all be heard, as well as how thankful I am (and will be), to share this music with these musicians, these friends, on stage at this time. I look at it as a huge victory, and I can't say that I thought of it quite that way back in 2020.
In your varied history as a musician, you've had the opportunity to play for an impressive list of illustrious artists. Now it's your name up front and you're the leader of the band. Put a picture in my head of that transition.
Ever since I was a little kid, I felt that I had something to say; something that was meaningful. I was not a big talker at all, but when I spoke, it was with intention and purpose; to share a perspective that might not have been thought of and be helpful. Once I began really playing violin, my aim was to speak and share through the instrument. I have always had a presence on stage, and in my sound, that is somewhat "in your face," even when I was a part of another artist's show. Don't get me wrong, I understood in those instances that I was there to help tell their story and convey their message, through their music.
I am not entirely sure, though, that there is much of a transition actually in terms of how I perceive my role with my name now up front. I have been a leader in my own eyes, from no matter where, or with whom, I am on stage. Sometimes, being a leader meant holding a simple, soft chord, creating a musical "bed" on which to support the soloist to best speak their story. Sometimes, it meant playing loud to make a collective climax.
On Monday, I think the bigger difference will be that I can "say" whatever I want through the music, and I have to hold back for nothing. I can focus on connecting with the audience, and hopefully give them a way to release as well.
What are the biggest lessons you learned as a backup musician that you apply to your philosophies as a bandleader?
-Know when to shut up! Haha. Understand and choose your [musical] language with purpose and intention, otherwise what comes out in your music will not be convincing to you or anyone else. (This does not only apply to music.)
-Surround yourself with musicians who are better than you. They will raise your level and keep you humble.
-Work relentlessly. There are always ways to improve and do better, and no one can take from you the work and time and effort you put in.
-Take criticism (constructive or otherwise) and really listen to it. Use it to help yourself improve.
-Be honest with yourself about weaknesses, and work each day to turn them into strengths
-Exercise. Playing music is incredibly physical, and one has to help oneself maintain strength and endurance to perform regularly, at the level we want.
You've had the opportunity to play many different genres of music, in a wide variety of venues and countries. When you felt ready to strike out on your own, with your own band, what were the elements that led to the development of your own unique sound?
It was pretty simple developing the show sound that I wanted because I grew up listening to all different kinds of music. Through my travels and career opportunities and experiences, I came across tons and tons of songs, tunes, and styles. There is endless great music out there, and I just put together some of my favorites.
It sounds like your Birdland show, wonderfully titled STRINGS ON FIRE, will combine a variety of global musical influences. What is your creative process when crafting such variety into one evening of entertainment?
I love rhythm! I love dancing, and I admire great dancers and how they feel and interpret rhythm. Because I have had the opportunity to travel all over the world, I have been exposed to world cultures through their music and dance. When I hear music that I like, it stops me in my tracks, and I have to know what it is, where it's from, so that I can learn all about it and play it too. With my energetic personality and love for rhythm and dance, 'Strings on Fire' presents itself really. I take traditional tunes many times, add some of my own attitude, and think "what would I want to party to and dance to if I were attending my own show? Does what I'm playing excite me?" With such an amazing band of musicians, we try a few things out, take suggestions, and you know when you have what you want. That's my creative process.
Your website says you are based out of Boston and New York, two big cities with big personalities. In what ways do those different personalities come out in the audiences you encounter in each city?
I have found that New York tends to be more outwardly enthused right from the start; louder and more vocal. There are hoots and hollers and just more noise in general; even ambient club/bar noises are more present. Boston audiences are introverted, calmer, and reserved in a thoughtful way, in my experience. I think the difference in the size of these two cities has much to do with it, and I think that audiences in any city or location find their own way of enjoying music and live entertainment. I, myself, do particularly enjoy the audiences' that are enthusiastic and loud from the start. It makes me feel more included in their experience, their "party" with them, while I'm playing.
Your special guest James Montgomery is a blues legend that was a member of The Blues Brothers with Dan Aykroyd and Jim Belushi, and part of the legendary Johnny Winter Band. What specific elements does his legacy bring to your show?
His legacy and experience bring the true meaning of why we play music - to be inclusive, accepting, and entertaining by sharing with different communities something we love to do, and something that makes everyone feel good and in agreement about that fact. James brings people together and puts on a great party. He is a true showman; there to entertain and put smiles on peoples' faces. He is present and listening within the music and the band at all times. When we are on stage, there are no doubts because I know I can trust him, and there is nothing more special than that.
What has been your biggest takeaway from being concertmistress for musicals like Alanis Morrisette's Jagged Little Pill and Dave Malloy's Moby-Dick?
My biggest takeaway from working on those shows was learning how to roll with the punches and adapt quickly to change - from having to sight-read music thrown at you for the first time on opening night, to witnessing an understudy stepping in and stepping up for an injured cast member with not even 24-hours notice, and everything in between- It all happens, and it happens at probably the most inopportune times possible. Learn to love it. Be prepared to be disappointed and have to pick up the pieces and keep going. Find a way to get it done because no one has time for excuses. Disappointments and discouraging situations cannot be accepted as excuses for why you don't progress yourself.
1We are heading into the holiday season, you're opening at Birdland, Jagged Little Pill is re-opening, the Radio City Christmas Spectacular is coming up ... these are busy times. Will your past associations with Broadway and The Rockettes be continued this year?
Yes, absolutely! I will be a chair player in the 'Christmas Spectacular' at Radio City Music Hall again this season and will continue in the musical theater and Broadway world as much as I can. Heading into the new year, there are a couple of national tours heading out, for which I am being considered, and an exciting rock orchestra project slated to launch its tour in the Spring of 2022. I want to do it all, after 18 months of practicing alone in my room.
Put me in the picture of being involved with such a beloved holiday tradition as the Christmas Spectacular.
There is a magic about the 'Christmas Spectacular'. You realize the show you're in. You realize the hall you're in; the city you're in. It is very powerful to be entirely conscious of the fact that by being there and performing especially, but even attending for that matter, you are a part of an entertainment history and you are a piece of that fabric forever. I played 106 shows in the 2018/19 season, the maximum my contract allows. I didn't sub out once because I truly never got tired of it. I loved every moment of every show, night after night. The Rockettes are exquisite dancers, the Christmas songs that everyone knows and loves bring people together -musical arrangements of the highest caliber, and the lights and costumes and special effects are magical each and every time. Like any great show, it's pure fun and enjoyment! And it's true excitement to be just one of the many, many moving parts it takes to present such a beloved holiday tradition.
Marissa, does your hair ever get caught in the strings and the bow?
Yes, it does! And I just roll with it - sometimes more gracefully than other times - but generally, nothing that can't be solved by a flashy hair whip!
Thank you so much for doing this digital interview with me, and I hope STRINGS ON FIRE brings you back to the stage with a vengeance!
You're very welcome and thank you!
Reserve tickets to Marissa Licata STRINGS ON FIRE at Birdland Theater on September 13th at 8:30 pm HERE.
Visit the Marissa Licata website HERE.