Click Here for More Articles on DANCE - THEATER
BWW Feature: Bob Fosse's DANCIN' Celebrates Its 40th Anniversary and Cast Reunion at the Dancers Over 40 Event
As a way of introducing myself as the new DANCE REVIEWER for Broadway World L. A., I am reporting on an historic event in which I participated at St. Luke's Theatre on March 26th, 2018 in NYC: the 40th-year anniversary and reunion of the cast members of the opening of Tony Award-Winning Bob Fosse's DANCIN' on Broadway at The Broadhurst Theatre on March 27, 1978.
The event was sponsored by the Organization Dancers Over 40, or DO40, http://www.dancersover40.org/ https://www.facebook.com/dancersover40/, https://www.youtube.com/dancersover40/ and coordinated with the help of Kathryn Doby, who was Bob Fosse's Assistant on DANCIN' and many other Fosse Broadway Musicals.
Kudos to DO40 and DO40 President John Sefakis for selling out the theatre, which ended up SRO for this reunion, topping box office records even for the West Side Story 60th Anniversary and Reunion which was held last September. The DANCIN' event, hosted by the fabulous Bebe Neuwirth, (a Fosse Dancer herself) included two different panels of Dancers; The Dancers from the Original Cast and The Replacement and Alternate (or Understudy) Dancers during the Broadway run, as well as a surprise appearance by Ben Vereen.
The Dancers/Panelists for the event included: AnnReinking, Wayne Cilento, Richard Korthaze, Christine Colby, William Whitener, Eileen Casey, Kathryn Doby, James Horvath, Sandahl Bergman, Michael Kubala, Jill Cook, Clif De Raita, Valerie-Jean Miller, Lloyd Culbreath and Gail Benedict.
Several but rare film clips were shown throughout the program, including the TV commercial that first advertised DANCIN' on Broadway, a performance from The Bob Hope Show, a long-lost clip from the 1979 Jerry Lewis Telethon of Percussion #2, the male trio featuring Chris Chadman, John Mineo and Wayne Cilento, and the live performance on the 1978 Tony Awards telecast of "Sing, Sing, Sing," one of the signature production numbers in the Show. During the evening, many of the amazing numbers and performances were recalled, recognization of the Dancers in the Audience that had performed in DANCIN' and other Fosse Shows, as well as the presentation of the DeLuca Award to Ann Reinking for her Lifetime Contributions to the Dance World.
Ann Reinking graciously accepted her two-foot-tall acrylic award from Phil DeLuca and Bebe Neuwirth. Ann and Bebe had a great time on stage together, a fitting tribute to how, at one point, both starred together in Bob Fosse's CHICAGO, for which Ann won a TONY Award for Best Choreography and Bebe for Best Actress in a Musical, and both are Broadway Legends in their own right.
The first panel was moderated by Ken Bloom, (Author of BROADWAY MUSICALS The 101 Greatest Shows of All Time) The originally cast dancers shared their stories of their auditions with Bob Fosse for the show. There were several hysterical anecdotes about things that happened on stage during performances, and discussions on how and why this show was the first of its kind, (each dancer was on an Equity Principal Contract) - all singing and dancing, with no book or original libretto.
Letters were read from Blane Savage and Linda Haberman, who were original cast members but could not attend the Event. Others unable to attend were Karen Burke, Gregory Drotar. and Vicki Frederick; but Ross Miles was present in the audience. Ann Reinking and Kathryn Doby spoke of why Bob's choreography was so unique and mesmerizing, and how his work utilized "method" acting and visual images to capture the audiences' interest and curiosity. Near the end of this panel, Ben Vereen hopped up on stage from the audience and related a few stories of his work and personal friendship with Fosse, and then broke into one of Bob's favorite songs, "Life is Just a Bowl of Cherries." There was also loving homage paid to Original Cast Members Charles Ward, Rene' Ceballos, Ed Love, John Mineo and Chris Chadman, who have all passed on.
The second panel was lively moderated by Kevin Winkler, (Author of the new book BIG DEAL: Bob Fosse AND DANCE IN THE AMERICAN MUSICAL THEATER) and I was thrilled to be a part of it.. We talked about how, when working with Bob, he made you want to do your absolute best while striving to bring out your individuality and own personality. Other stories were told about how this show was so difficult to do dancewise, and how injuries plagued the cast from the very beginning. Because of this, the Alternates who had to cover sometimes up to eight or more parts in the show, were constantly going on, besides covering when cast members took vacation; sometimes going on for two or three different peoples' parts in one show!
DANCIN'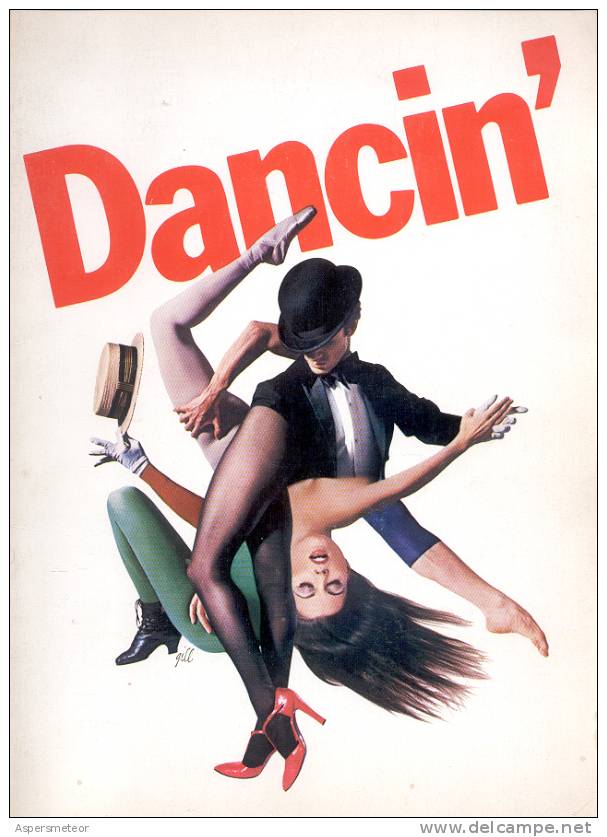 was eight shows a week which included two-and-a-half hours of strenuous and detailed dancing, in three Acts, covering many genres, which we referred to as just "sweat & change, sweat and change." There was never any idle time, and most intermissions were spent blow drying and re-styling our hair, getting into the next costume, catching a quick breath, pre-setting all the quick changes off-stage in the wings for the numbers that followed, and staying warmed up and pumped up.
Also discussed were the several adjustments made during DANCIN' that changed Equity Rules for the betterment of all. Each panelist was asked which of the dance numbers in the show was their personal favorite and why. For me, it was the tap duet in the Piano Solo segment of "Sing, Sing, Sing" because it was the most intimate and stylized, quiet yet explosive, dynamic piano solo. Using special tap shoes that Fosse designed for this number, there was a specific type of sound and tap style created every time it was performed. The original show featured Wayne Cilento and John Mineo in this section. It was Heaven on stage each night, to me, and I always loved performing it!
The evening's highlight for me was the Finale: a shortened performance by the entire cast of DANCIN' MAN, a salute to Fred Astaire created by Fosse, which was one of the noteworthy dance numbers performed in DANCIN'. As one who did the show for the first year on Broadway, and two more years of the First National Tour, this moment was both magical and emotional. To be performing, once again, such a special number that was from four decades ago, and to share the stage with many of the same dancers from that time, was almost an out-of-body experience! At times, I felt like I was floating; not even thinking of the choreography, just feeling the words in the song, and the sensation of being totally in sync and in unison with everyone else up there.
Besides quoting one of my favorite Fosse sayings, "Showtime!" Bob also said, "Dance expresses joy better than anything else."
It was wonderful to see so much interest from the New York Theater Community in coming out for this reunion, with many, many dancers, both young and older; actors, singers, musicians that work on Broadway - even in behind the scenes positions such as Stage Manager, Sound Designer (Abe Jacob) et al, in the audience to celebrate Fosse and his work. Thank You all for helping make the evening a success and a Once-in-a-Lifetime Event for me.
And while I was in New York City for this amazing event, I also saw three outstanding shows I wholeheartedly recommend: "THREE TALL WOMEN" starring Glenda Jackson, Laurie Metcalf and Allison Pill; "THE BAND'S VISIT" and a One-Man Performance of "HARRY CLARKE" starring Billy Crudup ~ all three being top-notch productions and definitely worthy of a trip to the Big Apple.

Photos Courtesy of DO40 photographer Jeff Eason of Wilson Models, Inc.