New Season of STONE HOUSE REVIVAL Featuring Carpenter Jeff Devlin Premieres On DIY Channel 4/18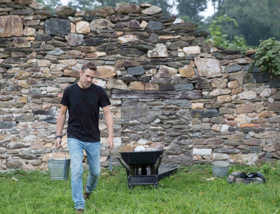 Popular licensed contractor and carpenter Jeff Devlin, star of DIY Network's Stone House Revival, will refurbish more centuries-old homes in Bucks County, Pennsylvania, when the series returns on Wednesday, April 18, at 9 p.m. ET/PT. The new 14-episode season will showcase Jeff as he tackles dilapidated exteriors, dated interiors and adds modern amenities to transform some of the nation's oldest houses one stone at a time.
"These homes were built 200 years ago," said Jeff. "That's what's beautiful about these renovations. We can find inspiration from what's already been done."
In the premiere episode, Jeff and his team of restoration experts will reveal the historic charm of a home built in 1782. To address the property's modern kitchen that doesn't match the rest of the house, Jeff will add a custom-made reclaimed wood island to infuse a rustic feel to the space.
Fans can visit diynetwork.com/StoneHouseRevival to see more of Jeff's custom projects, interact via social media using #StoneHouseRevival and follow DIY Network on Instagram to see Jeff restore his own stone house.
ABOUT DIY NETWORK
Currently in more than 55 million U.S. households, DIY Network is the go-to destination for wall-breaking, roof-ripping, house-hauling, yard-crashing series. The network's award-winning website, DIYNetwork.com, consistently ranks among America's top home and garden destinations for entertaining videos, home improvement advice and step-by-step instructions. Fans can interact with other home improvement enthusiasts and do-it-yourselfers throughFacebook, Twitter, Pinterest and Instagram. DIY Network is owned by Discovery, Inc., a global leader in real life entertainment whose portfolio also includes Discovery Channel, HGTV, Food Network, TLC, Investigation Discovery, and OWN: Oprah Winfrey Network.