John Cho, Rebecca Hall Daniel Dae Kim Announced as the English-Language Voice Cast for MIRAI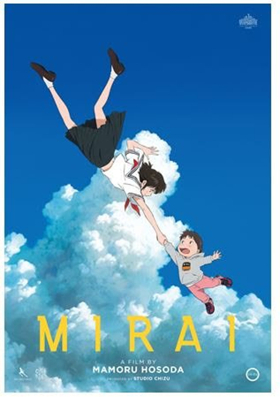 GKIDS, the acclaimed producer and distributor of animation for adult and family audiences, has announced the English voice cast for "MIRAI," a daringly original story of love passed down through generations. The film will feature the voices of John Cho (Star Trek, Searching), Rebecca Hall ("The Town," "Christine"), and Daniel Dae Kim ("LOST", "Hawaii Five-0", "The Good Doctor", 3AD Media). Mamoru Hosoda, the celebrated director behind The Boy and the Beast, WOLF Children, Summer Wars, and The Girl Who Leapt Through Time, wrote and directed the critically acclaimed Japanese animated film that world premiered at Cannes Film Festival, and additionally played at BFI London Film Festival and the Animation is Film Festival in Los Angeles.
English Voice Cast
John Cho - The Father
Rebecca Hall - The Mother
Daniel Dae Kim - The Great-Grandfather
GKIDS has partnered with Fathom Events to bring "MIRAI" to more than 700 U.S. cinemas Thursday November 29 at 7 p.m. (dubbed) and at 8 p.m. (subtitled), Wednesday, December 5 at 7 p.m. (subtitled), and Saturday, December 8 at 12:55 p.m. (dubbed) all at local times. GKIDS will also will theatrically release the film in New York and Los Angeles on November 30, 2018. Tickets for "MIRAI" are available now at www.FathomEvents.com, www.MiraiMovie.com or at participating box offices.
When four-year-old Kun meets his new baby sister, his world is turned upside down. Named Mirai (meaning "future"), the baby quickly wins the hearts of Kun's entire family. As his mother returns to work, and his father struggles to run the household, Kun becomes increasingly jealous of baby Mirai... until one day he storms off into the garden, where he encounters strange guests from the past and future - including his sister Mirai, as a teenager. Together, Kun and teenage Mirai go on a journey through time and space, uncovering their family's incredible story. But why did Mirai come from the future?
Related Articles
View More TV

Stories