CBS Launches Playful 'Bobblehead' Holiday Campaign Featuring Series Stars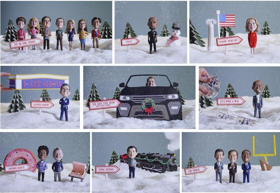 Today CBS will launch an assortment of playful 10-second on-air holiday spots featuring "bobblehead" renderings of stars from its primetime, late night, daytime and sports schedules. The campaign is inspired by the vintage "magic" of the beloved Network classics "Rudolph the Red-Nosed Reindeer" and "Frosty the Snowman."
The bobbleheads, which were specially created for the spots, average 6 ½ inches in height, a scale that becomes apparent in the promo when a real-life human hand reaches in to activate the head-bobbing. Each greeting features an announcer saying, "From all of us at [insert the specific show's name or, in one case,
CBS
Sports] Happy Holidays!" As the spot continues, the camera pans away from the bobblehead(s) and associated props to highlight the lowering of a "Happy Holidays" ornament that dangles over a
CBS
Logo
on a snow-covered sleigh. The campaign was spearheaded by the
CBS
Marketing Group's On-Air Promotion team (Executive Vice President Garen VandeBeek, Senior Vice President Lori Shefa, Directors Laurel Dusenberry and Valerie Dillingham, and Vice President, On-Air Design, Matt Hernandez). The assorted spots feature:
Primetime stars from THE BIG BANG THEORY, BLUE BLOODS, BULL, CRIMINAL MINDS, HAWAII FIVE-0, KEVIN CAN WAIT, LIFE IN PIECES, MADAM SECRETARY, MAN WITH A PLAN, MACGYVER, MOM, NCIS, NCIS: LOS ANGELES, NCIS: NEW ORLEANS, 9JKL, SCORPION, SEAL TEAM, SUPERIOR DONUTS, SURVIVOR, S.W.A.T. and YOUNG SHELDON.
Late night hosts Stephen Colbert and James Corden.
Daytime stars from THE BOLD AND THE BEAUTIFUL and THE YOUNG AND THE RESTLESS, and the hosts of LET'S MAKE A DEAL, THE PRICE IS RIGHT and THE TALK.
CBS Sports announcers Jim Nantz, James Brown and Tony Romo.
Previously, CBS announced a 2017 on-air holiday campaign that is an homage to the Network's charming hand-drawn animated holiday greeting in 1966. Both holiday campaigns will run through the end of December.