Award-Winning Animator Jeff Scheetz to Lead One-Day Computer Animation Workshop at Springer Film Institute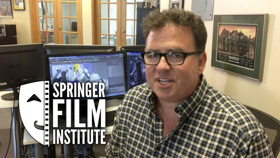 It's no secret that Georgia's film industry has exploded in recent years. As a result of the tax credit the state offers filmmakers, Georgia has become the world's largest producer of film. Last year alone, the film industry generated nearly $10 billion dollars for Georgia's economy. Filmmaking has added over 90,000 jobs in our state and with economic success like that, it's clear that film is here to stay.
In recent years, the tax incentive has been expanded to include animation and game development which has animation and gaming companies looking to set up shop in Georgia.
Columbus is in a unique position to play a part in this success with several key players envisioning Columbus becoming the HUB for animation and CGI (Computer Graphic Imagery) in the state of Georgia. In fact, CSU's art department is ramping up a graphic design and animation program anticipating the industry demand.
Fun Academy Motion Pictures, a two year-old Columbus-based animation company, released its first major animated feature film, Sgt. Stubby: An American Hero, on 1700 screens across the country last month in partnership with Technicolor and Mikros Image in Paris. Fun Academy is now exploring the possibility of establishing its own animation line in Columbus with the hope that other animation companies will follow.
Talented animation artists are in high demand with entry-level animators earning $100,000 a year. The top twenty top-grossing films of this century are either fully or partially animated using CGI and other animated special effects. If someone thinks that filmmaking or graphic design is in their future, chances are good that computer animation is, too.
The Springer Film Institute is hosting a one-day Introduction to Computer Animation workshop on Saturday, June 16 from 8:30 a.m. - 5:30 p.m. Students will learn how to get started with computer animation with this workshop. The instruction will cover modeling, animation and rendering in Autodesk's MAYA, the industry-standard in animation software. There is no pre-requisite to attend but students must be 14 years age or older. Those who have basic graphics experience in programs such as Photoshop will have no problem keeping up. This workshop is BYOC. (Bring your own computer - PC, Mac, desktop or laptop).
By the end of the day, students will have created animated clips that can be uploaded and shared with friends on social media.
The workshop will be led by award-winning animation and CGI pioneer, Jeff Scheetz. Scheetz is a thirty-year veteran of computer animation, visual effects, virtual reality and editing for film, television and gaming. Jeff Scheetz began his animation career in television visual effects and worked on BABYLON 5, Star Trek Voyager, Deep Space Nine, and Roughnecks: The Starship Troopers Chronicles.
In 2000 he and his wife, Anne, founded The Digital Animation & Visual Effects (DAVE) School, a cutting edge computer animation school at Universal Studios Orlando. Its 36,000 square foot facility includes Universal Sounds Stage 25, motion capture and a render farm. Each year The DAVE School trains over 100 students and places them at companies like Dreamworks, Sony and Disney. Three years ago, Scheetz formed Monkey Chow Productions, an Orlando Based Animation Studio.
"This computer animation workshop is designed for anyone who thinks animation is fascinating and wants to learn where to start," said Springer Film Institute Director Sara Lynn Herman. "Jeff Scheetz has crafted this workshop for anyone from the curious to the serious. He is a really cool guy and we are excited to have a CGI specialist of his caliber working with us."
The Springer Film Institute was launched in spring 2018 to serve as an incubator and educational HUB to train the next generation of filmmakers in the Chattahoochee Valley. Led by director Sara Lynn Herman and producer Jef Holbrook, SFI workshops cover topics like screenwriting, indy filmmaking, editing, acting for the camera, voice acting and cinematography led by veteran industry professionals.
The Introduction to Computer Animation Workshop with Jeff Scheetz is Saturday, June 16 from 8:30 a.m. - 5:30 p.m. at the Springer Opera House. Tuition is $60 and includes lunch. For more information or to register, visit springerfilm.org.