Asian Coming Of Age Feature Film YELLOW FEVER Now Available On Vimeo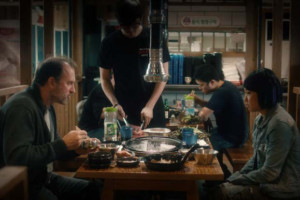 Wham Bam Productions Ltd. is proud to present the online release of the award- winning comedy Yellow Fever, written and directed by Korean-American Writer/Director Kat Moon. It stars Korean-American GLEE star Jenna Ushkowitz and Gilmore Girls' Scott Patterson. Following a festival run and limited theatrical release, the film will be made available online on September 6, 2018 at 2pm (EST) at www.vimeo.com/ondemand/yellowfever and www.yellowfevermovie.com/watch-online. Ticket pre-orders are available now.
Yellow Fever is a coming of age comedy about Asia Bradford (Ushkowitz), who was adopted from South Korea by white people. And yes, they named her Asia! Set in New York, this feisty Asian Juno is alight with witticisms on her only outlet - her blog - aptly titled Yellow Fever. "Stop asking me where I'm from from! I get it, I'm Yellow!" she angrily writes on her blog. It's bad enough that everyone in New York seems to think she's not American, but to top it all off, her "culturally sensitive," whitebread parents decided to dress up in Korean hanboks for the annual Christmas card this year! So, where does she actually fit in if she feels like she doesn't belong in her family, New York or her so-called "homeland?" Her SALVATION comes in an odd package, an "old ugly white dude," played by Patterson, who's just moved back to New York after living in Korea for a decade.
With the recent box office success of Crazy Rich Asians, featuring an all-Asian cast, Yellow Fever, starring Korean-American Jenna Ushkowitz, comes at the right time when there is a need and demand for films that are culturally diverse. Interestingly, Ushkowitz agreed to be in the film because she is also a Korean adoptee, adopted by a white family in New York, much like her fictional counterpart. The film touches on the history between America and Korea, and the 250,000 Koreans adopted mostly by Americans after the Korean War. Yellow Fever is set to participate in IKAA in 2019, an event in Seoul, South Korea, which unites Korean Adoptees from all over the world.
Yellow Fever was a Gold Remi Award winner from Houston Worldfest in the Theatrical Feature Film Comedy category and also won for Best Supporting Actress at the London International Film Festival. It has screened and been nominated at other prestigious film festivals, including the Sonoma International Film Festival (MovieMaker's Top 25 Film Festivals), Hollywood Film Festival and Soho International Film Festival.
Yellow Fever will be made available on Vimeo On Demand on September 6, 2018 at 2pm (EST) at:www.vimeo.com/ondemand/yellowfever and www.yellowfevermovie.com/watch-online
Related Articles View More TV

Stories